Indonesia Trigana plane crash: Remains of 54 dead found in Papua.
Indonesian rescue workers have reached the crash site of a passenger plane that went down in a mountainous area with 54 people on board, a senior official said Tuesday.
The teams on the ground have so far seen at least 38 bodies at the scene and haven't found any survivors, said Bambang Soelistyo, the head of Indonesia's search and rescue agency. Helicopters are being deployed to the densely forested area in the eastern Indonesian province of Papua to begin the evacuation process.
The aircraft's black box flight recorder, which should provide investigators with some answers, was found in the early afternoon. The device will be taken to Oksibil town tomorrow, depending on the weather,
Its also been reported that An Indonesian passenger plane that crashed at the weekend in Papua was transporting about 6.5 billion rupiah ($470,000) in cash to distribute to poor families in the eastern province, a post office official said.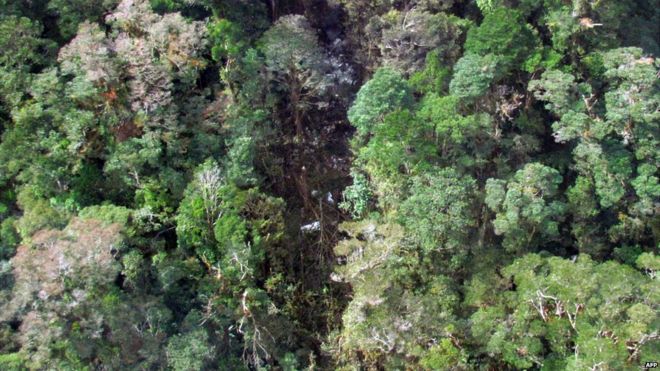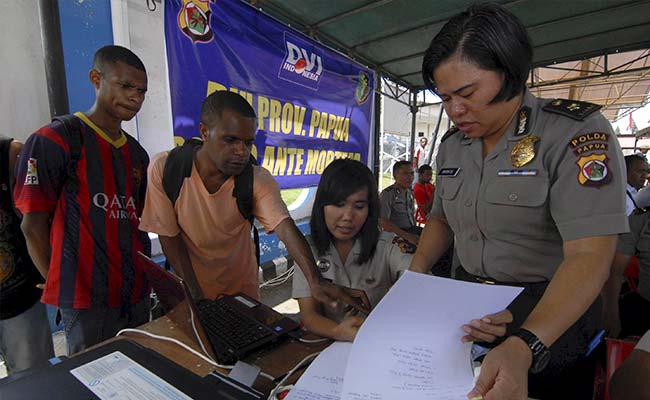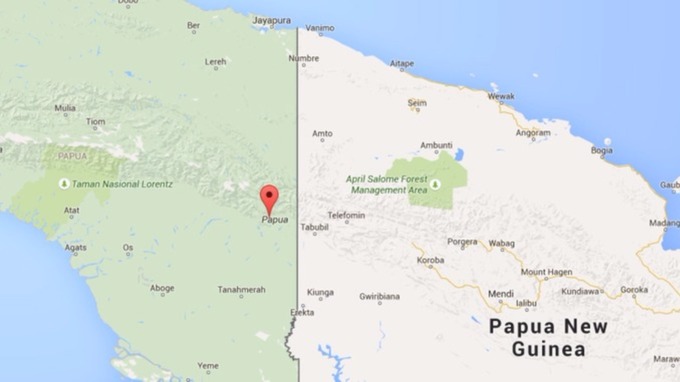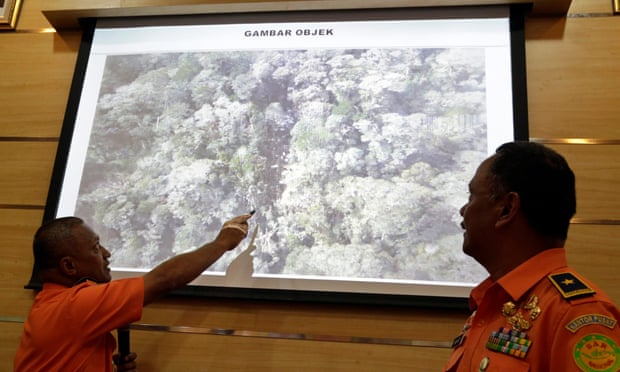 Indonesia's state search and rescue agency had reported that it has lost contact with the aircraft earlier on Sunday.
In a tweet posted on Sunday, Bandan SAR Nasional or National Agency Search and Rescue said the Trigana Air flight had 54 passengers on board. The passengers include 44 adults, two children, three toddlers and five crew members.
According to the tweet, the aircraft lost contact while flying over the remote eastern Papua region at 2:55pm local time. reporting from Jakarta, said the plane was scheduled to land at a small airport in Oksibil at around 3pm local time (06:00 GMT) plane was scheduled to land at a small airport in Oksibil at around 3pm local time (06:00 GMT).Oksibil is a remote town near the country's border with Papua New Guinea.
The plane was flying between Jayapura's Sentani Airport and Oksibil, due south of Jayapura, the capital of Papua province. Indonesia's transport ministry spokesman J.A. Barata confirmed the plane had lost contact and said it was supposed to arrive at Oksibil airport just after 4.00pm AEST.
According to the Aviation Safety Network, an online database, the ATR 42-300 had its first flight 27 years ago. ATR is a joint venture between Airbus and Alenia Aermacchi, a subsidiary of Italian aerospace firm Finmeccanica .
Trigana has been on the EU blacklist of banned carriers since 2007. Airlines on the list are barred from operating in European airspace due to either concerns about its safety standards, or concerns about the regulatory environment in its country of registration.
The airline has a fleet of 14 aircraft, according to the airfleets.com database. These include 10 ATR aircraft and four Boeing 737 classics. These have an average age of 26.6 years, according to the database.
Trigana has had 14 serious incidents since it began operations in 1991, according to the Aviation Safety Network's online database. Excluding this latest incident, it has written off 10 aircraft. Indonesia has a patchy aviation safety record and has seen two major plane crashes in the past year, including an AirAsia flight that went down in the Java Sea, killing all on board.
That crash prompted the government to introduce regulations aimed at improving safety. Indonesia's president promised a review of the ageing air force fleet in July after a military transport plane crashed in the north of the country, killing more than 100 people.
Reported source : reuters
Russia has started branding the SJ-100 short-haul aircraft
Russia has recently initiated a branding campaign for the SJ-100 short-haul aircraft, which has been developed by Yakovlev PJSC, a notable Russian aerospace company. The primary focus of this branding effort is to highlight and emphasize the aircraft's use of 100% Russian domestic components.
After being barred from Western nations, Russia intends to debut its smaller aircraft, the SJ-100, in a significant way on the global market. The SJ-100 will face off against the Boeing 737-7, Embraer E195, and Airbus A220. For countries like Indonesia, China, India,  Africa, Afghanistan, Pakistan, and Iran, and those that are allies of Russia, the SJ-100 is a potential aircraft for operation.
Russian-Made Combat Trainer Aircraft Joins Iran's Air Force(Opens in a new browser tab)
This branding effort is remarkable for various reasons. First and foremost, it demonstrates Russia's dedication to showcase its domestic aerospace capabilities. Russia's choice to highlight the use of only 100% Russian components in the branding of the SJ-100 short-haul aircraft is of the greatest strategic significance. In addition to showcasing Russia's aerospace capabilities, this branding campaign also makes a strong impression on potential customers from other countries.
From an economic standpoint, Russia's focus on using domestic components aligns with the global trend towards supply chain resilience and reduced reliance on foreign suppliers. The SJ-100's incorporation of Russian-made components not only assures international buyers of its quality and performance but also presents an opportunity for economic development in their own countries. This can lead to the creation of jobs, the growth of local industries, and the transfer of technology and expertise.
Finnair Reveals Summer Schedule With 50+ European Destinations(Opens in a new browser tab)
Recently, The Yakovlev JSC-built SJ-100 Superjet made history by successfully completing its first flight in Komsomolsk-on-Amur, Russia. The Russian Ministry of Industry and Trade acknowledged this significant development, adding that the test flight verified the plane's overall stability, steady functioning, and stable handling.
The ability to implement and install their own design solutions and technologies, such as avionics, gear, auxiliary power units, electric power supply systems, air conditioning, fire prevention, and other systems, was demonstrated by Russian developers and producers.
The SJ-100 is a modern regional jet designed to offer exceptional performance and comfort for both passengers and operators. With a length of approximately 29 meters and a wingspan of around 27 meters, the spacious and comfortable cabin is designed to enhance the passenger experience. with modern amenities and ergonomic seating arrangements. During its first flight climbed to heights of up to 3000 metres and reached speeds of 343 kilometres per hour.
Akasa Air vs. Pilots: Delhi High Court Upholds DGCA's Authority to Act in Case of Contractual Breaches
The Directorate General of Civil Aviation (DGCA) is authorized to take action against pilots who violate civil aviation rules (CAR), the Delhi High Court ruled on Wednesday.
Akasa Air initiated legal action against pilots who had quit their jobs without giving the required notice by their contracts. In response to a request from the startup airline, which claimed it was in a crisis as a result of the sudden and abrupt resignation of 43 pilots who left the airline without providing the required notice period, the civil aviation regulator submitted written responses.
Akasa Air to Add 800 Staff and Fly Internationally(Opens in a new browser tab)
However, the Court ruled that it is now unable to give any explicit instructions to the DGCA and MCA regarding how to respond to a future representation that Akasa might make against defaulting pilots.
The court made it clear that there are no limitations on the DGCA's power to take action in situations of pilot noncompliance in an interim judgment that offers relief to Akasa Air. The airline firm maintained that it is merely requesting a directive to the DGCA to decide their (Akasa's) claims against pilots who may depart the airline in the future without serving the notice period, not that it is pressing for any action against the pilots who have already quit.
The Livery of Akasa Air's Boeing 737-800 Aircraft Has Been Revealed.(Opens in a new browser tab)
The DGCA had stated that it lacked the power or authority to intervene in any employment contract and therefore was unable to affect the employment contract between the pilots and Akasa Air.
The aviation authority said that if Akasa Air doesn't have enough pilots to continue operating flights, it would be in the interests of all parties if it complies with the requirement to keep a limited schedule.
Global Airlines to contract Hi Fly to accelerate A380 Entry into Service
Under the agreement, Global Airlines will benefit from Hi Fly's expertise to accelerate the Entry into Service (EIS) programme for the airline's new fleet.
Hi Fly, based in Lisbon, has significant A380 technical and operating experience.
First Global aircraft expected to fly to Europe in the months ahead, with a new registration of 9H-GLOBL
In a significant operational move, Global Airlines and Hi Fly have inked a contract to collaborate on the development and maintenance of the four A380 aircraft the new airline has agreed to purchase.
Hi Fly, the first company to operate the A380 on the secondary market, will collaborate with Global as it gets ready to launch operations to help the new carrier realize its goal of giving passengers the best possible experience when flying commercially.
Hi Fly takes delivery of its first Airbus A380(Opens in a new browser tab)
The EIS and Return to Service (RTS) procedures for Global's first aircraft, which are anticipated to start in the coming months, are the organisation's immediate priorities. However, with an affinity for the aircraft and confidence in its long-term potential and popularity, both businesses will look at further possibilities to deepen their partnership.
Hi Fly holds authorization to operate worldwide and currently operates 35,000 flights per year for a base of 140 airlines and governments on a global basis.