Bangladeshi plane crashes in Nepal, killing at least 50
KATHMANDU (Reuters) – A Bangladeshi airliner crashed on Monday after making an unexpected turn in cloudy weather as it came in to land at the airport in Nepal's capital, killing at least 50 people, officials said.
There were 71 people on board the US-Bangla Airlines plane arriving from Dhaka when it clipped the fence at Kathmandu and burst into flames, said Raj Kumar Chettri, the general manager of the hill-ringed airport.
Those aboard included 33 Nepali passengers, with 32 from Bangladesh, one from China and one from the Maldives.
"All of a sudden the plane shook violently and there was a loud bang," one of the survivors, Basanta Bohora, told the Kathmandu Post daily. "I was seated near a window and was able to break out of the window."
The accident was the latest to hit mountainous Nepal, which has a poor record of air safety. Small aircraft ply an extensive domestic network and often run into trouble at remote airstrips.
"We have recovered 50 dead bodies so far," said army spokesman Gokul Bhandari. Although several people had been rescued from the burning wreckage of the Bombardier Q400 series aircraft, nine people were still unaccounted for, he added.
Chettri said that moments after the plane received permission to land, the pilot said he wanted to go in a northern direction. Asked by the control tower if there was a problem, he replied in the negative.
The plane was then seen making two rounds in a northeast direction, Chettri said. Traffic controllers again asked the pilot if things were OK, and he replied, "Yes".
The tower then told the pilot his alignment was not correct, but there was no reply, Chettri added.
"The plane should have come from the right direction," Chettri said, adding that it hit the airport fence, touched the ground and then caught fire.
It was not immediately clear if the pilot had issued a "Mayday" call, or distress signal.
Many of the bodies that lay on the tarmac, covered with cloth, were charred, witnesses said. Thick plumes of smoke could be seen from the aircraft at the Tribhuvan International Airport.
The aircraft that went down on Monday was 17 years old, data from tracking website Flightradar24.com showed. It descended to an airport altitude of 4,400 feet (1,341 m) and then climbed to 6,600 feet (2,012 m) before crashing about two minutes later, the website said.
Bombardier said on Twitter it was saddened by the accident.
"Our thoughts are with those injured, and their families," it said. "More information to follow."
There have been a series of accidents at Kathmandu in the past.
In March 2014, a flock of birds shattered the windshield of a Malaysia Airlines MASM.KL jet as it landed in Kathmandu. The same month, a rear wheel of an Airbus A320 operated by an Indian budget airline caught fire after landing.
In 1992, all 167 people aboard were killed when a Thai Airways flight from Bangkok crashed while trying to land in Kathmandu.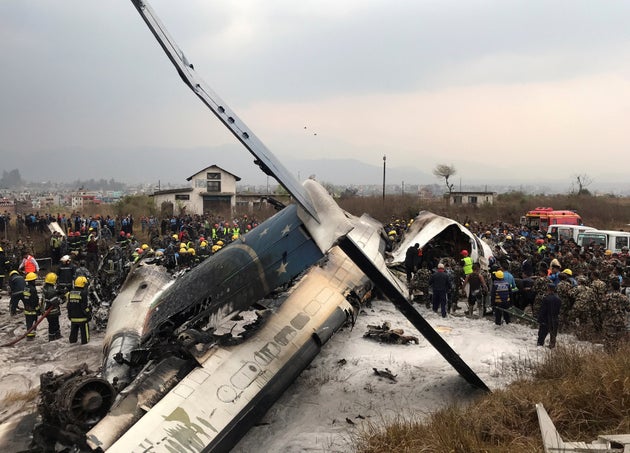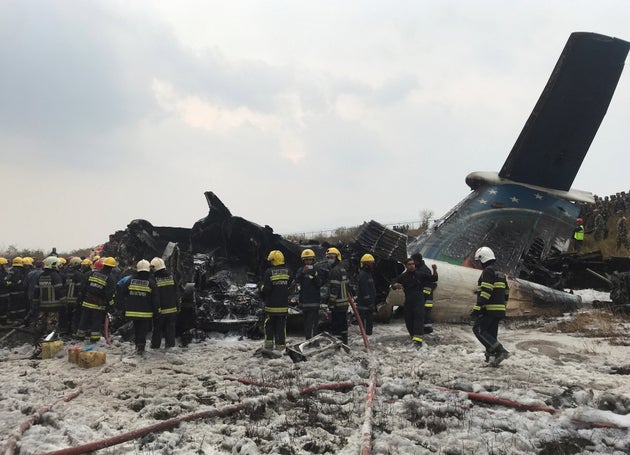 Akasa Air vs. Pilots: Delhi High Court Upholds DGCA's Authority to Act in Case of Contractual Breaches
The Directorate General of Civil Aviation (DGCA) is authorized to take action against pilots who violate civil aviation rules (CAR), the Delhi High Court ruled on Wednesday.
Akasa Air initiated legal action against pilots who had quit their jobs without giving the required notice by their contracts. In response to a request from the startup airline, which claimed it was in a crisis as a result of the sudden and abrupt resignation of 43 pilots who left the airline without providing the required notice period, the civil aviation regulator submitted written responses.
Akasa Air to Add 800 Staff and Fly Internationally(Opens in a new browser tab)
However, the Court ruled that it is now unable to give any explicit instructions to the DGCA and MCA regarding how to respond to a future representation that Akasa might make against defaulting pilots.
The court made it clear that there are no limitations on the DGCA's power to take action in situations of pilot noncompliance in an interim judgment that offers relief to Akasa Air. The airline firm maintained that it is merely requesting a directive to the DGCA to decide their (Akasa's) claims against pilots who may depart the airline in the future without serving the notice period, not that it is pressing for any action against the pilots who have already quit.
The Livery of Akasa Air's Boeing 737-800 Aircraft Has Been Revealed.(Opens in a new browser tab)
The DGCA had stated that it lacked the power or authority to intervene in any employment contract and therefore was unable to affect the employment contract between the pilots and Akasa Air.
The aviation authority said that if Akasa Air doesn't have enough pilots to continue operating flights, it would be in the interests of all parties if it complies with the requirement to keep a limited schedule.
Global Airlines to contract Hi Fly to accelerate A380 Entry into Service
Under the agreement, Global Airlines will benefit from Hi Fly's expertise to accelerate the Entry into Service (EIS) programme for the airline's new fleet.
Hi Fly, based in Lisbon, has significant A380 technical and operating experience.
First Global aircraft expected to fly to Europe in the months ahead, with a new registration of 9H-GLOBL
In a significant operational move, Global Airlines and Hi Fly have inked a contract to collaborate on the development and maintenance of the four A380 aircraft the new airline has agreed to purchase.
Hi Fly, the first company to operate the A380 on the secondary market, will collaborate with Global as it gets ready to launch operations to help the new carrier realize its goal of giving passengers the best possible experience when flying commercially.
Hi Fly takes delivery of its first Airbus A380(Opens in a new browser tab)
The EIS and Return to Service (RTS) procedures for Global's first aircraft, which are anticipated to start in the coming months, are the organisation's immediate priorities. However, with an affinity for the aircraft and confidence in its long-term potential and popularity, both businesses will look at further possibilities to deepen their partnership.
Hi Fly holds authorization to operate worldwide and currently operates 35,000 flights per year for a base of 140 airlines and governments on a global basis. 
Lufthansa equips short- and medium-haul aircraft with new cabins
−    Four makes eight: Large overhead compartments hold up to twice as many suitcases
−    For the first time on short-haul routes: holder for tablets and smartphones at every seat
−    More legroom with new ergonomic seats 
Customers of Lufthansa will soon enjoy a redesigned cabin environment on short- and medium-haul flights. It provides a great deal of comfort and luxury. The business will gradually outfit 38 Airbus A320s already operating for Lufthansa with the new cutting-edge cabin beginning in spring 2025.
SWISS unveils new 'SWISS Senses' air travel experience with totally new cabin interiors(Opens in a new browser tab)
More space for carry-on luggage: The 40 percent larger compartments allow for the vertical stowage of carry-on items much more quickly and comfortably. As a result, huge overhead bins may accommodate up to twice as many carry-on suitcases or bags as the conventional "bins".
Boeing and Qatar Airways Finalize Order for 25 737 MAX Airplanes(Opens in a new browser tab)
Each seat has a designated USB connector that can be used by Lufthansa to charge electronic devices. For the first flight ever, Lufthansa is providing a unique holder for tablets and smartphones in each seat. This allows visitors to watch films and television shows on their own devices much more conveniently without having to hold the gadgets in their hands or set them down on the folding table.
Increased legroom: The new seats from the Italian company Geven also provide extra legroom with the same seat spacing, through the ergonomically shaped backrests.