Airbus Officially opens US Manufacturing Facility in Alabama..!
Company, industry and community leaders mark start of A320 Family aircraft production in Mobile, Alabama
In a much-anticipated ceremony today in Mobile, Alabama, Airbus inaugurated operations at its first ever U.S. Manufacturing Facility. The plant – which assembles the industry-leading family of A319s, A320s and A321s – is officially open for business, with a skilled team of more than 250 Airbus manufacturing employees now at work on the first U.S.-made Airbus aircraft.
"Our commercial aircraft production in Mobile signifies two things: that Airbus has become the first truly global aircraft manufacturer, and that Airbus is now also a truly American manufacturer," said Airbus President and CEO Fabrice Brégier. "With the addition of our U.S. facility to our production network in Europe and Asia, we have strategically expanded our worldwide industrial base."
"The Airbus U.S. Manufacturing Facility is an important step forward in Airbus' strategy, strengthening our position as a leader and competitor in all of our key markets," Fabrice Brégier continued. "It enables us to grow our already significant presence in America – the largest single-aisle aircraft market in the world – and to be closer to our U.S. customers and key supplier partners. At the same time, the expanded industrial capacity gives us more flexibility to increase production across Airbus to meet global demand. The U.S. facility is good news for the overall Airbus enterprise, as this greater production capacity creates global growth opportunities across the company and throughout our supply chain."
Airbus announced plans for the $600 million U.S. Manufacturing Facility in 2012, and construction began at the Mobile Aeroplex at Brookley the following year. The first U.S.-made Airbus commercial aircraft – an A321 – is scheduled for delivery next spring. By 2018, the facility will produce between 40 and 50 single-aisle aircraft per year. Airbus' market forecast indicates a demand over the next 20 years (from all manufacturers) for some 4,700 single-aisle aircraft in North America alone.
Fabrice Brégier and members of the new Airbus workforce in Mobile were joined at the inaugural ceremony today by Airbus Group CEO Tom Enders, Alabama Governor Robert Bentley, Senator Jeff Sessions, Congressman Bradley Byrne, and scores of other dignitaries, airline and aerospace executives, and local leaders. The industry- and community-wide event convened under the theme, "Let's Get to Work – Together!" and culminated in the ceremonial placement of a placard on a component of the first aircraft to be produced in Mobile. The placard reads, "This aircraft proudly made in the U.S.A. by the worldwide team from Airbus."
The Airbus U.S. Manufacturing Facility joins several other Airbus and Airbus Group operations across the United States, including for example Airbus engineering offices in Alabama (Mobile) and Kansas (Wichita); an Airbus training centre in Florida (Miami); Airbus Defence & Space Military Aircraft facility in Alabama (Mobile); Airbus Helicopters factories and operations in Mississippi (Columbus) and Texas (Grand Prairie); and aircraft spares facilities in Georgia (Atlanta), Florida (Miami) and Virginia (Ashburn). The U.S. headquarters of Airbus, Airbus Defence & Space, and Airbus Group are located in Herndon, Virginia, while Airbus' Latin America headquarters is located in Miami. Airbus and Airbus Group are major customers of other U.S. aerospace companies as well, having purchased $16.5 billion of components and materials from American suppliers last year alone.
The establishment of the Airbus U.S. Manufacturing Facility doubles the number of manufacturers of large commercial aircraft in the United States, creating jobs, expanding skills, and establishing a new aerospace centre of competence on the U.S. Gulf Coast. In addition to the new Alabama manufacturing site, Airbus assembles commercial aircraft at modern facilities in Hamburg (Germany), Tianjin (China) and Toulouse (France).
Airbus is a leading aircraft manufacturer with the most modern and comprehensive family of airliners on the market, ranging in capacity from 100 to more than 500 seats. Airbus champions innovative technologies and offers some of the world's most fuel efficient and quiet aircraft. Airbus has sold more than 15,900 aircraft to some 400 customers worldwide.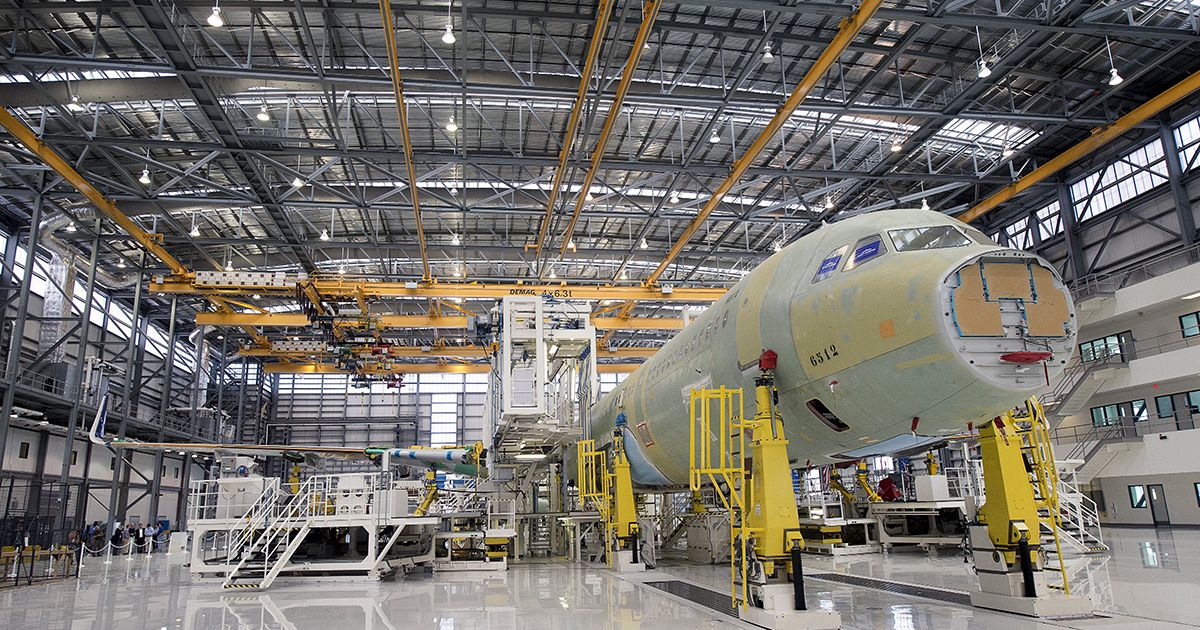 Airbus made history with the start of operations at its A320 Family jetliner final assembly line in Mobile, Alabama – officially called the Airbus U.S. Manufacturing Facility – which is the company's first production site in America.
This game-changing facility commenced aircraft assembly in July 2015, with first deliveries scheduled to begin in 2016. The Airbus U.S. Manufacturing Facility is expected to produce between 40 and 50 aircraft per year by 2018 – building the A319, A320 and A321 versions from Airbus' best-selling single-aisle family of jetliners.
The $600-million, 53-acre facility at the Mobile Aeroplex at Brookley represents Airbus' significant commitment to the U.S. – which is the largest market in the world for single-aisle aircraft. The vast majority of A320 Family jetliners produce in Mobile, Alabama will be delivered to North American customers.
In addition, the Mobile A320 Family final assembly line builds on an already strong presence of Airbus and its Airbus Group parent company in this Gulf Coast city – which also includes an engineering centre at the Mobile Aeroplex at Brookley that employs more than 200 engineers and support staff, as well as the Airbus Group's North American military customer services operation near the Mobile Regional Airport.
Liked it ..!?

Share with your friends & family 
British Airways Speedbird Pilot Academy: Your Ticket to the Cockpit
In a groundbreaking move, British Airways has officially unveiled the eagerly anticipated Speedbird Pilot Academy 2023, marking a significant milestone in the aviation industry. This exclusive program promises to propel aspiring pilots to new heights, offering an extraordinary opportunity for individuals from diverse backgrounds to embark on a career in the skies.
The Speedbird Pilot Academy, renowned for its legacy of training top-tier aviation professionals, is set to write a new chapter in the world of aviation. With a commitment to inclusivity, British Airways invites candidates from all walks of life to take part in this extraordinary journey.
Paving the Way for Future Captains
Enrolling in the Speedbird Pilot Academy is the first step towards achieving the esteemed rank of Captain within British Airways. As a fledgling pilot, you will commence your career on the airline's short-haul fleet, gaining invaluable experience as you embark on your aviation odyssey.
But that's just the beginning. As your expertise and experience burgeon, you'll gain access to an unrivaled array of fleet types and routes, spanning both long-haul and short-haul operations, setting you on a trajectory toward a thrilling future.
Applications Closed for 2023
The anticipation surrounding the Speedbird Pilot Academy 2023 has been palpable, and applications for this year have already closed. Nonetheless, this elite training program has not ceased to draw the attention of aviation enthusiasts worldwide.
Stringent Criteria for Aspiring Pilots
To be eligible for this extraordinary opportunity, candidates must meet stringent criteria:
Age: Applicants must be between 17 and 55 years old at the time of application and at least 18 years old to commence training.
Educational Qualifications: A minimum of 6 GCSEs graded A-C or 5-9, including Math, English, and a Science subject, or equivalent qualifications.
Language Proficiency: Proficiency in English is mandatory. Non-native English speakers must present an IELTS Level 5.5 certificate overall, with no sub-score falling below 5.5.
Passport and Residency: Applicants must hold a valid passport allowing unrestricted global travel and the right to live and study in the UK without the need for sponsorship.
Height Requirements: Aspirants' height must fall within the range of 1.57m (5'2″) to 1.90m (6'3″).
Medical Fitness: Applicants must obtain and maintain a UK CAA Class 1 medical certification with no restrictions, meeting British Airways' medical criteria.
Background Checks: Prior to commencing training, applicants must successfully complete referencing and pre-employment checks, including UK and international Criminal Record Checks.
A Clear Path to the Skies
The British Airways Speedbird Pilot Academy offers a clear path for aspiring aviators to transform their dreams of soaring above the clouds into a reality. With British Airways' ambitious growth plans, the future holds a world of exciting opportunities for those who dare to reach for the skies.
As this remarkable journey unfolds, British Airways reaffirms its commitment to diversity, inclusion, and the relentless pursuit of excellence in aviation.
Stay tuned for more updates on this exceptional aviation initiative that promises to shape the future of the industry.
You can Apply it here : Click
How is Bangkok Airways now weighing passengers before boarding?
Bangkok Airways is the most recent airline that asks customers to walk on a scale before boarding. The development was announced by the airlines on their Facebook page on September 14. According to the notification, the weight check survey will occur between September 15 and October 31, 2023.
https://www.facebook.com/FlyBangkokAir/posts/687409406754053?ref=embed_post
Bangkok Airways Public Company Limited is now a member of the Watchers Club, joining the ranks of other airlines. In order to precisely calculate the total weight of people and their accompanying carry-on luggage, the airline attempts to use standardized average weight data.
Exclusive Airbus A350 Photo Tour : Cabin, Seats and Walk around at wings India.(Opens in a new browser tab)
The company will formally certify that the data will be kept private and will be employed solely to enhance the information on the typical average weight.
A positive response from customers is what the company is hoping for. A standard weights survey must be carried out in accordance with the international civil aviation standard regarding the use of standard passenger and baggage weights for weight and balance calculation purposes in order to ensure the safety and effectiveness of a flight and to confirm that the actual weight does not exceed the maximum take-off weight limitation.
Bangkok Airways and Vietnam Airlines. Signed an agreement to codeshare flights.(Opens in a new browser tab)
Before boarding a plane, passengers are weighed, and Bangkok Airways is not the first airline to do this. Korean Air has been performing passenger weight checks at airports from September. Air New Zealand conducted a similar study earlier this year.
Norse Atlantic Airways Partners with WebCargo by Freightos
Norse Atlantic Airways and WebCargo by Freightos, the top air cargo booking platform, today announced substantial cooperation to provide the European-based carrier's capacity from the largest European Union cities for quick eBooking and payment on WebCargo.
Norse Atlantic Airways launches new Flights from Los Angeles and San Francisco to London(Opens in a new browser tab)
For technology, perishables, and other shipments, Norse Atlantic will soon enable real-time booking for WebCargo's thousands of forwarders on its flights to and from Europe to seven destinations in the US, including Los Angeles International. It is important to remember that Norse Atlantic operates out of Miami International, the entryway to South America, for forwarders making reservations to Latin America.
Norse intends to establish capacity later this year between London and Barbados and Jamaica as well as between Oslo and Thailand, substantially extending WebCargo's reach in Asia and the Caribbean.
Norse Atlantic Airways unveils two new routes from the US to London(Opens in a new browser tab)
Norse Atlantic only flies Boeing 787 Dreamliners, which have a number of cutting-edge green features like 25% reduced CO2 emissions and 50% quieter operation than the aircraft of the previous generation still in service with several major airlines worldwide.
Freight forwarders looking to book capacity on Norse Atlantic Airways, visit https://www.webcargo.co/book-air-cargo-with-norse-atlantic-airways/