Dubai Airshow 2017 in pictures : Jetline Marvel
For the first time Jetline Marvel made visit to Dubai Airshow 2017 . The Dubai Airshow is considered the fastest-growing aviation event in the world, and with good reason. The show began life in 1986 under the name Arab Air, and was rebranded as Dubai Airshow in 1989.
Since then it has gone from strength to strength, and evolved into one of the world's key aerospace exhibitions. Held bi-annually, the event showcases the latest developments in military, general and commercial aviation, in addition to providing a valuable platform for aircraft manufacturers and service providers to do business. Attendees can explore the extensive exhibition arena, view the hottest new aircraft in the static display, and enjoy a series of breathtaking aerial demonstrations.
Our press Correspondent Arunkumar Nair covered the Dubai Airshow 2017 . We are excited to showcase the glimpse of many aircraft arrived to the event.
Dreamliner 787 -10
Airbus A380 
Orbis Flying Hospital 
Apache Combat Helicopter 
Chinook Helicopter 
Dassult Aviation 
Inside Emirates A380 
Inside Emirates A380 
Inside Emirates A380 
Inside Emirates A380 
Antova 
Inside orbis Hospital 
Inside Orbis Hospital 
Airbus A380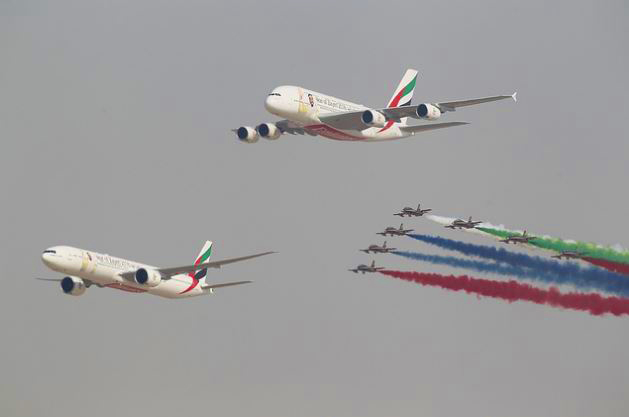 Many Airliners placed order for the new aircraft and Boeing has bagged more than 300 Aircraft and Airbus takes order more than 520 Aircraft this is considerably the highest order ever received in any Airshow. and Boeing also anticipates strong aviation growth in the middle east countries and predicated in near future 2030 there will be huge demand for the Pilots, cabin crew and Technician.
The penultimate day of the Dubai Airshow saw two enormous aircraft purchase orders for both Airbus and Boeing, in one of the most exciting days in recent aviation business history.
Airbus revealed its largest single announcement ever this morning – a US$49.5 billion deal with Indigo Partners to purchase 430 aircraft in its A320neo family, described as Airbus' largest ever single announcement.
Meanwhile Boeing inked a US$27 billion deal with carrier flydubai for 225 aircraft in its 737 MAX family, the largest-ever single-aisle jet order – by number of airplanes and total value – from a Middle East carrier.
With the Airbus order, Indigo Partners, a US-based private equity fund, has doubled its existing order of 427 A320 family aircraft. The fund owns four ultra low cost airlines, amongst which the new fleet will be shared as follows: Wizz Air (Hungary) 72 A320neo, 74 A321neo; Frontier Airlines (USA) 100 A320neo, 34 A321neo; JetSMART (Chile) 56 A320neo, 14 A321neo, and Volaris (Mexico) 46 A320neo, 34 A321neo.
Bill Franke, Managing Partner of Indigo Partners, and a man widely credited with creating the ultra low cost carrier sector, said: "This underscores our optimistic view of the growth potential of our family of low-cost airlines, as well as our confidence in the A320neo Family as a platform for that growth."
The mammoth deal puts Indigo Partners among the biggest customers by order number for Airbus single-aisle aircraft.
John Leahy, COO, Customer, Airbus Commercial Aircraft, described the deal as 'remarkable, and thanked his sales team. He said: "It's gratifying that [this order] comes from a group of airline professionals who know our products as well as the folks at Indigo Partners do. We are proud to augment [Indigo Partner's] airline fleets in Latin America, North America and Europe with the single-aisle aircraft that offers the lowest operating costs, longest range and most spacious cabin. "
Increasing demand for air travel will push jetliner sales to more than 34,000 worldwide in the next 20 years, according to Airbus's 2017 global market forecast. Almost three-quarters of that will be single-aisle models, the company said.
Most of the aircraft included in the Indigo Partners order will be delivered after 2021, with precise engine details as yet undecided.
Later on Wednesday, November 15, His Highness Sheikh Ahmed bin Saeed Al Maktoum, Chairman of flydubai, signed an agreement between Boeing and flydubai for the 225 Boeing 737 MAX aircraft, saying: "Today's order underlines the success of flydubai's founding vision in changing the way people travel across the region. In under a decade, flydubai has extended its network to 97 destinations in 44 countries, transporting more than 44 million passengers. We look forward to the arrival of the new aircraft from 2019 in support of our future ambitions."
The new Boeing order marks the third order placed by the airline with the US manufacturer in its eight-year history, following on from others placed in 2008 and 2013. The new crop of aircraft will be added to the flydubai fleet from as soon as 2019.
The agreement includes a commitment for 175 MAX airplanes, and purchase rights for 50 additional MAXs. More than 50 of the first 175 airplanes will be 737 MAX 10s, launched earlier this year, and said to have the lowest seat-mile cost of any single-aisle airplane. The rest of the order comprises MAX 8 and MAX 9 aircraft.
Copyrights : Jetline Marvel.
Vueling's In-Flight Delight: Pampering Pets with Delicious On-Board Treats"
In a heartwarming move that caters to the growing community of pet-loving travelers, Vueling, the Spanish low-cost carrier, has become the trailblazer in European aviation by introducing delectable treats for pets as part of its innovative buy-on-board menu.
This groundbreaking initiative positions Vueling as the first European airline to embrace the needs and preferences of passengers who choose to journey with their beloved animals.
Setting the stage for this pet-friendly endeavor, Vueling's Barcelona-based team collaborated with Newrest Travel Retail to undergo a comprehensive revamp of its onboard menu for the upcoming 2023-2024 winter season. The standout feature of this transformation is the inclusion of specially curated dog snacks, sourced from the renowned brand Edgard & Cooper.
Vueling ensures that its four-legged pets can indulge in a delectable selection of in-flight treats. The pet menu showcases enticing options such as chicken bars and beef bites, available at reasonable prices of €3.50 ($3.78) and €5.50 ($5.93), respectively. This move not only elevates the standard of in-flight pet services but also caters to the discerning tastes of pets with a penchant for high-quality, flavorful snacks.
Vueling has established a transparent and straightforward pricing model for pet travel. Passengers traveling with their pets can expect to pay €50 for domestic flights and €60 for international flights or those to/from the Canary Islands.