Brussels Airlines and Tomorrowland create Amare
Thursday, February 23, 2017 — Every summer since 2012, Brussels Airlines flies the world to De Schorre in Boom. With visitors from more than 200 countries gathering for Tomorrowland, this magical music festival is able to call itself the most international gathering in the world. Young people from Swaziland and Sweden to Fiji come together for an unforgettable weekend and friendship without borders. To symbolize this, Brussels Airlines and Tomorrowland created Amare, the fourth aircraft in the airline's Belgian Icons series.  Starting on Friday 24 February, AMARE will be spreading its wings and preparing for an amazing five-year journey spanning the skies over Europe and beyond. 
In 2012 Global Journey came into being as Brussels Airlines and Tomorrow land flew in thousands of young people from all over the world to Belgium, not only to enjoy the festival but to discover the rest of the country. Last summer Brussels Airlines flew more than 10,000 People of Tomorrow to Brussels on their 108 Tomorrowland flights. Now, five years after that first cooperation, we have AMARE, who will be bringing people together all over Europe and beyond for five years.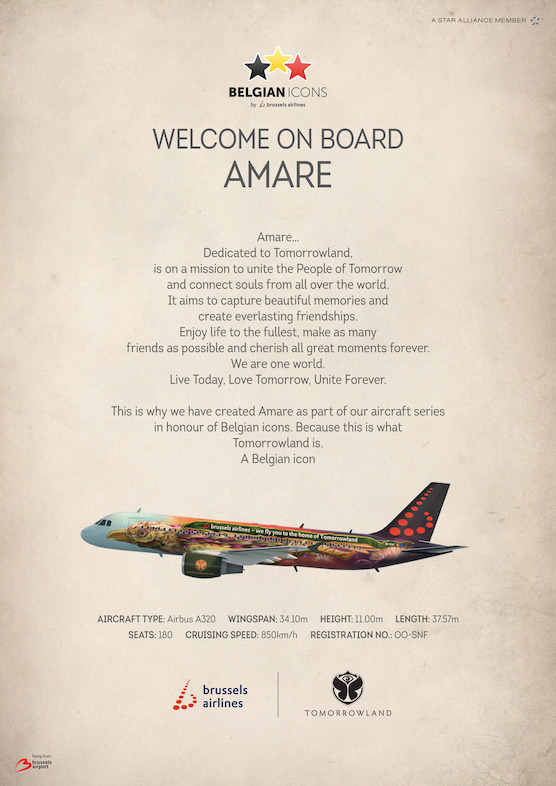 "AMARE is not just an airplane; it brings people's hearts together all the year round and symbolises some of the key values of Tomorrowland: love, friendship and unity."


A nine month creation process
It took nine months to finish the creation of AMARE.  After an intensive period of sketches, 3D drawings and model building, the design was ready for painting. Eight artists, including a father and son with many years of experience and the Brussels Airlines and Tomorrowland team, worked non-stop for two weeks to airbrush this impressive print onto the Airbus A320. First a gigantic print of the design was created, before being copied onto the airplane, a 37.56 metres long and 11 metres high Airbus, with registration number OO-SNF.  After this process, the colours were mixed and the aircraft was painted by hand.
Tomorrow, 24 February, Amare will leave on its maiden voyage to Vienna at 7h10 (flight SN2901). The flight schedule of Amare can be followed on brusselsairlines.com
In order to make flying with Amare a complete experience, special mood lighting is foreseen in the aircraft cabin. To get everyone in the right atmosphere, the Tomorrowland Hymn by Hans Zimmer is played every time travellers board Amare.
Fourth Belgian Icon
Amare is the fourth special livery plane that Brussels Airlines adds to its Belgian Icons series. As an ambassador for Belgium, the airline wants to bring the best of Belgium to the world. In 2014 the company decided to dedicate an aircraft to Tintin. "Rakcham" instantly became one of the most photographed planes in the world. One year later two Belgian Icons were unveiled to the public: Magritte, dedicated to surrealist painter René Magritte, and Trident, the aircraft of the Belgian Red Devils, the Belgian national football team. With Amare, Brussels Airlines now pays tribute to Tomorrowland, which has in fact become a true Belgian Icon.
Brussels Airlines, member of Lufthansa Group and a Star Alliance member, is the Belgian airline that offers the widest choice of flights to and from the capital of Europe, Brussels Airport. The company has more than 3.500 employees and 49 aircraft operating some 300 flights daily, connecting the Capital of Europe to over 90 premium European and African destinations and New York JFK, Washington D.C. and Toronto. As from March 2017 the airline will operate 5 weekly flights to Mumbai, India.
Liked it ..?

Share with your friend and family 
Revolutionizing Air Cargo: Dronamics and Qatar Airways Cargo Pioneer Drone-Airline Partnership
Dronamics, the inaugural cargo drone airline licensed to operate in Europe, and Qatar Airways Cargo, the world's largest international cargo carrier, have announced a groundbreaking interline agreement. This partnership marks the first-ever interline agreement between a global airline and a cargo drone carrier.
The interline agreement facilitates the expansion of delivery networks for both collaborators, significantly broadening their outreach and granting access to regions traditionally challenging for conventional air freight.
Droneports Network of Qatar Airways Cargo.
Through this arrangement, Dronamics can offer cargo services from any of its droneports, initially located in Greece, to the extensive network of Qatar Airways Cargo.
This network includes destinations like Singapore, China (including Hong Kong), and the United States (JFK). Conversely, Qatar Airways Cargo gains access to remote locations served by Dronamics, such as the Greek islands, through the cargo drone network.
The expansion of this network allows Dronamics customers to make seamless bookings for transporting goods from a Dronamics droneport to any destination covered by the joint interline network, and vice versa.
It enables swift and reliable shipments
This development opens up significant potential for the flow of various goods, including pharmaceuticals, food, e-commerce items, mail, parcels, and spare parts. It enables swift and reliable shipments to and from locations that were previously underserved by air freight.
Svilen Rangelov, Co-Founder and CEO of Dronamics, expressed enthusiasm about the partnership, stating, "We're very excited to have the world's largest air cargo carrier as our partner for the first-of-its-kind interline agreement with our category-defining cargo drone airline."
Rangelov emphasized the opportunity to exponentially expand air cargo accessibility globally, enabling same-day delivery to numerous communities worldwide.
Elisabeth Oudkerk, SVP Cargo Sales & Network Planning at Qatar Airways Cargo, highlighted the airline's commitment to embracing disruptive technology and supporting ambitious companies like Dronamics.
She noted the significance of being the first international airline to offer this innovative service, marking a milestone in the advancement of autonomous cargo drone transportation.
Dronamics is set to commence commercial operations in Greece early next year, with a focus on establishing a same-day service connecting Athens, the capital city, with the industrial north area of the country, as well as the southern islands.