France and Spain launch Tiger MkIII programme
Marignane, 02 March 2022 – OCCAR (Organisation for Joint Armament Cooperation), on behalf of the French and Spanish Armament General Directorate, the DGA (Direction Générale de l'Armement) and the DGAM (Dirección General de Armamento y Material) has awarded a contract to Airbus Helicopters for the development, production, and initial in-service support of the Tiger MkIII attack helicopter upgrade programme..
The contract includes the upgrade of 42 aircraft for France (with the possibility to add another 25 helicopters) and 18 for Spain. In addition, the contract provides the possibility for Germany to later join the Tiger MkIII programme. The first prototype is scheduled for an inaugural flight in 2025. First delivery to the French Armament General Directorate (DGA) will take place in late 2029 followed by a first delivery to Spain in 2030. Development and upgrade work will be conducted in Airbus Helicopters facilities in Albacete (Spain), Marignane (France) and Donauwörth (Germany).
Tiger MkIII is a comprehensive upgrade of the European attack helicopter's systems. Proven in combat, the Tiger is difficult to detect, highly agile, and highly survivable, something operators will continue to benefit from with  the MkIII upgrade. The new standard will allow the platform to be connected to the digital battlefield in order to perform manned-unmanned teaming as well as share tactical information in real time. It will also provide an unrivaled range of weapons (turret gun, laser-guided rockets and missiles) and renewed detection and targeting capabilities. The integration of state-of-the art avionics will reduce the crew's workload and enable them to be fully focused on mission execution.
What makes Dassaults Rafale fighter jet so special?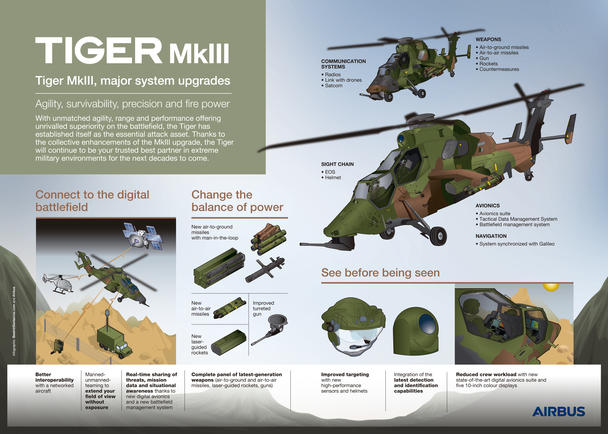 The Tiger MkIII standard configuration will include the integration of the Safran Strix NG sights, the Thales FlytX avionics suite, the Topowl DD helmet-mounted sight display, an Indra IFF upgrade, Thales GNSS, and Safran's inertial navigation system. The communication suite will be upgraded with Thales' Contact/Synaps radio and data links dedicated to manned/unmanned teaming. Moreover, for Spain Link16 and SATCOM functionalities will be included. The Spanish Tiger MkIII will be equipped with a battlefield management system and countermeasures provided by Indra, whereas the French Tiger MkIII will be equipped with a battlefield management system by ATOS and countermeasures provided by Thales. The new weapon package for France will include the MBDA MAST-F (Future Tactical Air-to-Surface Missile) and Mistral 3 air-to-air missile. For Spain, new capabilities will  include 70mm guided rockets and a new air to ground missile.
What makes Dassaults Rafale fighter jet so special?
Airbus Helicopters is fully committed to supporting the Tiger fleet. In 2019, a tri-lateral Global Support Contract was signed with OCCAR. It aimed at boosting the availability rate of the Tigers in service in the French, German, and Spanish Armies. Thanks to this contract, the availability rate for the French Army Tiger fleet has been significantly progressing over the past couple of years. Further positive results are expected in the coming months in Spain, Germany and France.
@AirbusHeli @EjercitoTierra @armeedeterre @DGA @DGAM #TigerMKIII
Revolutionizing Air Cargo: Dronamics and Qatar Airways Cargo Pioneer Drone-Airline Partnership
Dronamics, the inaugural cargo drone airline licensed to operate in Europe, and Qatar Airways Cargo, the world's largest international cargo carrier, have announced a groundbreaking interline agreement. This partnership marks the first-ever interline agreement between a global airline and a cargo drone carrier.
The interline agreement facilitates the expansion of delivery networks for both collaborators, significantly broadening their outreach and granting access to regions traditionally challenging for conventional air freight.
Droneports Network of Qatar Airways Cargo.
Through this arrangement, Dronamics can offer cargo services from any of its droneports, initially located in Greece, to the extensive network of Qatar Airways Cargo.
This network includes destinations like Singapore, China (including Hong Kong), and the United States (JFK). Conversely, Qatar Airways Cargo gains access to remote locations served by Dronamics, such as the Greek islands, through the cargo drone network.
The expansion of this network allows Dronamics customers to make seamless bookings for transporting goods from a Dronamics droneport to any destination covered by the joint interline network, and vice versa.
It enables swift and reliable shipments
This development opens up significant potential for the flow of various goods, including pharmaceuticals, food, e-commerce items, mail, parcels, and spare parts. It enables swift and reliable shipments to and from locations that were previously underserved by air freight.
Svilen Rangelov, Co-Founder and CEO of Dronamics, expressed enthusiasm about the partnership, stating, "We're very excited to have the world's largest air cargo carrier as our partner for the first-of-its-kind interline agreement with our category-defining cargo drone airline."
Rangelov emphasized the opportunity to exponentially expand air cargo accessibility globally, enabling same-day delivery to numerous communities worldwide.
Elisabeth Oudkerk, SVP Cargo Sales & Network Planning at Qatar Airways Cargo, highlighted the airline's commitment to embracing disruptive technology and supporting ambitious companies like Dronamics.
She noted the significance of being the first international airline to offer this innovative service, marking a milestone in the advancement of autonomous cargo drone transportation.
Dronamics is set to commence commercial operations in Greece early next year, with a focus on establishing a same-day service connecting Athens, the capital city, with the industrial north area of the country, as well as the southern islands.