France and Spain launch Tiger MkIII programme
Marignane, 02 March 2022 – OCCAR (Organisation for Joint Armament Cooperation), on behalf of the French and Spanish Armament General Directorate, the DGA (Direction Générale de l'Armement) and the DGAM (Dirección General de Armamento y Material) has awarded a contract to Airbus Helicopters for the development, production, and initial in-service support of the Tiger MkIII attack helicopter upgrade programme..
The contract includes the upgrade of 42 aircraft for France (with the possibility to add another 25 helicopters) and 18 for Spain. In addition, the contract provides the possibility for Germany to later join the Tiger MkIII programme. The first prototype is scheduled for an inaugural flight in 2025. First delivery to the French Armament General Directorate (DGA) will take place in late 2029 followed by a first delivery to Spain in 2030. Development and upgrade work will be conducted in Airbus Helicopters facilities in Albacete (Spain), Marignane (France) and Donauwörth (Germany).
Tiger MkIII is a comprehensive upgrade of the European attack helicopter's systems. Proven in combat, the Tiger is difficult to detect, highly agile, and highly survivable, something operators will continue to benefit from with  the MkIII upgrade. The new standard will allow the platform to be connected to the digital battlefield in order to perform manned-unmanned teaming as well as share tactical information in real time. It will also provide an unrivaled range of weapons (turret gun, laser-guided rockets and missiles) and renewed detection and targeting capabilities. The integration of state-of-the art avionics will reduce the crew's workload and enable them to be fully focused on mission execution.
What makes Dassaults Rafale fighter jet so special?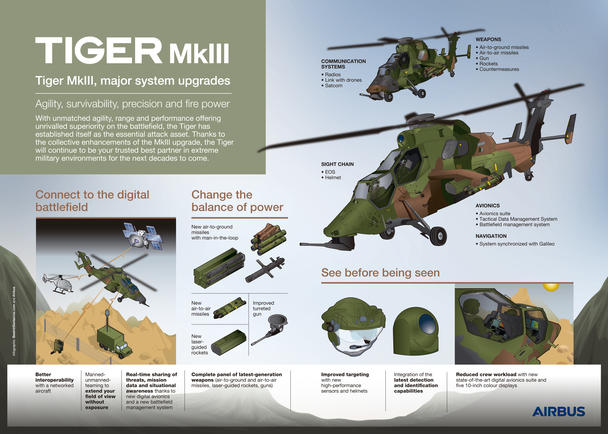 The Tiger MkIII standard configuration will include the integration of the Safran Strix NG sights, the Thales FlytX avionics suite, the Topowl DD helmet-mounted sight display, an Indra IFF upgrade, Thales GNSS, and Safran's inertial navigation system. The communication suite will be upgraded with Thales' Contact/Synaps radio and data links dedicated to manned/unmanned teaming. Moreover, for Spain Link16 and SATCOM functionalities will be included. The Spanish Tiger MkIII will be equipped with a battlefield management system and countermeasures provided by Indra, whereas the French Tiger MkIII will be equipped with a battlefield management system by ATOS and countermeasures provided by Thales. The new weapon package for France will include the MBDA MAST-F (Future Tactical Air-to-Surface Missile) and Mistral 3 air-to-air missile. For Spain, new capabilities will  include 70mm guided rockets and a new air to ground missile.
What makes Dassaults Rafale fighter jet so special?
Airbus Helicopters is fully committed to supporting the Tiger fleet. In 2019, a tri-lateral Global Support Contract was signed with OCCAR. It aimed at boosting the availability rate of the Tigers in service in the French, German, and Spanish Armies. Thanks to this contract, the availability rate for the French Army Tiger fleet has been significantly progressing over the past couple of years. Further positive results are expected in the coming months in Spain, Germany and France.
@AirbusHeli @EjercitoTierra @armeedeterre @DGA @DGAM #TigerMKIII
Passengers of American Airlines evacuated as moth infestation onboard
The American Airlines Airbus A321's passengers on May 20, 2023, found moths inside the aircraft.
BA forced to ground a plane after bedbug infestation(Opens in a new browser tab)
The plane was plagued with them, which the captain stated was a "safety and comfort issue."He spoke to maintenance and decided that the best way to get rid of the moths, all passengers to exit the aircraft so that the moths could be efficiently eliminated.
one of the passenger share a video on Twitter and said: In all my years of flying… I have never had this happen. The second plane needed new tires. They moved us to a plane with no fuel. They keep calling for fuel but have no luck. It's been 45 minutes.
Pakistan might be interested in replacing its F16 aircraft with a KAAN 5th gen fighter from Turkey.
Pakistan believes that Turkey's First Fifth Generation Fighter will replace the F-16.
The air force in Pakistan is eager to replace its aging fleet. It has repeatedly asked the United States for upgrades to its F16 fleet, but the United States has refused due to pressure from its neighbors and some allies, including China.
Later, Pakistan forcibly acquired the newest fighter jet from China, the J-10, for its fleet despite being uncertain of the aircraft's intended use. and some aircraft were constructed in Pakistan.
US approves sale of an F16 fighter jet to Pakistan(Opens in a new browser tab)
Now It is crucial for Pakistan to upgrade its air force fleet with the latest aircraft so that it has the option to choose Turkish defense manufacturing. The Turkish Air Force just got its first F-16 fighter plane that was upgraded locally. As part of Turkish Aerospace Industries' Project Ozgur, the aircraft has been modernized. Pakistan also may get similar assistance to upgrade its fleet in the upcoming days.
When Turkey's first fifth-generation fighter, the TAI Kaan, completes its developmental trials around 2030, Pakistan has indicated an interest in purchasing it from Turkish Aerospace Industries (TAI).
Ukraine enters a tender for the engine development for Turkey's KAAN Fighter.(Opens in a new browser tab)
Pakistan currently has its sights set on the Turkish KAAN fighter jet, which was just completed and is rumored to be a fifth-generation fighter. Additionally, it displayed some of the aircraft's features and perspective, which are somewhat reminiscent of those of the US F22 and Russian Su 57.
How will be the Tejas Mark 2 compared to the F-16 block 50/52?(Opens in a new browser tab)
Pakistan may variety of options with Turkey. even it can ask for the domestic production of the Turkish fighter jet and also it can import most of the weapons. Turkish is also willing to make the agreement with Pakistan, it is already looking for buyers for its newly developed products.
Turkish engineers hope to make their fifth-generation aircraft more competitive with the US F35 or the Russian Su-57. However, it will take some time as the Turkish manufacturing industry's biggest problems are the engines and avionics, which they are always working to resolve.
Currently, Turkey manages the majority of aircraft, although it is working to acquire engines, many of which may come from Rolls-Royce for its KAAN TFX fighter.
"Enhancing the Inflight Experience: American Airlines' Summer Upgrades for a Seamless Journey"
In order to provide all passengers with a consistent and connected inflight experience during this travel season, American Airlines is enhancing the summer travel experience.
Customers can anticipate new services when they board an American flight this summer. These include a variety of new inflight meals and snacks that foodies will enjoy, Wi-Fi connectivity enhancements for travelers who want to stay connected, and new entertainment options to stream while in flight.
Porter Airlines unveils premium onboard catering(Opens in a new browser tab)
The new Plant-Based Bulgogi Noodle Bowl from American is a new premium option for passengers on transcontinental American Flagship service flights. The entrée has yakisoba noodles, stir-fried vegetables, and crumbled plant-based beef, providing a unique dinner choice that is both nourishing and delicious.
From a Greek Beef Orzo Stew to a Kagiana Egg Scramble for breakfast, American worked closely with Avli on the Park to bring a new summer dining experience to the skies while flying nonstop to six different destinations in Europe: Athens, Barcelona, Dublin, London, Paris and Rome.
Airport security 100ml liquid rule to be scrapped(Opens in a new browser tab)
This month, a Fruit and Cheese Plate and Breakfast Bag will be available in the Main Cabin as part of American's Buy on Board programme. The Fruit & Cheese Plate combines cheese, grapes, and chocolate for a wonderfully balanced flavour experience, whereas the Breakfast Bag includes a healthy and tasty combination of yogurt, oats, and a fig bar. The new products can be purchased on flights (1,300 miles or more) departing between 9:46 a.m. and 9 p.m. and 5 and 9:45 a.m., respectively.
American is connecting customers to high-speed Wi-Fi on more aircraft than any other carrier and delivering innovative, exclusive and diverse content directly to your personal device. By July, 100% of American's Wi-Fi-equipped regional and narrowbody aircraft will plan to offer T-Mobile In-Flight Connection On Us. With this new enhancement, eligible T-Mobile customers can enjoy complimentary connectivity with streaming during their domestic flights.