Look at the Gorgeous Cobalt Co50 Valkyrie Private Plane..!
San Francisco, Calif. –  Cobalt, the premier manufacturer of design-centric private aircrafts, today announced over $50 million in pre-orders of the company's first model, the Co50 Valkyrie, within the first 90 days.  Following the public launch on November 12, 2015, the fully certified version, Co50 Valkyrie, has seen significant interest from investors, pilots and travel enthusiasts around the globe. Cobalt also welcomed a new test pilot to the team. James Schwartz, a former Delta pilot, will command Cobalt's test program for FAA certification.
"The Cobalt Valkyrie is a magnificent airplane and it has created a tremendous amount of much-deserved interest," said James Schwartz, lead test pilot at Cobalt. "It's a beautiful design, profoundly enjoyable to fly, and it will outperform anything in its class. I'm very happy for the opportunity to fly the Valkyrie, and excited to lead Cobalt's flight test program."
Upon opening the order book, Cobalt received hundreds of inquiries to buy the plane, including 29 orders that were placed within the first 24 hours. Many of the interested buyers are from top technology companies in Silicon Valley like Google and Apple. In addition to huge pre-orders from the U.S., the company also witnessed strong pre-order sales in top international markets, including Canada, the United Kingdom, Germany, Australia, and Brazil.
"Cobalt's initial pre-orders have exceeded my expectations," said David Loury, founder and chief executive officer of Cobalt. "The growing demand for the Valkyrie illustrates the real desire that people have to purchase a private aircraft that's design-centric, sleek and super fast. My vision is to reinvigorate the personal aviation market, starting with the Valkyrie."
Built for speed. The Valkyrie is the fastest private aircraft in its class with the ability to travel up to 260 knots. In contrast, other single engine piston aircraft usually tap out at 242 knots. Cobalt's Valkyrie is the fastest single engine piston plane in its category.
Super safe. The Co50 Valkyrie is a canard aircraft, equipped with a forewing to prevent the plane from stalling in the air. This provides a tremendous peace of mind to pilots and ensures the industry's safest landings and takeoffs. Cobalt promotes the highest standards of safety in the industry. An onboard parachute is also provided for an additional sense of security.

Modern, elegant design and craftsmanship. Inspired by classic fighter jets with clean lines and premium finishes, the Co50 Valkyrie impresses with understated elegance. The exterior comes in a range of custom finishes including dark colors, typically harder on composites. The interior features premium leather seats, hand stitched by former Hermès craftsmen. The dashboard design is equally impressive with only one on/off switch and a tasteful place for your iPad. Cobalt will exclusively manufacture the Co50 Valkyrie in California to ensure quality standards and fast delivery to early buyers.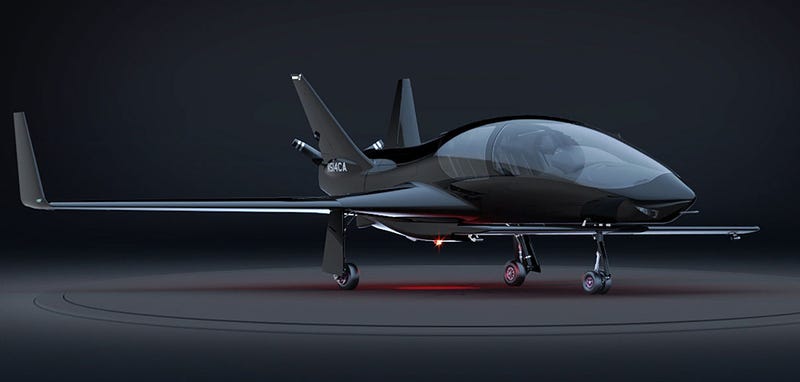 Amazing visibility. Pilots flying Cobalt's Valkyrie will appreciate the beautiful, expansive visibility above and below. Co50 Valkyrie has the largest one-piece canopy in the world and unrivaled visibility with a 320-degree view.
Luxurious comfort. The Valkyrie comfortably seats five people, including the pilot, with ample storage for golf clubs, skis and suitcases. The Valkyrie's propulsion engine is located in the rear of the plane, allowing for a quiet, comfortable cabin.
Additional Specifications:
Category: 5-seat Single Engine Piston
Turbocharged 350HP, retractable, IFR-capable
Oxygenized non-pressurized
Cruise range: 1050 nautical miles (nmi) with NBAA IFR reserves
Customization: Interior and exterior are fully customizable upon request
Exact dimensions: 30 feet long x 30 feet wide x 10 feet high
Pricing and Availability
The Valkyrie costs $595,000 and is available for U.S. pre-order with a $15,000 deposit. The Valkyrie is targeted for availability in 2017. Additional options, including the type certification package, can be added during the pre-order process.
To ensure a handcrafted approach is taken with each and every plane, Cobalt has opened a wait list for the near-term to focus primarily on the production of all current pre-orders. Cobalt remains committed to building exceptional, high-end, custom planes. A safe production ramp up, consistent exceptional craftsmanship, and conformity to FAA regulations is Cobalt's first priority to ensure the utmost satisfaction from all of its customers.
About Cobalt
Cobalt's mission is to transform the private aircraft experience with a new category of planes that are design-centric, stunningly sleek, modern, as well as super fast, safe and easy to fly. Cobalt's founder and CEO, David Loury, an aerospace engineer, French entrepreneur and designer, had the vision to improve the flying experience 10 years ago when he founded Cobalt. Cobalt's first plane, the Co50 Valkyrie, debuted in San Francisco and is now available for U.S. pre-order.
Source Courtesy :  Cobalt Media
Liked it ..!?

Share with your friends and family 
India to procure 97 Tejas jets, 156 Prachand choppers, totalling $26.74 billion deal
98% to be sourced from domestic industries in a major boost to 'Aatmanirbharta' in defence.
Procurement of Light Combat Helicopters & Light Combat Aircraft Mk 1A from HAL gets a nod.
Medium Range Anti-Ship Missiles for the surface platform of the Indian Navy accorded approval.
Acquisition of Towed Gun System cleared to replace Indian Field Gun
Proposals totaling Rs 2.23 lakh crore
The Defense Acquisition Council has greenlit capital acquisition proposals totaling Rs 2.23 lakh crore, aimed at bolstering the operational capabilities of the Armed Forces.
This move, with 98% of the funding set to be derived from domestic industries, signifies a significant stride toward promoting self-reliance in defense.
On Thursday (Nov 30), the Indian government sanctioned what is purported to be one of the largest defense contracts in the nation's history.
The Defence Acquisition Council, led by Defence Minister Rajnath Singh, gave the green light to procure 97 Tejas light combat aircraft and 156 Prachand helicopters, a move aimed at significantly enhancing the overall combat capabilities of the armed forces. The approved deals amount to approximately Rs 2.23 trillion ($26.74 billion).
As reported by The Economic Times newspaper, the 97 Tejas aircraft alone are valued at around Rs 650 billion ($7 billion), marking this agreement as the most substantial fighter aircraft deal ever undertaken in the country.
This strategic decision underscores the government's commitment to fortifying the nation's defense capabilities while concurrently supporting the growth of indigenous defense manufacturing.
Key Points:
DAC Approval: The Defence Acquisition Council (DAC) chaired by Raksha Mantri Shri Rajnath Singh granted approval for Acceptance of Necessity (AoNs) totaling Rs 2.23 lakh crore on November 30, 2023.
Domestic Sourcing: 98% of the approved AoN amount (Rs 2.20 lakh crore) will be sourced from domestic industries, aligning with the goal of achieving 'Aatmanirbharta' in the Indian Defence Industry.
Anti-tank Munitions: AoN granted for procurement of two types of Anti-tank Munitions (ADM Type – 2 and Type-3) capable of neutralizing Tanks, Armoured personnel carriers, and enemy personnel.
Towed Gun System (TGS): AoN granted to replace the Indian Field Gun (IFG) with a state-of-the-art Towed Gun System (TGS) for the Indian Army's Artillery forces.
155 mm Nubless Projectile: AoN granted for the procurement of 155 mm Nubless projectiles for use in Artillery guns, enhancing lethality and safety.
Automatic Target Tracker (ATT) and Digital Basaltic Computer (DBC): AoN for procurement and integration of ATT and DBC for T-90 Tanks to maintain a combative edge over adversary platforms.
Medium Range Anti-Ship Missiles (MRAShM): AoN granted for procurement of MRAShM for Indian Navy's surface platforms as a primary offensive weapon.
Aircraft Procurement: AoNs granted for Light Combat Helicopter (LCH) and Light Combat Aircraft (LCA) Mk 1A for Indian Air Force and Indian Army, along with the upgradation of Su-30 MKI Aircraft from Hindustan Aeronautics Limited (HAL).
Indigenous Content Mandate: DAC approved a major amendment in the Defence Acquisition Procedure (DAP) 2020, mandating a minimum of 50% indigenous content in material, components, and software for all procurement cases.
MSMEs and Start-ups Inclusion: To encourage indigenization, DAC decided to consider registered MSMEs and recognized start-ups for Request for Proposal (RFP) issuance without financial parameter stipulations for procurement cases with AoN cost up to Rs 300 crore. This limit can be relaxed up to Rs 500 crore on a case-to-case basis with DPB approval.