Boeing, Lion Air Group Announce Order for 50 737 MAX 10 Airplanes
Boeing, Lion Air Group Announce Order for 50 737 MAX 10 Airplanes
– Fast-growing carrier placed the largest incremental order of Boeing's newest 737 jet
– MAX 10 will be the most efficient and profitable single-aisle airplane
– Lion Air Group to operate MAX 8, 9, and, 10, maximizing commonality and flexibility
JAKARTA, Indonesia, April 10, 2018 /PRNewswire/ — Boeing [NYSE: BA] and the Lion Air Group today announced the airline purchased 50 of Boeing's new 737 MAX 10 airplane, which will be the most fuel-efficient and profitable single-aisle jet in the aviation industry. The deal, valued at approximately $6.24 billion at list prices, is the largest incremental order to date of the MAX 10 variant. The order was previously listed as unidentified on Boeing's Orders & Deliveries website.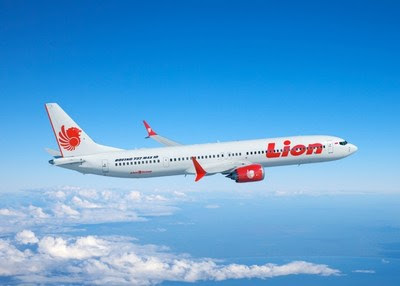 "Lion Air is very excited to be a launch customer of the latest version of the 737. This airplane delivers a new level of fuel efficiency and operating economics and fits in perfectly with our fleet of modern airplanes," said Edward Sirait, President Director, the Lion Air Group. "We are proud to continue our tradition of innovation at Lion Air as we again lead the way with new airplane technology."
The Lion Air Group was first in the world to put the 737 MAX 8 into service and the first to order the 737 MAX 9. Last month, the group became the first to take delivery of a 737 MAX 9, using the airplane's added capacity to launch several international routes.
"We are honored that Lion Air Group, one of the most innovative and fast-growing carriers, has once again placed its trust in the 737 family," said Dinesh Keskar, senior vice president, Asia Pacific & India Sales, Boeing Commercial Airplanes. "With the 737 MAX 10, Lion Air will have a range of efficient and reliable options to optimize their network to serve their customers and grow profitably."
Inflight Ramadan Experience: Emirates, Qatar Airways, and Etihad Airways Offer Traditional Meals and Religious Content for Passengers
The most well-known Middle Eastern airlines are providing special Ramadan meals to its customers. Emirates, Qatar, and Etihad have developed distinctive recipes in response to the holy month of Ramadan.
Emirates
Emirates is preparing thousands of Ramadan meal boxes for fasting passengers both onboard and Iftar boxes at boarding gates, an array of religious content and Ramadan series on ice, and traditional Ramadan refreshments and meals in the lounges.
The Ramadan meal boxes will include light dishes and starters such as hummus and spinach bil zeit, Greek salad and cauliflower bil tahini, falafel sandwiches, pasta salad and fried aubergine with mint, zaatar chicken salad and cauliflower bil tahini, chicken musakhan sandwiches with Arabic bread, as well as staples like traditional dates and refreshing laban. A smaller Iftar box will also be served at boarding gates at Iftar time including all the essentials to comfortably break the fast.
United Brings Back Kids' Meals Onboard(Opens in a new browser tab)
Emirates' Ramadan and Iftar boxes will be served to complement the regular hot meal service and menu's will be refreshed on a weekly basis to ensure a best-in-class dining experience during the Holy Month. The boxes will be served on flights to select destinations during times that coincide with iftar, on flights to and from the Gulf region, as well as flights catering to Umrah groups traveling to Jeddah and Medina during the month of Ramadan.
Qatar Airways
It offer a bespoke Iftar to passengers on board and at Al Safwa, Al Mourjan and Global Premium Lounges. Special Ramadan offerings will be available on flights to the GCC, Middle East, and some Indian Sub-continent, African and Asian destinations.
Similarly, Qatar Airways Al Safwa First Class Lounge and Al Mourjan Business Lounge will announce the prayer call; in readiness for passengers to utilize the prayer rooms.
Travelers can choose from a selection of traditional Ramadan favorites for a fulfilling dining experience in addition to the Qatar Airways customary dining experience served alongside Qatar Airways' signature Ramadan-themed lantern.
Etihad Airways
It also offers a culinary design team is collaborating once again with Emirati Chef Khaled Alsaadi to recreate popular Ramadan dishes fusing authentic Emirati recipes with contemporary cooking techniques and local ingredients.
Etihad's regular hot meal service will be complemented by the Iftar meals onboard, and guests will be treated to meals including Saffron curry crusted seabream, Lamb shank with black lime jus, Lentil soup, Chaami and beetroot salad, Machboos chicken ciabatta sandwich, Aseeda cheesecake, Saffron pot de creme with batheeta crumble and more. A selection of the bespoke recipes will be available online or by scanning QR codes placed at the bottom of the onboard menu, allowing guests to recreate Etihad's unique inflight meals at home.
Norse Atlantic Airways and LUX interactive continue their joint venture(Opens in a new browser tab)
The Etihad Ramadan experience starts from the lounges at Abu Dhabi International Airport, which will also feature Ramadan dishes and beverages as well as dedicated prayer rooms. Travellers breaking their fast prior to departure or just before landing will be provided with takeaway bags containing dates, a drink and a snack.
The airline's inflight entertainment system, E-box, will be updated with a selection of Ramadan content in addition to recordings of the Holy Quran and the Mecca Qibla pointer that are always available on board.To view Etihad's special Ramadan menu and select recipes, click here.