Bangladesh plane carrying 71 people crashes in Nepal
KATHMANDU (Reuters) – A Bangladeshi aircraft carrying 67 passengers and four crew crashed on Monday while coming in to land at the airport in the Nepali capital, Kathmandu, an airport official said, adding that 17 people on board had been rescued.
The state of the other people on the flight from the Bangladeshi capital, Dhaka, operated by US-Bangla Airlines, was not clear, airport spokesman Birendra Prasad Shrestha said.
The Nepal Army has been pressed into rescue operations and the airport has been closed.
Amanda Summers, an American who works in Nepal, watched the crash happen from the terrace of her home office.
"It was flying so low I thought it was going to run into the mountains," she said. She said it was unclear if it had reached the runway when it landed. "All of a sudden there was a blast and then another blast," she said.
The official, who spoke on condition of anonymity because of airport policy, said the flight was arriving from Dhaka, the Bangladesh capital. He said the plane appeared to have caught fire just before it landed and skidded to a stop in a field beside the runway.
An employee who answered the phone at the US-Bangla offices in Dhaka said no one was available to talk.
"I have no other details," said the employee, who refused to give his name. "But a bad incident has happened."
Emergency vehicles appeared to be heading into the smoke as people watched from a distance or filmed on their mobile phones.
"We are trying to bring the fire under control. Details are awaited," he said, adding that the airport had been shut down and all other flights diverted.
https://twitter.com/DanAyliffe/status/973117075144060928/photo/1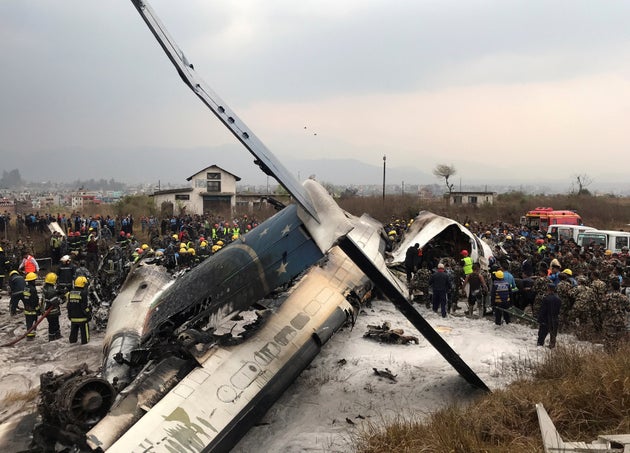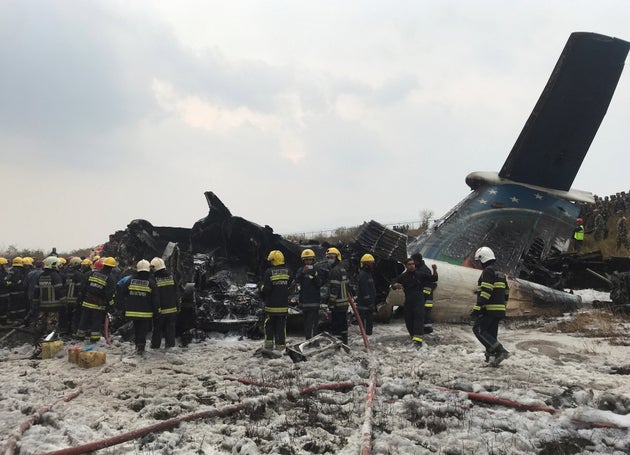 "We're now concentrating on evacuating the passengers."
Television images showed smoke rising from the crash site.
https://twitter.com/pdpbasyal/status/973121470690971649/photo/1
Mountainous Nepal is notorious for air accidents. Small aircraft often run into trouble at provincial airstrips.
A Thai Airways flight from Bangkok crashed while trying to land in Kathmandu in 1992 killing all on board.
US-Bangla Airlines is a unit of the US-Bangla Group, a U.S. Bangladeshi joint venture company.
India to procure 97 Tejas jets, 156 Prachand choppers, totalling $26.74 billion deal
98% to be sourced from domestic industries in a major boost to 'Aatmanirbharta' in defence.
Procurement of Light Combat Helicopters & Light Combat Aircraft Mk 1A from HAL gets a nod.
Medium Range Anti-Ship Missiles for the surface platform of the Indian Navy accorded approval.
Acquisition of Towed Gun System cleared to replace Indian Field Gun
Proposals totaling Rs 2.23 lakh crore
The Defense Acquisition Council has greenlit capital acquisition proposals totaling Rs 2.23 lakh crore, aimed at bolstering the operational capabilities of the Armed Forces.
This move, with 98% of the funding set to be derived from domestic industries, signifies a significant stride toward promoting self-reliance in defense.
On Thursday (Nov 30), the Indian government sanctioned what is purported to be one of the largest defense contracts in the nation's history.
The Defence Acquisition Council, led by Defence Minister Rajnath Singh, gave the green light to procure 97 Tejas light combat aircraft and 156 Prachand helicopters, a move aimed at significantly enhancing the overall combat capabilities of the armed forces. The approved deals amount to approximately Rs 2.23 trillion ($26.74 billion).
As reported by The Economic Times newspaper, the 97 Tejas aircraft alone are valued at around Rs 650 billion ($7 billion), marking this agreement as the most substantial fighter aircraft deal ever undertaken in the country.
This strategic decision underscores the government's commitment to fortifying the nation's defense capabilities while concurrently supporting the growth of indigenous defense manufacturing.
Key Points:
DAC Approval: The Defence Acquisition Council (DAC) chaired by Raksha Mantri Shri Rajnath Singh granted approval for Acceptance of Necessity (AoNs) totaling Rs 2.23 lakh crore on November 30, 2023.
Domestic Sourcing: 98% of the approved AoN amount (Rs 2.20 lakh crore) will be sourced from domestic industries, aligning with the goal of achieving 'Aatmanirbharta' in the Indian Defence Industry.
Anti-tank Munitions: AoN granted for procurement of two types of Anti-tank Munitions (ADM Type – 2 and Type-3) capable of neutralizing Tanks, Armoured personnel carriers, and enemy personnel.
Towed Gun System (TGS): AoN granted to replace the Indian Field Gun (IFG) with a state-of-the-art Towed Gun System (TGS) for the Indian Army's Artillery forces.
155 mm Nubless Projectile: AoN granted for the procurement of 155 mm Nubless projectiles for use in Artillery guns, enhancing lethality and safety.
Automatic Target Tracker (ATT) and Digital Basaltic Computer (DBC): AoN for procurement and integration of ATT and DBC for T-90 Tanks to maintain a combative edge over adversary platforms.
Medium Range Anti-Ship Missiles (MRAShM): AoN granted for procurement of MRAShM for Indian Navy's surface platforms as a primary offensive weapon.
Aircraft Procurement: AoNs granted for Light Combat Helicopter (LCH) and Light Combat Aircraft (LCA) Mk 1A for Indian Air Force and Indian Army, along with the upgradation of Su-30 MKI Aircraft from Hindustan Aeronautics Limited (HAL).
Indigenous Content Mandate: DAC approved a major amendment in the Defence Acquisition Procedure (DAP) 2020, mandating a minimum of 50% indigenous content in material, components, and software for all procurement cases.
MSMEs and Start-ups Inclusion: To encourage indigenization, DAC decided to consider registered MSMEs and recognized start-ups for Request for Proposal (RFP) issuance without financial parameter stipulations for procurement cases with AoN cost up to Rs 300 crore. This limit can be relaxed up to Rs 500 crore on a case-to-case basis with DPB approval.