Airlines Digital Bag Tags..!! can track by smartphone.
By according to the article The Wall Street Journal  For decades, fliers have checked their bags the same way: hand them to an airline employee and trust that they will reappear at the destination. Now big changes to that model are coming as airlines look to streamline the airport experience—and pass more work to customers and machines.
Their latest ideas including letting fliers tag their own bags, print luggage tags at home and track their bags on smartphones. Later this year, some fliers in Europe likely will begin using what could be the future of flying luggage: permanent bag tags that digitally update if flight plans change. Improved technology and loosened security rules are accelerating changes to baggage handling.
The changes face hurdles, including opposition from unions, security rules and fliers who prefer a human touch. On a recent weekday at Chicago's O'Hare International Airport, several fliers struggled to tag their bag and summoned airline employees for help.Still,  carriers are plowing ahead. More than a third of global airlines now ask fliers to tag their own bags, compared with 13% in 2009, according to SITA, an airline-technology firm. By 2018, more than three-quarters of carriers intend to offer the service. source (WSJ)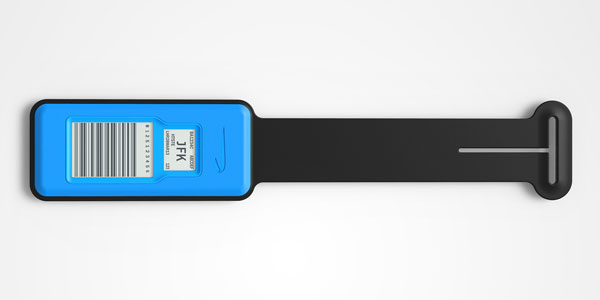 Customers travelling with British Airways through London Heathrow's Terminal 5 have begun to test the personalised digital bag tag being developed by the airline. Employees from Microsoft have been chosen to take part in the month-long trial, using a specially adapted version of the British Airways app, to provide essential feedback that will help shape the final product.The digital bag tag, which contains all a customer's baggage details, could eventually do away with the need for a new paper tag every time you fly. Comprehensive testing of the tag has already taken place to make sure it works in a live airport environment and can stand up to the rigours of airport baggage systems and everyday travel. (Source- airportinternational)
During the recent month-long test of the digital tags on British Airways flights between Seattle and London, "all bags went where they needed to go," said Glenn Morgan, the airline's head of service transformation. He declared that digital tag a success, but said the next step is expanding the type of smartphones that can program them. "Right now only Android and Windows phones support NFC," said Morgan, and the airline wants to make sure the tags work fully with Apple phones as well.(source cnbc )
How it works ? 
Air France, KLM and partners have worked for the past year on developing an innovative electronic bag tag and baggage tracker.It enables customers to label their luggage at home, drop bags at the fast bag drop and trace their luggage worldwide.
liked it ..! ?

Share with your friends and families
Vueling's In-Flight Delight: Pampering Pets with Delicious On-Board Treats"
In a heartwarming move that caters to the growing community of pet-loving travelers, Vueling, the Spanish low-cost carrier, has become the trailblazer in European aviation by introducing delectable treats for pets as part of its innovative buy-on-board menu.
This groundbreaking initiative positions Vueling as the first European airline to embrace the needs and preferences of passengers who choose to journey with their beloved animals.
Setting the stage for this pet-friendly endeavor, Vueling's Barcelona-based team collaborated with Newrest Travel Retail to undergo a comprehensive revamp of its onboard menu for the upcoming 2023-2024 winter season. The standout feature of this transformation is the inclusion of specially curated dog snacks, sourced from the renowned brand Edgard & Cooper.
Vueling ensures that its four-legged pets can indulge in a delectable selection of in-flight treats. The pet menu showcases enticing options such as chicken bars and beef bites, available at reasonable prices of €3.50 ($3.78) and €5.50 ($5.93), respectively. This move not only elevates the standard of in-flight pet services but also caters to the discerning tastes of pets with a penchant for high-quality, flavorful snacks.
Vueling has established a transparent and straightforward pricing model for pet travel. Passengers traveling with their pets can expect to pay €50 for domestic flights and €60 for international flights or those to/from the Canary Islands.