Aircraft parts turns into Beautiful furniture..!!
Boeing 737-800 Winglet Desk .
'This winglet had set the bar high and thus it was essential to sublimate it and exploiting the majesty of this part in applying noble materials and high-end finishing,' the design studio claims.
Boeing 777 wheel Transformed into a stylish coffee table 
An ingenious little piece of art is hard to find – like this modern coffee table built using an authentic Boeing 777 wheel. Found on Fallen Furniture, this one-of-a-kind table is entirely hand polished and comes in a single version. It took its makers no less than 150 hours to complete. While no further details on its designer is available, the Boeing 777 Wheel Coffee Table has been produced in the United Kingdom by a guy named Harry.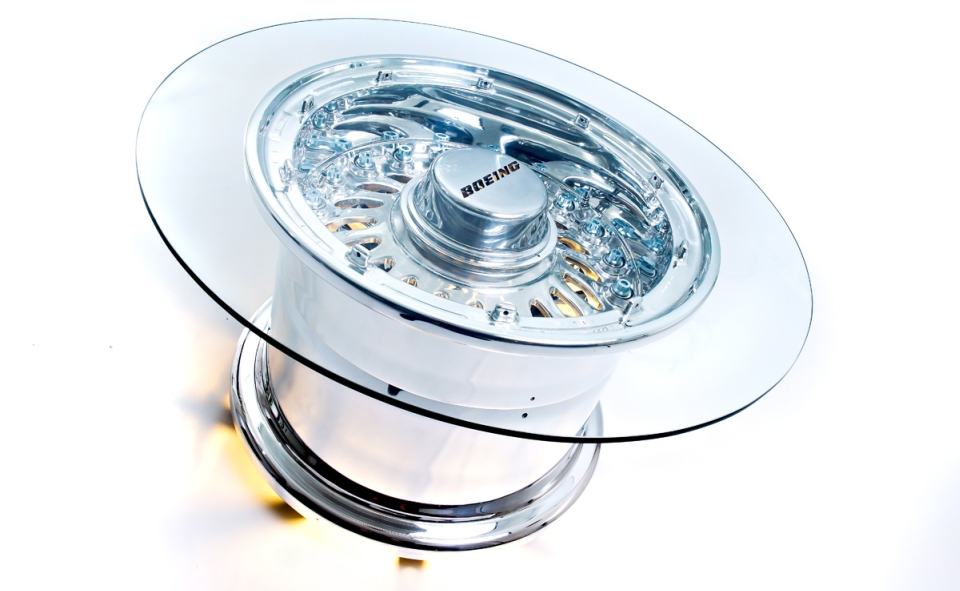 Turbine Table
The core of the table is developed from a Rolls-Royce RB211 jet engine, which is equipped in a Boeing 747 airliner. The center of the table is formed of a hub and blade titanium, mounted on a marble base.The Turbine Table is priced at around £465,000 ($720,000
'9 Cylinder' Engine table
9 cylinder radial engine coffee table–the engine is from a US Army Boeing-Stearman PT-1, World War II biplane, c1936/38.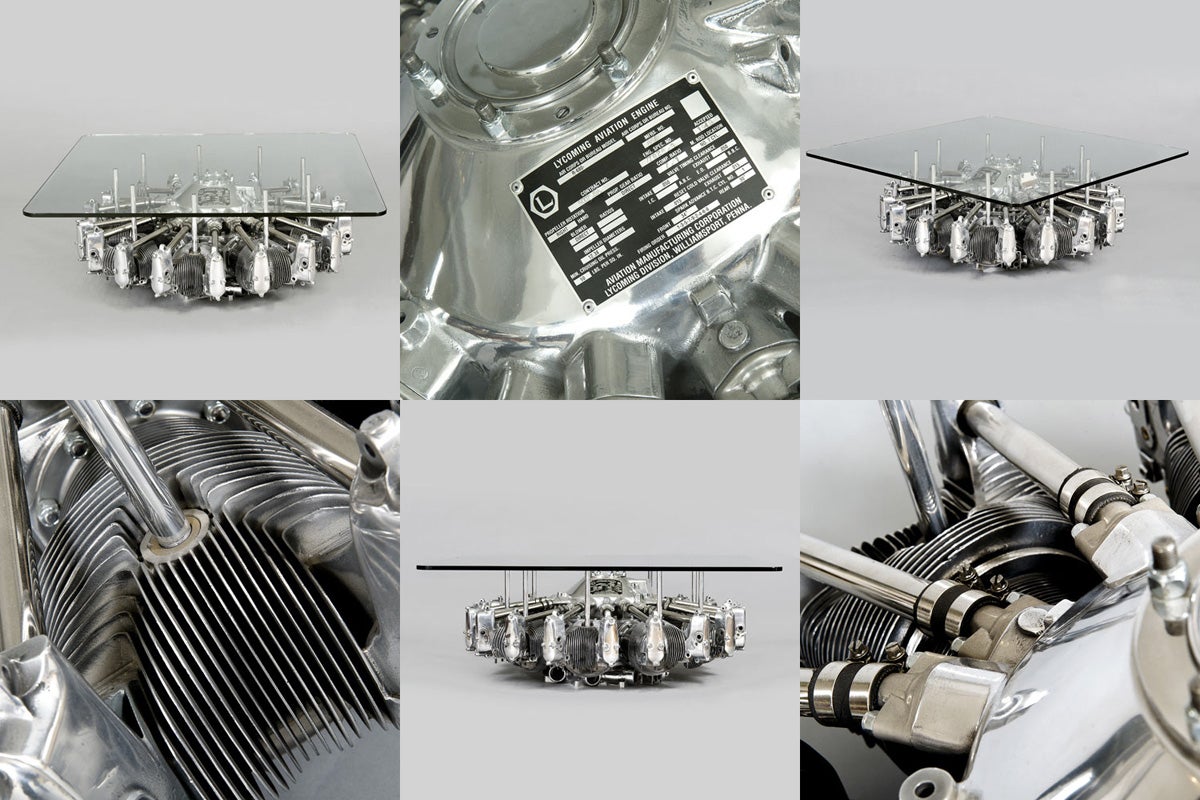 Dove" Aeroplane Propeller Heads Centre Table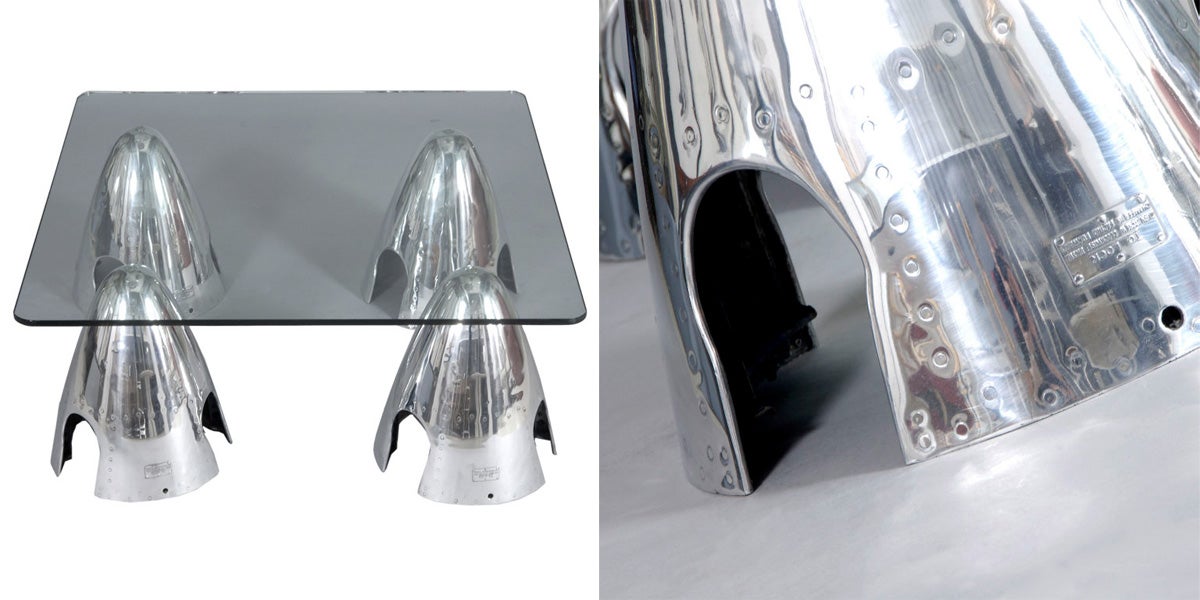 Picture courtesy & purchase link : click
Mixer Tulip 737 Table

purchase link : click
Eichholtz desk wing.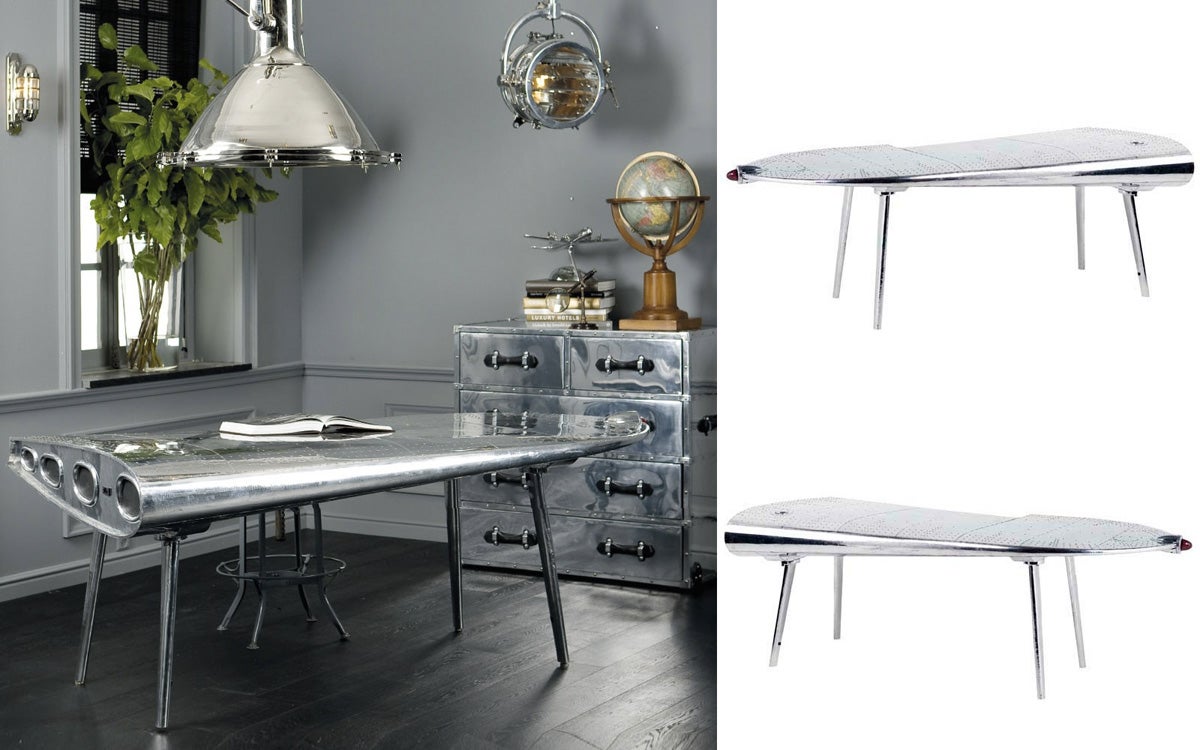 Photo: click
Boeing 747 jumbo jet engine conference table .
One word comes to mind after taking a good long look at the Boeing 747 Jumbo Jet Conference Table– Epic! Formed from a General Electric engine nacelle, this piece of custom furniture is living proof why MotoArt is considered the pioneer, forerunner and standard-bearer of airplane furniture. Although fit for the Guggenheim, it's better as a defining element for a modern office environment. At 12' wide and sporting a high-mirror polish, the Boeing 747 Jumbo Jet Conference Table is simply commanding. Perfectly complementing the outer finish is a custom fabricated engine stator set with internal multicolored LED lighting topped with a polished spun aluminum dome, which lies beneath an elegant 1/2" round tempered glass top. The masterpiece seats up to twelve and can include a set of optional highly useful data ports.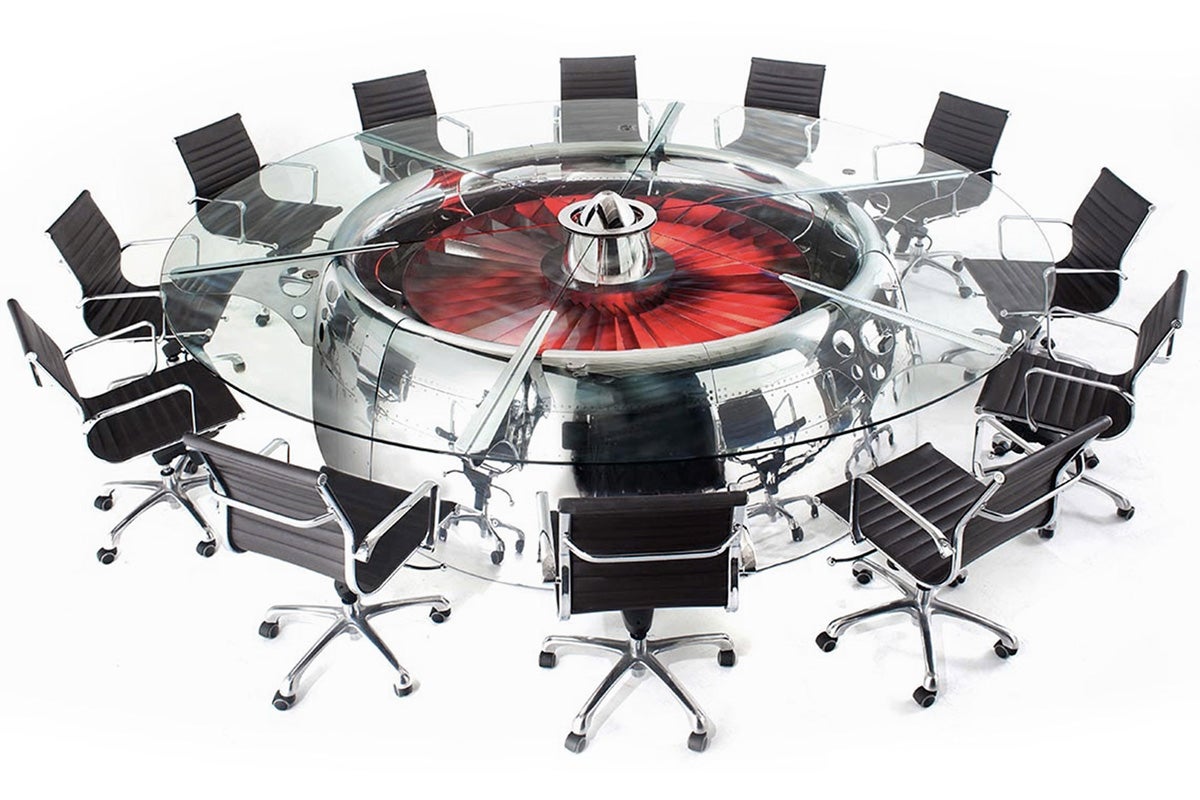 Pic courtesy & Purchase link : click
B-52 Ejection Chair.
Get Ready to exceed all prior expectations in our B-52 Ejection Chair.  The black anodized aluminum base is mounted on industrial, multi-directional casters. (As seen) The frame of the seat in clear coated aluminum and the seat handles (ejection actuators) are painted yellow and black to replicate the original airplane seats. Each chair comes with the original, intact ejection pin, replete with the "remove before flight" warning tag.

B-52 Bomber Conference Table
The B-52 Bomber Conference Table is not just one of the most breathtaking works of custom furniture in existence – it is a substantial piece of U.S. history. MotoArt has taken the inner wing flap of the legendary B-52 Bomber and created a large-scale dominant conference table that will invoke awe for all who enter the room.
Picture courtesy & purchase link : click
Recycled 747 wing house 

pic courtesy : click
Aircraft Furniture Engine Desk by Motoart 
DC-10 Nacelle Bed by Motoart 
Boeing 747 Cowling Bar
This dynamic bar is sure to win over your guest with a authentic cowling that housed a Pratt & Whitney jet engine that powered the Boeing 747. Each custom fabricated piece includes a 1/2" tempered glass top, supported by mirror polished aluminum stand-offs. Behind the bar includes a hardwood bar counter top with bottom shelves for storage. Available in multiple finishes including mirror polished.
Source : click here (motoart.com)
liked it ..! ?

Share with your friends and families. 
Alaska Airlines Acquisition of Hawaiian Airlines Reshapes the Air Travel Landscape
Alaska Air Group, Inc. (NYSE: ALK) and Hawaiian Holdings, Inc. (NASDAQ: HA) jointly announced today the execution of a definitive agreement, signifying Alaska Airlines' acquisition of Hawaiian Airlines at a cash price of $18.00 per share. The total transaction value stands at approximately $1.9 billion, encompassing Hawaiian Airlines' net debt of $0.9 billion.
The combination of complementary domestic, international, and cargo networks
This strategic union is poised to open up an array of additional destinations, providing consumers with increased choices in crucial air service options across the Pacific region, Continental United States, and globally.
The transaction is anticipated to establish a robust platform for growth and competition in the U.S., offering enduring employment opportunities, ongoing community investments, and a commitment to environmental stewardship.
Key Points:
Acquisition Overview:
Fleet Expansion and Network Reach:

Creates the fifth-largest U.S. airline with a fleet of 365 narrow and wide-body airplanes.
Enables access to 138 destinations through combined networks and over 1,200 destinations via the oneworld Alliance.

Hub Development and Connectivity:

Honolulu to become a key hub for the combined airline, offering expanded services to the Continental U.S., Asia, and the Pacific.
Tripling the number of destinations from Hawai'i to North America, while maintaining robust Neighbor Island service.

Commitment to Hawai'i:

Strong commitment to Hawai'i, ensuring robust Neighbor Island air service.
Aiming for a more competitive platform supporting growth, job opportunities, community investment, and environmental stewardship.

Employee and Union Commitment:

Commitment to maintaining and growing the union-represented workforce in Hawai'i.
Immediate value creation with at least $235 million of expected run-rate synergies.

Investor Call and Timeline:

Investor conference call scheduled for today at 5:00 p.m. ET / 2:00 p.m. PT / 12:00 p.m. HT.
Anticipated closing of the transaction within 12-18 months.

Strategic and Financial Rationale:

Complementary networks to enhance competition and provide greater choice for consumers.
Preservation of both Alaska and Hawaiian Airlines' brands on a single operating platform.
Expected to deliver high single-digit earnings accretion for Alaska Airlines within the first two years.

Community and Sustainability Commitment:

Focus on growth in union-represented jobs and strong operational presence in Hawai'i.
Commitment to environmental stewardship, aligning with Alaska Airlines' five-part path to net zero by 2040.

Synergies and Accretion:

Expected run-rate synergies of at least $235 million.
Transaction multiple of 0.7 times revenue, approximately one third the average of recent airline transactions.

Conditions to Close:
Approval by regulatory authorities and Hawaiian Holdings, Inc. shareholders.
Expected to close in 12-18 months, with the combined organization based in Seattle under the leadership of Alaska Airlines CEO Ben Minicucci.