The World's top 10 Airlines Business Class Lounges.
 1.Turkish airlines
Turkish Airlines have two types of lounges in the international terminal, one for arriving and the other for departing travelers.
Turkish Airlines Arrival lounge
Located in the arrival terminal, the lounge meets the needs of our guests arriving on international flights at the İstanbul Atatürk Airport. The facility ensures a luxurious and relaxed experience that helps our guests to feel refreshed after their flights. Located over a 250 square meters area, the arrival lounge has a seating capacity of 38 people. It is open daily from 4:30 am to 12:30 pm, including holidays.
Turkish Airlines Departure lounge
The departure lounge has recently added another 2,400 m2 to its existing 3,500 m2, nearly doubling its capacity to 1030 guests at a time. Along with this expansion, the lounge has also started to provide several new facilities. The spiral staircase connects the two sections of the lounge and its design represents the connectivity that Turkish Airlines provides to its global customer base.
Turkish Airlines Domestic lounge
Airline like to invite you to one of our exclusive lounges designed to meet the needs of guests departing on domestic flights. In İstanbul, there are two facilities available: Business Class travelers and Miles&Smiles Elite Plus members are entitled to use the "Business lounge," while Miles&Smiles Classic Plus and Star Alliance Gold members are welcome to our "Elite lounge".
On our Intercontinental flights, passengers experience restaurant-quality service with carefully selected, high quality menus that are regularly changed in order to provide new options for regular travelers.
It is our goal to insure that passengers experience innovative cuisine, well prepared and served, and leave the aircraft with pleasant memories of the flight–from boarding until the final goodbye from our crew.
Our "Flying Chefs" create a unique atmosphere of "Turkish Hospitality" above the clouds by assisting the cabin crew in the preparation and presentation of our award-winning menus.
Business Class passengers are greeted with a choice of welcome drinks as they board the aircraft.
All meals are served on custom designed porcelain dishes, while drinks are offered in glassware appropriate to the beverage. Meal service may vary in style and content depending on the flight length and departure time. On long journeys, two full meals are served–supplemented by additional snacks.
A rich selection of hors d'oeuvres served from a cart is followed by a soup service, a Turkish tradition. These serve as an introduction to the unique main course offerings that will make your flight a memorable one. A choice of multiple entrees is available on all intercontinental flights and the meal is completed with an assortment of fruit, cheese and sweets to cater to every taste.
Turkish Coffee, along with a wide range of hot and cold non-alcoholic drinks, is available for your pleasure throughout the flight.
The full bar on board includes a wide selection of cocktails as well as a carefully selected assortment of Turkish and International beers and wines.
---
2. Singapore Airlines
Whether you just want to relax over a drink or attend to urgent business before you begin your journey, you can enjoy world-class comfort and service in our SilverKris Lounges at Singapore Changi Airport Sample a variety of food and beverage from our self service buffet and bar counters.
Relax and keep yourself updated on news and developments around the globe with a variety of newspapers and magazines. You can also stay connected with your business contacts on your laptop computers or our workstations with complimentary Internet access (WiFi/LAN).
AirAsia Moving to Terminal 4 at Singapore Changi Airport(Opens in a new browser tab)
Entrance to the SilverKris Lounge at Singapore Changi Terminal 3
The KrisFlyer Gold Lounge at Singapore Changi Airport's Terminal 3 is designed cleverly around Singapore Changi Airport's existing facilities and capitalises on its natural skylight. Buffet food stations and television areas are located inside, while Internet workstations are conveniently placed in the outdoor area overlooking water features and greenery. Stay connected with complimentary WIFI internet access available in the lounge. The KrisFlyer Gold Lounge is open 24 hours daily and is available at both Terminal 2 and Terminal 3.
---
3. Cathay specific Airways
Level 6 (lower level) Business Class Lounge
The Level 6 Business Class Lounge, a cozy and familiar space for most of our passenger with newly introduced facilities. It features IT facilities with 6 fully equipped IT workstations as well as high speed Wifi service. The new Lounge will also offer a wide range of seating including comfortable sofas and the exclusive Cathay Solus Chairs.
The self served buffet counter, fully enveloped with white Carrara marble, offers four selections of Asian and Western hot dishes along with a selection of cold food. The lower level also features a total of 24 luxurious shower suites lined with Travertine stone and warm bamboo wood.
Level 7 (balcony level) Business Class Lounge
 The Noodle Bar and The Long Bar remain the iconic features of The Wing. You can relax and enjoy a bowl of freshly made noodles with a selection of Chinese style Bao in The Noodle Bar under an open ceiling space that allows ample sunlight for the natural live bamboo. Or explore more international fare at the new self-serve buffet counters, which offer a variety of Asian and Western hot dishes along with a selection of cold dishes.
Experience a drink at The Long Bar that has been expanded and retransformed with an Italian white marble finish that forms the 23 metres feature overlooking the airport and runway.
The newly-introduced Coffee Loft provides a relaxing environment where you can enjoy a cup of freshly brewed coffee and pastries baked on the premises. A wide range of international newspapers and magazines are available for you to help while away the time.
In additional to the well received exclusive Cathay Solus Chair, a wide range of seating including sofas, armchairs and bar stools in various configuration are available to suit your need.
---
4. Qatar Airways
Inspiring design
A showcase of flawless design and classic flair, Al Mourjan Business Lounge is adorned with some of the world's most exclusive marbles, designer furniture and intricate embellishments. Hand crafted accents evoke a timeless appeal, while high ceilings and bronze walls featuring traditional calligraphy create an ambience that infuses contemporary elegance with Arabian heritage. Be inspired by a design where every detail has a story to tell.
Relax and rejuvenate
Designed to mirror a resort-like experience, Al Mourjan Business Lounge takes inspiration from sunlight, water and nature – a celebration of serenity and rejuvenation. It offers our customers a precious retreat to relax and rejuvenate from the stress of long haul travels and enjoy a treasured moment that will actually make spending time at the airport a pleasure.
Multiple dining options
Al Mourjan Business Lounge offers a variety of dining areas to suit your preferences, with both buffet and a la carte menus. So whether you are in the mood for a light snack or a fine dining gourmet meal, we cater to your every whim. The flavours of the world come alive on the spacious mezzanine floor where guests can choose between a continental or oriental brasserie, a global deli and a patisserie.
To enchant your taste buds even further, there is also a signature bar serving some of the world's finest beverages.
Expansive spaces
Spread over an expansive 10,000 square metres, Al Mourjan Business Lounge is about 10 times the size of an Olympic size swimming pool. With a variety of spaces designed to suit your every need, our guests can enjoy a refreshing drink in our garden resort area, catch a quick nap in one of the quiet rooms, relax in one of the family rooms or simply kick back and enjoy a moment of serenity and indulgenc
World-class facilities
Guests who wish to stay connected can enjoy a range of business services from conference rooms to fully equipped business centres. Customers looking for a more quiet working space can cocoon into one of the private workstations equipped with personal display screens and complimentary WiFi.
For those who are looking to unwind, an exemplary range of facilities await you from private family areas with widescreen TVs and leather couches to game rooms that include a Formula 1 simulator and a children's nursery and much more.
Stay refreshed
We understand that long haul travels can be exhausting and to ensure that our guests stay refreshed, we have taken special care to design superior shower and restroom facilities. Each shower is part of its own spacious area with luxury amenities and fine linens.
---
5. Eva Air
EVA Air operates airline lounges, under the brand name EVA Air Lounge, in major destination airports. Passengers eligible to enter these facilities include first and business class passengers, Infinity MileageLands Diamond, Gold, and Silver card holders, Star Alliance Gold members, and airlines who have contracted the lounge facilities.
EVA Air's four flagship lounges, located at Taiwan Taoyuan International Airport are:
The Garden (Infinity MileageLands Diamond, American Express Centurion/EVA Air Cobrand Platinum Cardholders, and Citibank EVA Air Cobrand World Card)
The Infinity (Infinity MileageLands Diamond, Royal Laurel/Premium Laurel Class passengers, Star Alliance First/Business Class Passengers, American Express Centurion/EVA Air Cobrand Platinum Cardholders, and Citibank EVA Air Cobrand World Cardholders)
The Star (Infinity MileageLands Diamond/Gold, Royal Laurel/Premium Laurel Class Passengers, Star Alliance First/Business Class Passengers, Star Alliance Gold members, American Express Centurion/EVA Air Cobrand Platinum Cardholders, Citibank EVA Air Cobrand World Cardholders, Business customers, elite status members of codeshare partners, and airlines which contracts EVA services)
The Club by EVA Air (Infinity MileageLands Silver, Citibank Diamond Cardholders, Diners Club cardholders, and Citibank EVA Air Cobrand Titanium/Platinum Cardholders)
EVA Air lounge services typically include refreshments, business facilities, and television and reading entertainment. The lounge at Taiwan Taoyuan International Airport, Terminal 2, has separate eating facilities at different levels; a check-in facility is reserved for Diamond card holders.
EVA Air also operates EVA Air Lounges at Bangkok International Airport, San Francisco International Airport, and Kaohsiung International Airport.
---
6. Virgin Atlantic
Whether you're with us for business or pleasure, Upper Class makes your journey something to really look forward to. First off we take the stress out of travelling to and from the airport with our chauffeur driven car service at both ends of your journey.
If you're flying from London Heathrow T3, you can enjoy a streamlined serene start to your journey from our unique Upper Class Wing. After the personalised, dedicated check in, you'll beat the queues and whizz through our Private Security Channel. Which means there's more time to make the most of our award winning Clubhouse.
Whichever of our worldwide Clubhouses you're enjoying, when it's time to fly we'll let you know. Then you can just take your place onboard. With a generous leather seat that flips niftily into one of the longest flat beds in any business class, plus the space to relax, talk and enjoy delicious food and drink, we've got your next few hours covered.
With amazing food, fantastic facilities and a chilled out atmosphere, our Clubhouses feel like a private members club – with service to match. Reserved for Upper Class passengers and Flying Club Gold members, they're the perfect place to relax before your flight.Whatever your mood, whether you want to chill out with a cocktail or find a quiet space to work on that important document, our Clubhouses have a space to suit.
If you're in the mood for some fun, take a seat at our bar and watch our expert mixologists work their magic creating your favourite cocktail.Whatever time you arrive, there's something to tickle your tastebuds. Our Clubhouses offer a delicious selection of food.Start your journey with a wonderfully indulgent Clubhouse spa treatment. That's right, our Heathrow, Gatwick and JFK Clubhouses have their own spa. Now that's luxurious
chauffeur car service
With our chauffeur car service, your Upper Class experience starts the moment you leave your home, office, or wherever you prefer. Prebook your private chauffeur service and we'll whisk you to and from the airport at both ends of your journey, and to the Upper Class Wing at London Heathrow.
We take the stress out of travelling to the airport so that you can relax or catch up with work before your flight. And in London, we also offer other complimentary transfer options, like limobikes and fast train services. Whatever works for you.
https://www.youtube.com/watch?v=17gXnTkTWvU
Our cars can normally carry up to three passengers with up to three large suitcases. See the Special Requests section below if you need something bigger.
---
7. Etihad Airways
Our Premium Lounges in both Terminal 1 and Terminal 3 at Abu Dhabi airport offer our renowned world class services and facilities.
Building upon our pledge to offer the very best in the hospitality industry, walk into facilities closer to those you'd find in a boutique hotel. Look forward to spending the next few hours watching a film, enjoying a gourmet meal, or having a complimentary spa treatment.
A family room also provides children of all ages with their own world of fun and entertainment in a colourful and engaging setting Etihad Premium Lounges are located in Terminal 3 close to gate 35 and in Terminal 1 beside the Al Reem lounge after you clear security.
Style and shave by Etihad
At Style & Shave, men can enjoy a wet shave or haircut whilst ladies can book eyebrow shaping, nail treatments or a blow dry. First Class guests can enjoy one of our express treatments for free; whilst for other guests there is a fee.
Six Senses Spa
The Six Senses spa area, dedicated to ambient relaxation, provides an urban sanctuary where guests can enjoy a range of express treatments. Whether looking to relax or revitalize prior to your flight, choose from various massage treatments, enjoy a facial or freshen before your flight up in one of the private shower rooms.
https://www.youtube.com/watch?v=BDQdwCDeVNA
---
8. Qantas Airways
The Qantas Club
Most Qantas Club lounges feature complimentary refreshments, business facilities including wireless internet throughout the lounges and shower facilities.
Qantas Club members and Partner members are welcome at The Qantas Club when your next onward flight that day is on a Qantas or Jetstar Airlines* flight number. When flying domestically you may invite one guest.
International Business Lounges
Most International Business Lounges feature complimentary bar service, fresh snacks and beverage selection, news and entertainment.
When visiting an International Business Lounge you may bring one guest who must be travelling with you on the same flight.
Enjoy a luxury dining experience in our new Qantas Singapore Lounge, where Neil Perry Spice Temple inspired dishes, a live cooking station, and signature cocktails are on offer now.
In all of our Business Lounges+, you'll enjoy a range of services including:
Seasonal menus designed by the Rockpool, with complimentary snacks and drinks throughout the day, as well as barista coffee*
Fully-equipped workstations and internet access
LCD televisions, and a selection of magazines and newspapers
Showers to freshen up before your flight
---
9. British Airways
When you enter our Galleries lounge you are greeted with calm and tranquil surroundings, featuring Osborne and Little exclusively designed fabric, fine wines or ask for a nicely chilled glass of champagne. Your quiet time before your flight will be time well spent.
Find yourself in a sanctuary away from the world. Elegant surroundings offer deep, luxurious upholstered furniture, in rich velvets and classic tailored herringbone. Take advantage of a welcoming environment to spend time in before you fly.
Complimentary work & entertainment zones offer internet access, printers, copiers and fax machines so you can continue to work throughout your time at the airport.
Light meals or snacks are especially prepared for you, with some flights offering the opportunity to dine in the lounge, maximising your sleep on board.Our Sleeper service is also available on selected flights.
The exclusive work and entertainment zone is a perfect place to catch up on last minute emails, or at London Heathrow you can watch live sport or selected entertainment in our 20 seat cinema.
Our Terraces lounge
Relaxing in our Terraces lounge is a haven of peace and quiet. You can enjoy a snack or drink from our World Wine bar and for some flights dine in the lounge to maximise your sleep on board. Our Sleeper service is available on selected flights.
Our work and entertainment zone is equipped for you to catch up on emails or work without being disturbed. There is wireless internet access and power points too so you can charge your mobile devices.
Elemis Spa
We are working with Elemis, the acclaimed British spa and skincare brand, to offer you exclusive treatments and skin-therapies at selected airport lounges.
Developed by the world-renowned Noella Gabriel, Elemis brings you a new concept in travel spa and skin-therapies to awaken your senses and refresh you before your journey begins.
10.Emirates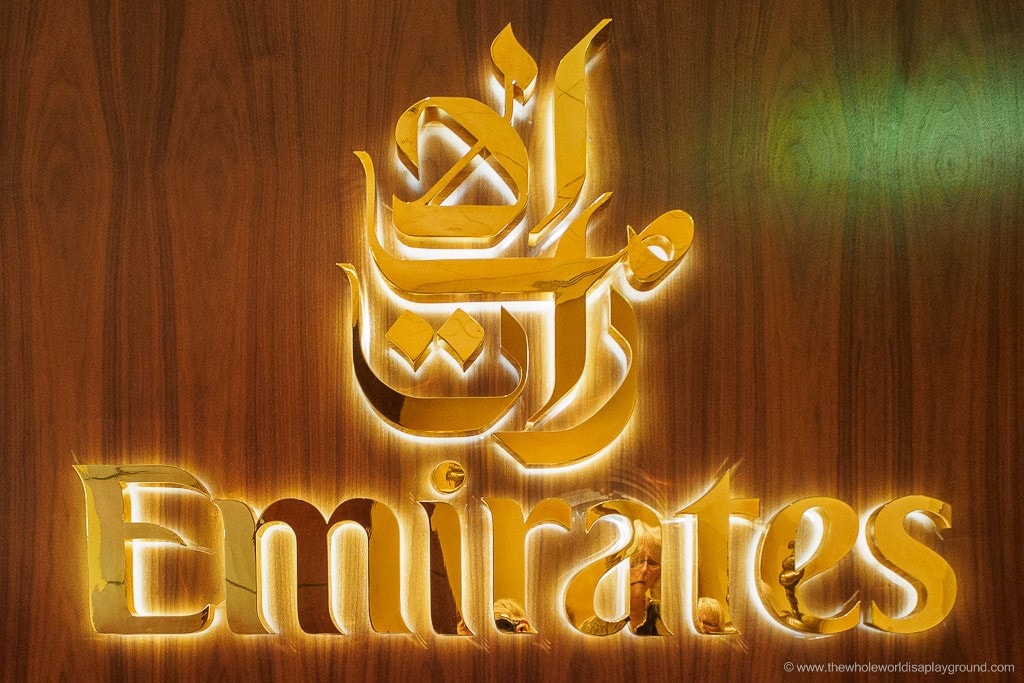 Find inspiration along the way ..!
Start your journey with delicious cuisine and sample our range of fine wines, premium spirits and champagne in the bar areas. To rejuvenate before the next stage of your journey, enjoy a pampering treatment at the Timeless Spa or freshen up in our private shower spas.
If you're travelling with children, our bright and engaging play areas catering to wide age groups are the perfect space for them to amuse themselves.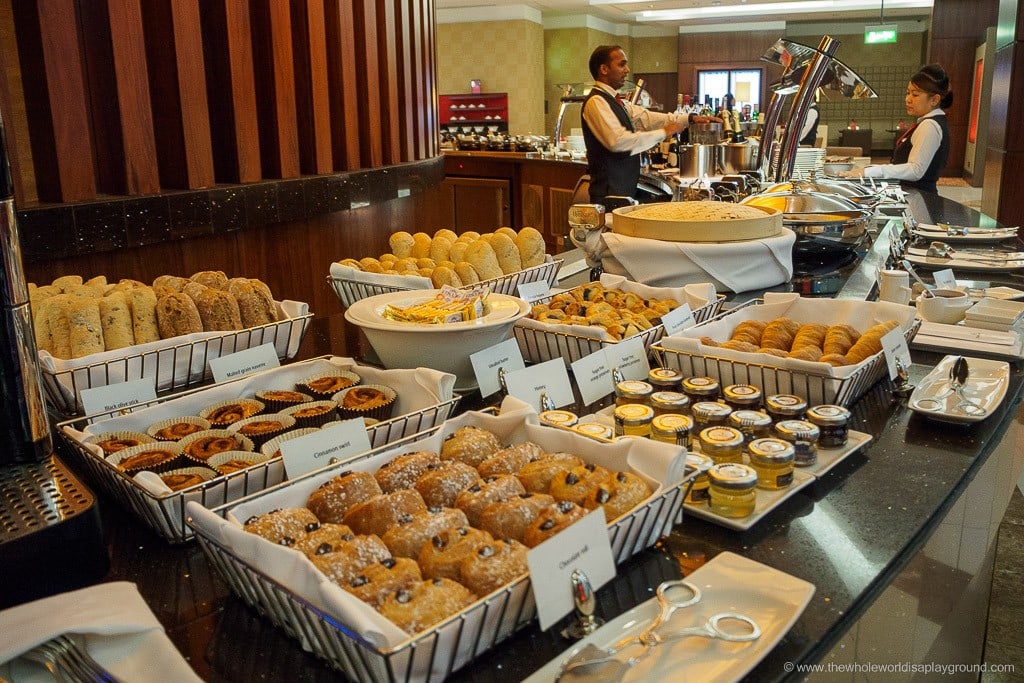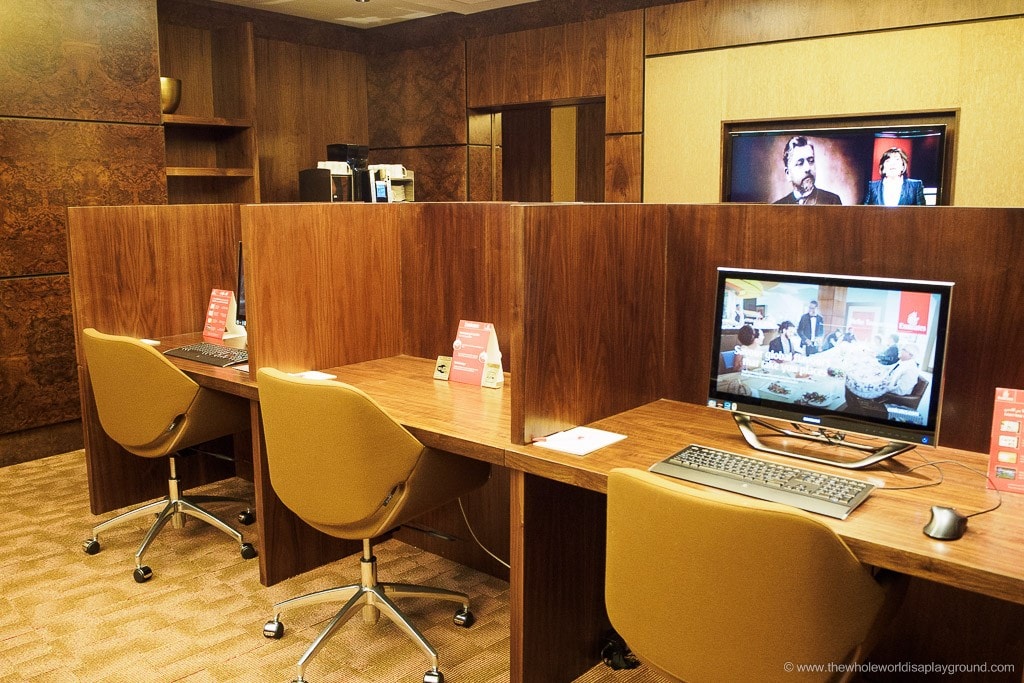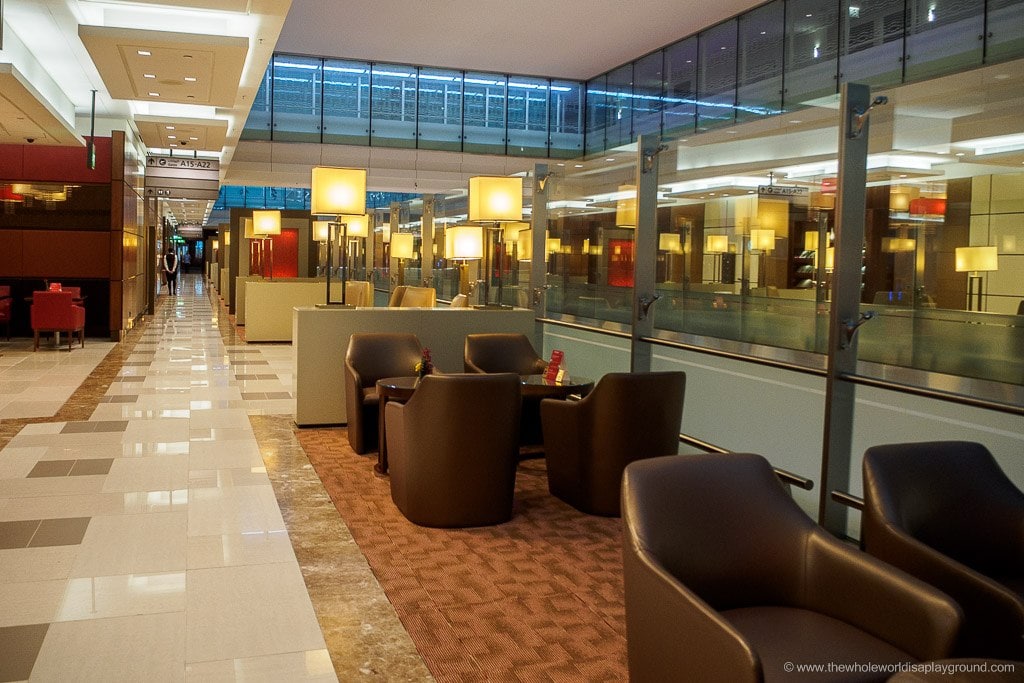 The serene sanctuary of the Timeless Spa is the perfect place to rejuvenate between flights. Choose from a signature menu of treatments and beauty therapies, to refresh before the next stage of your journey.
You can make the most of the spa when you fly First Class or Business Class. Our First Class customers can also indulge in a selection of complimentary treatments, such as a de-stress back massage, reflex therapy, refresh manicure, hair shaping or a professional blow dry.
Connect with unexpected : 
Savour gourmet cuisine and our full-service bar, keep tabs on the news or indulge in a treatment at the Timeless Spa. You can catch up on business with complimentary Wi-Fi and a fully equipped Business Centre. You can also charge your phone, tablet or other electronic devices in secure charging stations while you're waiting for your flight.
For a more personal shopping experience, splash out on luxury brands in our dedicated in-lounge duty-free boutique. There's also plenty to keep young travellers entertained in our colourful children's play area with games catering to wide age groups, toys and even a dedicated children's buffet area.
Liked it ..?
Share with your friends and family 
World's Top 21 riskiest Travel Destinations – U.S. State Department's Level 4 Advisories"
The US government provides travel advisories to warn its citizens about the safety and security circumstances in numerous places across the world. These recommendations are intended to assist travelers in making informed decisions and minimizing risks while abroad.
While many countries are typically safe to visit, the US Department of State advises exercising caution or avoiding travel altogether owing to a variety of concerns such as political instability, terrorism, and natural disasters.
Travel advisory levels are released by the U.S. State Department for over 200 countries worldwide. These levels are updated regularly depending on a range of risk factors, including health, terrorism, and civil unrest. Level 1 travel advisories advise taking standard precautions, while Level 4 advisories advise not going there.
As of October 23, over 10% of countries—21 in total—had a Level 4: "Do Not Travel" advice. The State Department states that in Level 4 countries, the United States government may have "very limited ability" to take action if travelers' security or safety is in risk.
Places With a Level 4 Travel Advisory
Afghanistan: According to the State Department, the Central Asian nation is dealing with "armed conflict, civil unrest, crime, terrorism, and kidnapping."
Burkina Faso: This West African country is plagued by crime, terrorism, and kidnapping. With little to no notice, schools, restaurants, and hotels may become targets of terrorist strikes.
Myanmar (formerly known as Burma): The main barriers to visiting this Southeast Asian nation are civil chaos and armed conflict.
Gaza: Due to the current conflict, US officials advise visitors to Israel, the West Bank, and Gaza to either postpone their plans or stay away.
Iran: All visitors are at danger for kidnapping and unjust detentions, but Americans are particularly vulnerable to "arbitrary arrest and detention."
Iraq: The State Department bases its Level 4 designation on "terrorism, kidnapping, armed conflict civil unrest."
Libya: Conflict between armed groups in Libya's East and West has plagued the country since the fall of its dictatorship over a decade ago.
North Korea: is home to one of the longest-running dynastic dictatorships in history, and US passports are not valid for travel "to, in, or through" this nation.
Russia: The invasion of Ukraine, arbitrary law enforcement, and intimidation of American citizens by Russian government officials are among the factors that led to the country's Level 4 travel recommendation.
South Sudan: Weapon assault, kidnapping, and crime are the main risk factors, with violent crime being widespread in the nation.
Sudan: Due to the continued turmoil in the nation, the United States withdrew its embassy from Khartoum in April 2023 and blocked its airspace.
Yemen: Yemen has six of the nine risk categories listed by the State Department: landmines, terrorism, civil instability, health hazards, and kidnapping.
Malawi: Level 2
The Department of State is warning visitors to Malawi to travel with extra caution in light of recent criminal activity and civil upheaval.
Bangladesh: Level 2
US residents who are in Bangladesh or intend to travel there should be especially careful because of the country's high crime rate, terrorist attacks.
Saba: Level 1
The most recent alert states that visitors to Saba should take standard safety precautions.