Russian plane crash kills all 71 people on board : Accident footage.
According to Daily mail , Nadezhda Krasova, five, the youngest victim in the crash, died along with her mother Oksana Krasova, 32, after the Antonov An-148 airliner broke up in mid-air, according to eyewitness reports.  The Saratov Airlines regional jet disappeared from radar screens a few minutes after departing from the capital's Domodedovo Airport.
The An-148 was developed by Ukraine's Antonov company in the early 2000s and manufactured in both Ukraine and Russia.
Russian state news agency Tass said the plane that crashed had been flying since 2010, with a two-year break because of a shortage of parts. The plane was ordered by Rossiya Airlines, a subsidiary of Aeroflot, but was put into storage between 2015 and 2017 because of the parts shortage.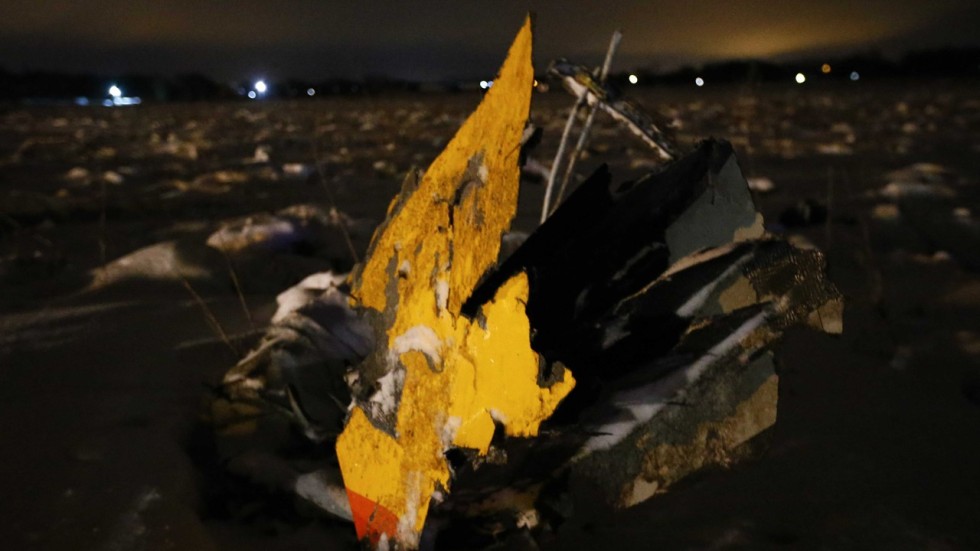 Tass reported that it re-entered service for Saratov Airlines in February 2017. Initial Russian reports blamed weather or human error, but it was unclear how these squared with claims that the plane broke up in the sky.
Russian media reported that the emergency services were unable to reach the crash site by road and that rescue workers walked to the scene on foot. Emergency services said in a statement that more than 150 rescue workers were deployed to the site.
Aviation website FlightRadar reported the aircraft was last measured falling at a rate of 22,000ft per minute.
Fragments from the Antonov An-148 airliner were found in the Ramenskoye area, about 40 kilometers (25 miles) from the airport. Footage on state television showed them strewn across a snowy field with no buildings nearby.
Transport Minister Maxim Sokolov said Sunday afternoon that 'judging by everything, no one has survived this crash.' Russia's Investigative Committee said all possible causes were being explored.
The plane crashed, with 65 passengers and six crew aboard, just a few minutes after setting off Orsk, a city in the Urals, around 1,000 miles southeast of Moscow. Like many of the victims, Nadezhda and her mother were from Orsk, in Orenburg region, which will mark a day of mourning on Monday.
Also among the dead were Evgeny Livanov, 12, and Ilya Poletayev, 17, according to local reports. Stewardesses Anastasia Slavinskaya, 29, and Viktoria Koval, 21, and second pilot Sergey Gambaryan, 34, also died.
India to procure 97 Tejas jets, 156 Prachand choppers, totalling $26.74 billion deal
98% to be sourced from domestic industries in a major boost to 'Aatmanirbharta' in defence.
Procurement of Light Combat Helicopters & Light Combat Aircraft Mk 1A from HAL gets a nod.
Medium Range Anti-Ship Missiles for the surface platform of the Indian Navy accorded approval.
Acquisition of Towed Gun System cleared to replace Indian Field Gun
Proposals totaling Rs 2.23 lakh crore
The Defense Acquisition Council has greenlit capital acquisition proposals totaling Rs 2.23 lakh crore, aimed at bolstering the operational capabilities of the Armed Forces.
This move, with 98% of the funding set to be derived from domestic industries, signifies a significant stride toward promoting self-reliance in defense.
On Thursday (Nov 30), the Indian government sanctioned what is purported to be one of the largest defense contracts in the nation's history.
The Defence Acquisition Council, led by Defence Minister Rajnath Singh, gave the green light to procure 97 Tejas light combat aircraft and 156 Prachand helicopters, a move aimed at significantly enhancing the overall combat capabilities of the armed forces. The approved deals amount to approximately Rs 2.23 trillion ($26.74 billion).
As reported by The Economic Times newspaper, the 97 Tejas aircraft alone are valued at around Rs 650 billion ($7 billion), marking this agreement as the most substantial fighter aircraft deal ever undertaken in the country.
This strategic decision underscores the government's commitment to fortifying the nation's defense capabilities while concurrently supporting the growth of indigenous defense manufacturing.
Key Points:
DAC Approval: The Defence Acquisition Council (DAC) chaired by Raksha Mantri Shri Rajnath Singh granted approval for Acceptance of Necessity (AoNs) totaling Rs 2.23 lakh crore on November 30, 2023.
Domestic Sourcing: 98% of the approved AoN amount (Rs 2.20 lakh crore) will be sourced from domestic industries, aligning with the goal of achieving 'Aatmanirbharta' in the Indian Defence Industry.
Anti-tank Munitions: AoN granted for procurement of two types of Anti-tank Munitions (ADM Type – 2 and Type-3) capable of neutralizing Tanks, Armoured personnel carriers, and enemy personnel.
Towed Gun System (TGS): AoN granted to replace the Indian Field Gun (IFG) with a state-of-the-art Towed Gun System (TGS) for the Indian Army's Artillery forces.
155 mm Nubless Projectile: AoN granted for the procurement of 155 mm Nubless projectiles for use in Artillery guns, enhancing lethality and safety.
Automatic Target Tracker (ATT) and Digital Basaltic Computer (DBC): AoN for procurement and integration of ATT and DBC for T-90 Tanks to maintain a combative edge over adversary platforms.
Medium Range Anti-Ship Missiles (MRAShM): AoN granted for procurement of MRAShM for Indian Navy's surface platforms as a primary offensive weapon.
Aircraft Procurement: AoNs granted for Light Combat Helicopter (LCH) and Light Combat Aircraft (LCA) Mk 1A for Indian Air Force and Indian Army, along with the upgradation of Su-30 MKI Aircraft from Hindustan Aeronautics Limited (HAL).
Indigenous Content Mandate: DAC approved a major amendment in the Defence Acquisition Procedure (DAP) 2020, mandating a minimum of 50% indigenous content in material, components, and software for all procurement cases.
MSMEs and Start-ups Inclusion: To encourage indigenization, DAC decided to consider registered MSMEs and recognized start-ups for Request for Proposal (RFP) issuance without financial parameter stipulations for procurement cases with AoN cost up to Rs 300 crore. This limit can be relaxed up to Rs 500 crore on a case-to-case basis with DPB approval.