Maharashtra signs Rs 35,000 crore deal with rooftop aircraft maker
Mumbai, February 19: According To the Tribunal  The dream of a commercial pilot to set up an aircraft manufacturing company is set to take wing with the Maharashtra Government today signing a Rs 35,000-crore pact with him to build aircraft.
Maharashtra Chief Minister Devendra Fadnavis was present when the MoU, which envisages Rs 35,000 investment in the project, was signed at the "Magnetic Maharashtra" global investors summit in suburban Bandra.The MoU, between Amol Yadav and MIDC, will lead to generation of around 10,000 jobs in the project, which will be spread over 157 acre land in Palghar district.
Last year, Fadnavis had promised all help to Yadav, 42, who hails from Satara district, to start manufacturing facility for indigenous 6-seater and 19-seater aircraft."I have to make planes.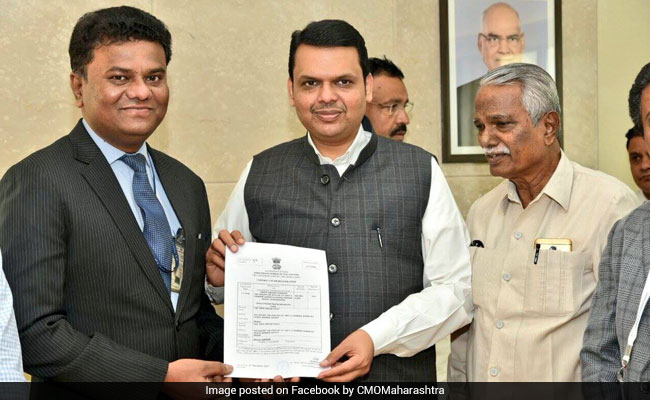 I have demonstrated the capabilities. Fadnavis wants the first plane making factory of the country to be in Maharashtra. The 157-acre plot was identified in Palghar. The MIDC will provide us land and support facilities like roads," Yadav told PTI."My responsibility is to build the plane and create the factory which will be producing more, and also to look after factories to be set up henceforth.
This will be an aerospace hub to make planes," he said.Maharashtra will help in getting the required funds, Yadav said. "The government expects Rs 35,000-crore investment for not my company alone, but also for the ancillaries," he said."Rs 35,000 crore is the total amount of funds which will be required to achieve the broader targets.
The target is to create employment for 10,000 people. The investment figure is included in the MoU agreement but it will not be coming from me alone," he said."In the first phase, I am required to build a prototype 19-seater plane and three more similar planes for production.
We want to make 600 19-seater planes in the next 2-3 years and then take it to 1,300 planes after that. We are planning for 1300 19-seater planes at present," he said.Yadav's six-seater aircraft was the centre of attraction during the Make In India exhibition held in Mumbai in 2016. The aircraft, which was assembled on the terrace of a Charkop building, got the certificate of registration from the Directorate General of Civil Aviation (DGCA) last year. — PTI
Vueling's In-Flight Delight: Pampering Pets with Delicious On-Board Treats"
In a heartwarming move that caters to the growing community of pet-loving travelers, Vueling, the Spanish low-cost carrier, has become the trailblazer in European aviation by introducing delectable treats for pets as part of its innovative buy-on-board menu.
This groundbreaking initiative positions Vueling as the first European airline to embrace the needs and preferences of passengers who choose to journey with their beloved animals.
Setting the stage for this pet-friendly endeavor, Vueling's Barcelona-based team collaborated with Newrest Travel Retail to undergo a comprehensive revamp of its onboard menu for the upcoming 2023-2024 winter season. The standout feature of this transformation is the inclusion of specially curated dog snacks, sourced from the renowned brand Edgard & Cooper.
Vueling ensures that its four-legged pets can indulge in a delectable selection of in-flight treats. The pet menu showcases enticing options such as chicken bars and beef bites, available at reasonable prices of €3.50 ($3.78) and €5.50 ($5.93), respectively. This move not only elevates the standard of in-flight pet services but also caters to the discerning tastes of pets with a penchant for high-quality, flavorful snacks.
Vueling has established a transparent and straightforward pricing model for pet travel. Passengers traveling with their pets can expect to pay €50 for domestic flights and €60 for international flights or those to/from the Canary Islands.