Japan's first passenger jet makes maiden test flight 
Nagoya, November 11, 2015 –
Mitsubishi Aircraft Corporation and Mitsubishi Heavy Industries, Ltd. (MHI) today conducted the first flight of the first flight test aircraft for the MRJ (Mitsubishi Regional Jet), their next-generation regional jet.
The MRJ took off from Nagoya Airport and confirmed its basic characteristics and functionality in ascent, descent and turning in airspace off the Pacific coast during its 1.5-hour first flight.
"The MRJ successfully took to the sky today thanks to ongoing cooperation and support from all members involved," said Hiromichi Morimoto, President, Mitsubishi Aircraft Corporation. "We will make our utmost efforts towards type certificate acquisition, committing all our resources to develop and produce the finest regional jet aircraft to enter commercial service in 2017."
"Operational performance of the MRJ was far better than expected. We had a significantly comfortable flight," said Pilot Yasumura, who served as captain.
Mitsubishi Aircraft and MHI will continue to conduct flight tests for the first delivery scheduled for the second quarter of 2017. The flight tests in the US are scheduled to start in the second quarter of 2016, from the MRJ base at Grant County International Airport at Moses Lake in Washington State.
Going forward, Mitsubishi Aircraft and MHI continue to devote their collective resources towards the successful completion of the MRJ project.The unit of Mitsubishi Heavy Industries, which built the World War Two-era Zero fighter, is hoping the $47-million regional jet will help it oust Canada's Bombardier Inc as the world's second-biggest maker of smaller passenger jets behind Brazil's Embraer SA.
The MRJ is Japan's first commercial passenger aircraft since the 64-seat YS-11 entered service 50 years ago. The first MRJ is slated for delivery in June 2017 to Japan's biggest carrier, ANA Holdings. Mitsubishi aims eventually to sell more than 2,000 aircraft in the competitive market segment.
Mitsubishi says the MRJ burns a fifth less fuel than aircraft of similar size, thanks to new-generation engines from Pratt & Whitney, a subsidiary of United Technologies Corp.
Japan's last attempt to establish itself as a commercial aircraft maker ended in failure. Production of the YS-11, built by a consortium that included Mitsubishi Heavy, finished after only 182 planes were built.
That program however helped Mitsubishi Heavy and other companies forge ties with Boeing Co, turning them into major suppliers and partners of the U.S. aircraft maker and helping revive an aerospace industry that was dismantled after World War Two.
Features : 
Clean Sheet Innovation born from freedom , A clean sheet can be liberating. No preexisting platforms to conform to. No parts bins to raid. The results are the most efficient, comfortable and reliable 70- and 90-seat jets to ever take flight.
Clean sheet advantages
Highest fuel efficiency
Lowest environmental impact
Most passenger comfort
Designed to increase reliability
Engine
MRJ is proud to be the launch customer for Pratt & Whitney's PurePower® Geared Turbofan™ engine which was optimized specifically for the MRJ. The new gear system allows the fan, low pressure compressor and turbine to rotate at optimum speeds which enables engine to have game-changing fuel efficiency. In addition, its Geared Turbofan™ engine architecture requires 60% fewer turbine airfoils than conventional turbofan engines and reduces maintenance time and cost.
Newest Flight Deck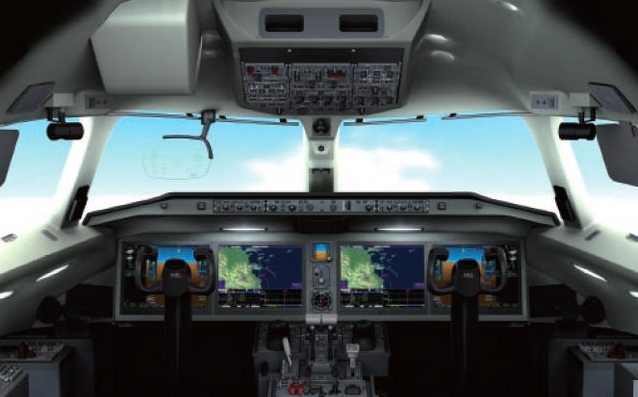 A new view on the horizon . The most advanced, full fly-by-wire, flight deck available today is right at home aboard the MRJ. Featuring the Pro Line Fusion® system, the latest in avionics technology from Rockwell Collins, the MRJ's flight deck maximizes situational awareness with four 15-inch landscape LCDs that deliver unprecedented clarity and information.
Cabin 
The modern and stylish cabin of the MRJ introduces new values in the interior comfort of regional jet aircraft. Passengers will be very comfortable as the MRJ will provide wide cabin space, comfortable slim seats, large overhead bins, and lavatory for passengers with reduced mobility.
Mainline jet comfort
Ample head & foot clearance at the seat
Large overhead bin
Lavatory for passengers with reduced mobility
MRJ90 versions
MRJ90 Variants
MRJ90STD
MRJ90ER
MRJ90LR
Passengers
88 (Typical single

class at 31″ pitch)

Cargo Compartment
m3 (ft3)
18.2 (644)
Engine
Pratt & Whitney

PurePower®

PW1217G Engine

Engine Thrust
kN (lbf)
78.2 (17,600) x 2
Maximum Takeoff Weight
kg (lb)
39,600 (87,303)
40,995 (90,378)
42,800 (94,358)
Maximum Landing Weight
kg (lb)
38,000 (83,776)
38,000 (83,776)
38,000 (83,776)
Maximum Zero Fuel Weight
kg (lb)
36,150 (79,697)
36,150 (79,697)
36,150 (79,697)
Range @ 88PAX x 102kg (225lb)
km (nm)
2,120 (1,150)
2,870 (1,550)
3,770 (2,040)
Maximum Operating Mach Number
M 0.78
M 0.78
M 0.78
Maximum Operating Altitude
m (ft)
11,900 (39,000)
11,900 (39,000)
11,900 (39,000)
Takeoff Field Length (MTOW, SL, ISA)
m (ft)
1,490 (4,890)
1,600 (5,250)
1,740 (5,710)
Landing Field Length (MLW, Dry)
m (ft)
1,480 (4,860)
1,480 (4,860)
1,480 (4,860)
So far it has secured 223 firm orders, most recently in January when Japan Airlines asked for 32 planes. The biggest single purchase, for 100 aircraft, was from U.S. regional airline operator Trans State Holdings. Those Japanese companies build 35 percent of Boeing's advanced 787 carbon-composite jetliner, including the wings, the most complex part. Japan's biggest carmaker, Toyota Motor Corp, and largest trading company, Mitsubishi Corp, each own a 10 percent stake in the MRJ venture.
Download MRJ features : click here 
Liked it ..!? 

Share with your friends and family
British Airways Speedbird Pilot Academy: Your Ticket to the Cockpit
In a groundbreaking move, British Airways has officially unveiled the eagerly anticipated Speedbird Pilot Academy 2023, marking a significant milestone in the aviation industry. This exclusive program promises to propel aspiring pilots to new heights, offering an extraordinary opportunity for individuals from diverse backgrounds to embark on a career in the skies.
The Speedbird Pilot Academy, renowned for its legacy of training top-tier aviation professionals, is set to write a new chapter in the world of aviation. With a commitment to inclusivity, British Airways invites candidates from all walks of life to take part in this extraordinary journey.
Paving the Way for Future Captains
Enrolling in the Speedbird Pilot Academy is the first step towards achieving the esteemed rank of Captain within British Airways. As a fledgling pilot, you will commence your career on the airline's short-haul fleet, gaining invaluable experience as you embark on your aviation odyssey.
But that's just the beginning. As your expertise and experience burgeon, you'll gain access to an unrivaled array of fleet types and routes, spanning both long-haul and short-haul operations, setting you on a trajectory toward a thrilling future.
Applications Closed for 2023
The anticipation surrounding the Speedbird Pilot Academy 2023 has been palpable, and applications for this year have already closed. Nonetheless, this elite training program has not ceased to draw the attention of aviation enthusiasts worldwide.
Stringent Criteria for Aspiring Pilots
To be eligible for this extraordinary opportunity, candidates must meet stringent criteria:
Age: Applicants must be between 17 and 55 years old at the time of application and at least 18 years old to commence training.
Educational Qualifications: A minimum of 6 GCSEs graded A-C or 5-9, including Math, English, and a Science subject, or equivalent qualifications.
Language Proficiency: Proficiency in English is mandatory. Non-native English speakers must present an IELTS Level 5.5 certificate overall, with no sub-score falling below 5.5.
Passport and Residency: Applicants must hold a valid passport allowing unrestricted global travel and the right to live and study in the UK without the need for sponsorship.
Height Requirements: Aspirants' height must fall within the range of 1.57m (5'2″) to 1.90m (6'3″).
Medical Fitness: Applicants must obtain and maintain a UK CAA Class 1 medical certification with no restrictions, meeting British Airways' medical criteria.
Background Checks: Prior to commencing training, applicants must successfully complete referencing and pre-employment checks, including UK and international Criminal Record Checks.
A Clear Path to the Skies
The British Airways Speedbird Pilot Academy offers a clear path for aspiring aviators to transform their dreams of soaring above the clouds into a reality. With British Airways' ambitious growth plans, the future holds a world of exciting opportunities for those who dare to reach for the skies.
As this remarkable journey unfolds, British Airways reaffirms its commitment to diversity, inclusion, and the relentless pursuit of excellence in aviation.
Stay tuned for more updates on this exceptional aviation initiative that promises to shape the future of the industry.
You can Apply it here : Click
How is Bangkok Airways now weighing passengers before boarding?
Bangkok Airways is the most recent airline that asks customers to walk on a scale before boarding. The development was announced by the airlines on their Facebook page on September 14. According to the notification, the weight check survey will occur between September 15 and October 31, 2023.
https://www.facebook.com/FlyBangkokAir/posts/687409406754053?ref=embed_post
Bangkok Airways Public Company Limited is now a member of the Watchers Club, joining the ranks of other airlines. In order to precisely calculate the total weight of people and their accompanying carry-on luggage, the airline attempts to use standardized average weight data.
Exclusive Airbus A350 Photo Tour : Cabin, Seats and Walk around at wings India.(Opens in a new browser tab)
The company will formally certify that the data will be kept private and will be employed solely to enhance the information on the typical average weight.
A positive response from customers is what the company is hoping for. A standard weights survey must be carried out in accordance with the international civil aviation standard regarding the use of standard passenger and baggage weights for weight and balance calculation purposes in order to ensure the safety and effectiveness of a flight and to confirm that the actual weight does not exceed the maximum take-off weight limitation.
Bangkok Airways and Vietnam Airlines. Signed an agreement to codeshare flights.(Opens in a new browser tab)
Before boarding a plane, passengers are weighed, and Bangkok Airways is not the first airline to do this. Korean Air has been performing passenger weight checks at airports from September. Air New Zealand conducted a similar study earlier this year.
Norse Atlantic Airways Partners with WebCargo by Freightos
Norse Atlantic Airways and WebCargo by Freightos, the top air cargo booking platform, today announced substantial cooperation to provide the European-based carrier's capacity from the largest European Union cities for quick eBooking and payment on WebCargo.
Norse Atlantic Airways launches new Flights from Los Angeles and San Francisco to London(Opens in a new browser tab)
For technology, perishables, and other shipments, Norse Atlantic will soon enable real-time booking for WebCargo's thousands of forwarders on its flights to and from Europe to seven destinations in the US, including Los Angeles International. It is important to remember that Norse Atlantic operates out of Miami International, the entryway to South America, for forwarders making reservations to Latin America.
Norse intends to establish capacity later this year between London and Barbados and Jamaica as well as between Oslo and Thailand, substantially extending WebCargo's reach in Asia and the Caribbean.
Norse Atlantic Airways unveils two new routes from the US to London(Opens in a new browser tab)
Norse Atlantic only flies Boeing 787 Dreamliners, which have a number of cutting-edge green features like 25% reduced CO2 emissions and 50% quieter operation than the aircraft of the previous generation still in service with several major airlines worldwide.
Freight forwarders looking to book capacity on Norse Atlantic Airways, visit https://www.webcargo.co/book-air-cargo-with-norse-atlantic-airways/