HAL signs contract with Mauritius for export of advanced light helicopters
In-line with Government's vision to boost defence exports to friendly foreign countries, HAL signed a contract with Govt. of Mauritius (GoM) for export of one Advanced Light Helicopter (ALH Mk III) for Mauritius Police Force. The Govt. of Mauritius already operates HAL built ALH and Do-228 aircraft. With this contract, HAL and GoM have further strengthened the long standing business relations spanning over three decades.
The contract was signed by Mr. BK Tripathy, General Manager, Helicopter Division-HAL and Mr. OK Dabidin, Secretary of Home Affairs, Prime Minister's Office, Govt. of the Republic of Mauritius recently at HAL's Transport Aircraft Division, Kanpur in the presence of Mr. Apurba Roy, General Manager, TAD-Kanpur, Mr. K Jhugroo, Deputy Commissioner of Mauritius Police, Mrs. P Sohun, Dy Permanent Secretary, Govt. of Mauritius, Mr. T Abdoolahkhan, Chief Inspector of Mauritius Police and Mr. Arup Kumar Mallick, Addl. General Manager (Mktg)-HAL.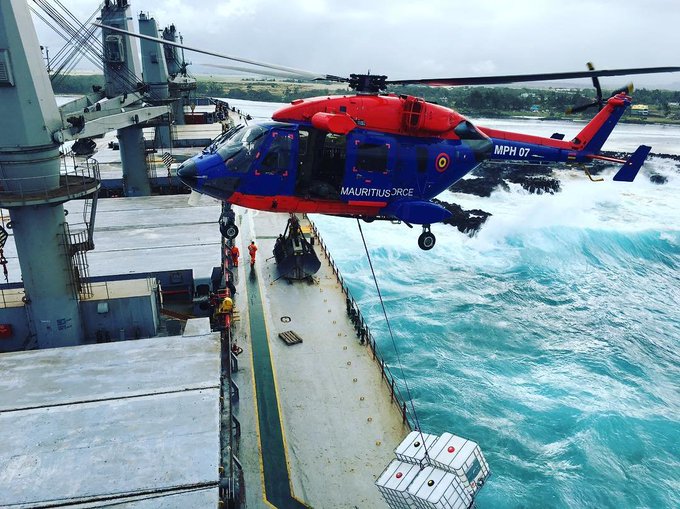 The ALH Mk III is a multi-role, multi-mission versatile helicopter in 5.5 tonne category. It has proven its mettle in various utility role including numerous lifesaving missions during natural calamities in India and abroad. More than 335 ALHs have been produced till date logging around 3,40,000 cumulative flying hours. HAL also ensures technical assistance and product support to the customer to ensure healthy serviceability of the helicopter.
Govt Approves indigenously built 15 Light Combat Helicopters for Indian Defense
JM Exclusive tour onboard the EMBRAER E195-E2 Demonstrator.
US considering ban on Chinese airlines using Russian airspace
Chinese airlines that use Russian airspace may face a ban from the Transportation Department of the United States of America. Three Biden administration officials told that the US is considering imposing a ban on Chinese airlines and other rivals who use Russian airspace to bring passengers to the country.
The choice was made in the midst of the ongoing Russia-Ukraine conflict. In an effort to protect the safety of the passengers, a number of Ukrainian bloc allies opted to stop using Russian airspace once the conflict began in February of last year. Over a variety of topics, relations between China and the US are strained. The National Security team and others apparently received a directive on Monday. Chinese enterprises were forced by the ruling to adhere to the same limitations that apply to US airline companies.
Russia prohibits its pilots from working for foreign airlines.(Opens in a new browser tab)
The New York Times claims that these limitations have significantly impacted the operations of US airlines. A US official claimed last month that foreign airlines that use Russian airspace on flights to and from the US are acquiring a sizable economic advantage over US carriers in key markets, including China and India. They continued, "This situation is directly to the benefit of foreign airlines and at the price of the United States as a whole, with less links to critical markets, fewer high-paying airline employment, and a dent in the economy overall."
The US airlines' lobbying, in the opinion of the industry trade group Airlines for America, is what led to this perception of the US government. According to the trade association, US airlines are losing up to $2 billion in market share to foreign rivals every year as a result of Russia's liberalization of business travel. In order to prevent foreign airlines flying through Russia from landing at US airports, the group has urged the Biden administration to take action.
While maintaining vacant seats, US airlines must operate long-distance flights. To make the jet light enough to fly without refueling frequently, the seats are kept vacant. As a result, all of these regulations have a significant impact on the airline industry. Even if US airlines wanted to fly over Russian airspace, they couldn't since Moscow last March barred US airlines from using its airspace in retaliation for Washington's sanctions. As a result, US airlines' business has been significantly impacted by the geopolitical dynamics between the US and Russia.