Five Future Aircraft Will be a revolution ! Future Innovative Planes
1. ICON A5
The A5 is a high-wing flying boat-type amphibious monoplane with a carbon fiber airframe and retractable undercarriage. It seats two people in an enclosed 46-inch-wide (116.8 cm) cockpit and is powered by a single 100 hp (75 kW) Rotax 912 iS engine driving a three-bladed pusher propeller. Dornier-style sponsons provide hydrodynamic stability, housing the retracted main landing gear, and act as a step for crew and passenger. The wings can be folded aft for ground transport and storage. Equipment includes an angle of attack indicator, an unusual feature in general aviation aircraft. A whole-airframe Ballistic Recovery Systems parachute is optional, except for in U.S.-registered A5s where it is mandatory, due to ICON's exemption to the U.S. LSA weight limit. The A5 uses many different design elements to provide a manageable stall recovery.
2. Ehang 184
A Passenger drone is a type of Unmanned aerial vehicle (UAV) that carries passengers. The first passenger drone was introduced at the Computer Electronics Show (CES) 2016 by Chinese entrepreneurs and is called the Ehang 184.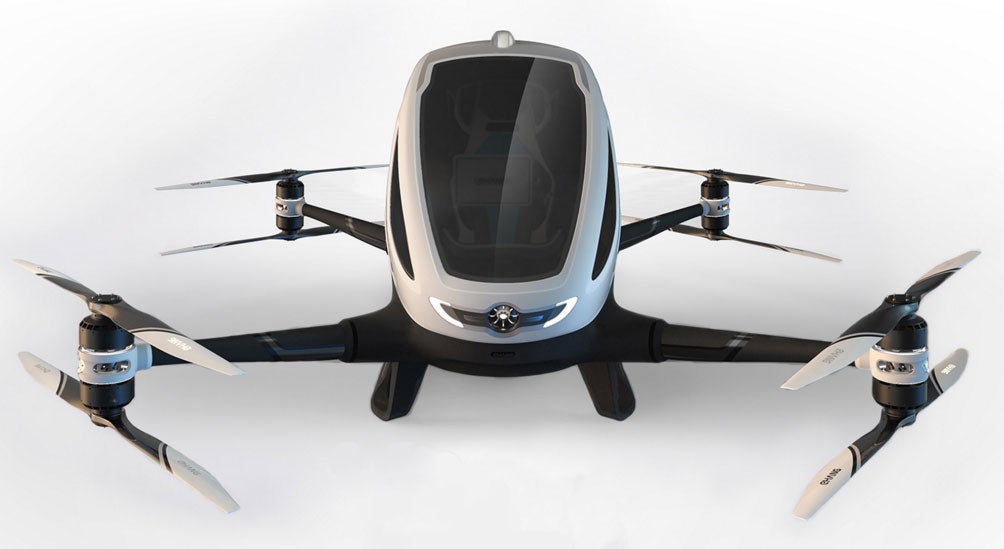 3. The AeroMobil s.r.o.
AeroMobil (variously also styled Aeromobil and AEROMOBIL by the manufacturer) is a Slovak prototype roadable aircraft, designed by Štefan Klein and first flown in 2013. The aircraft will be produced by AeroMobil s.r.o..
AeroMobil s.r.o. company co-founder and CEO Juraj Vaculík indicated in March 2015 that the vehicle is intended for "wealthy supercar buyers and flight enthusiasts". Vaculik expects the aircraft will be available for sale in 2017.
4. Cobalt Valkyrie
The Valkyrie is one of the fastest piston aircraft on the market, and is designed to be the safest. Inspired by classic fighter jets with clean lines and premium finishes, the Valkyrie impresses with understated elegance. The exterior comes in a range of custom finishes including dark colors, typically harder on composites. The flight controls feature full pushrod-bellcrank precision mechanisms, and the retractable landing gear is machined in solid high-performance alloys. The interior features premium hand stitched leather seats, customizable platings and trim materials. It comfortably seats five people, including the pilot, with ample storage for golf clubs, skis and suitcases. It also has the largest one-piece canopy in the world, providing an unrivaled visibility to pilots and passengers alike. Cobalt promotes the highest standards of safety in the industry. The Valkyrie has a "canard" configuration, with a forewing that acts as an aerodynamic fuse to prevent stalls. An airframe parachute is also provided as an option.Cobalt manufactures the Valkyrie exclusively in California to ensure exceptional quality standards, fast delivery to early buyers, and modern customer service.
5. Airbus E fan
Airbus Group is developing an electric aircraft with Aero Composites Saintonge. The aircraft uses on-board lithium batteries to power the two electric motors and can carry two passengers. A test flight was conducted in April 2014 at Mérignac Airport, France, landing in front of a large audience, the French Minister of Industry Arnaud Montebourg being one of them. At the 2014 Farnborough Airshow, Airbus announced that the E-Fan 2.0 will go into production by 2017 with a side-by-side seating layout. Airbus has stated that there are plans for development of a commercial regional aircraft in the near future.
Liked it ..? 

Share with your friends & family. 
Pakistan might be interested in replacing its F16 aircraft with a KAAN 5th gen fighter from Turkey.
Pakistan believes that Turkey's First Fifth Generation Fighter will replace the F-16.
The air force in Pakistan is eager to replace its aging fleet. It has repeatedly asked the United States for upgrades to its F16 fleet, but the United States has refused due to pressure from its neighbors and some allies, including China.
Later, Pakistan forcibly acquired the newest fighter jet from China, the J-10, for its fleet despite being uncertain of the aircraft's intended use. and some aircraft were constructed in Pakistan.
US approves sale of an F16 fighter jet to Pakistan(Opens in a new browser tab)
Now It is crucial for Pakistan to upgrade its air force fleet with the latest aircraft so that it has the option to choose Turkish defense manufacturing. The Turkish Air Force just got its first F-16 fighter plane that was upgraded locally. As part of Turkish Aerospace Industries' Project Ozgur, the aircraft has been modernized. Pakistan also may get similar assistance to upgrade its fleet in the upcoming days.
When Turkey's first fifth-generation fighter, the TAI Kaan, completes its developmental trials around 2030, Pakistan has indicated an interest in purchasing it from Turkish Aerospace Industries (TAI).
Ukraine enters a tender for the engine development for Turkey's KAAN Fighter.(Opens in a new browser tab)
Pakistan currently has its sights set on the Turkish KAAN fighter jet, which was just completed and is rumored to be a fifth-generation fighter. Additionally, it displayed some of the aircraft's features and perspective, which are somewhat reminiscent of those of the US F22 and Russian Su 57.
How will be the Tejas Mark 2 compared to the F-16 block 50/52?(Opens in a new browser tab)
Pakistan may variety of options with Turkey. even it can ask for the domestic production of the Turkish fighter jet and also it can import most of the weapons. Turkish is also willing to make the agreement with Pakistan, it is already looking for buyers for its newly developed products.
Turkish engineers hope to make their fifth-generation aircraft more competitive with the US F35 or the Russian Su-57. However, it will take some time as the Turkish manufacturing industry's biggest problems are the engines and avionics, which they are always working to resolve.
Currently, Turkey manages the majority of aircraft, although it is working to acquire engines, many of which may come from Rolls-Royce for its KAAN TFX fighter.
French government provides €5.6M funding to boost for VoltAero Cassio electric-hybrid aircraft
A new €5.6 million grant from the French government through BPI France, the organization that supports France's economic growth by aiding its entrepreneurs, has bolstered VoltAero's funding for the development of its Cassio 330 electric-hybrid aircraft.
The funding was made available through the "France 2030" investment plan, which was formed by the French government with the aim of sustainably modernizing important areas of the nation's economy, including aviation.
Air Canada to Acquire 30 ES-30 aircraft.(Opens in a new browser tab)
The Cassio 330 is the first of three electric-hybrid aircraft models from VoltAero that have a lot in common and are highly flexible. The family's design is based on the sleek, aerodynamically-optimized aircraft from VoltAero's clean-sheet configuration.
The Cassio family will be a highly skilled and dependable product line for local commercial operators, air taxi/charter firms, individual owners, as well as utility-category service for cargo, mail delivery and medical evacuation (Medevac) applications.
Jet Airways announces temporary suspension of flight operations(Opens in a new browser tab)
Cassio will perform orders of magnitude better than the competition by incorporating VoltAero's proprietary electric-hybrid propulsion system into the specially designed aircraft, and it will have much lower operating expenses.
The Cassio 330, an electric-hybrid vehicle with five seats and a 330-kilowatt propulsion system, will be the first version to enter service. The six-seat Cassio 480 from VoltAero will have an electric-hybrid propulsion power of 480 kilowatts, while the 12-seat Cassio 600 has a propulsion power of 600 kilowatts.
Bringing back its Boeing 777 aircraft from Russia is currently a nightmare for Air India
On June 6, an Air India direct flight AI173 carrying over 200 people from Delhi to San Francisco, California, had to make an emergency landing in Magadan, Far Eastern Russia. After 40 or so hours, the stranded passengers were finally transported to San Francisco by a different airline.
Bringing back its Boeing 777 aircraft from Russia is currently a nightmare for Air India. Since there was a technical issue and the plane had to land in Magadan, efforts were made to transport the passengers from the ferry flight.
Let's learn more about the problems with aviation. The majority of long-haul flights have technical problems, mostly engine-related. Now that certain airlines have received necessary ground support from other airlines, flying foreign airlines into Russia, which has already received sanctions from Western countries, has been restricted.
231 Air India passengers were from India, the U.S., and Canada. Due to an engine issue, Boeing spent over two days in Magadan. The travelers' sleeping arrangements were made at a school, a dorm, and the House of Culture. Everyone was fed, given water, and loaded onto a backup aircraft.
How passengers of Air India AI173 were hosted in Russia.(Opens in a new browser tab)
However, the Air India AI173 flight from Delhi to Magadan is still present in the Russian tundra. As officials work to find a means to bring the aircraft out and back to India, it is likely to stay that way for a while, perhaps months.
The GE90-115B engine from GE Aerospace powers the Boeing 777 operated by Air India.
There are various factors to take into account regarding the shipment if Air India is required to transport a spare engine and receives approval as well.
Trucks are the greatest option for moving aircraft engines, however, flying is also an option for farther distances.
Air India resumes its most popular Bengaluru & San Francisco non-stop service(Opens in a new browser tab)
The only option for plane India is plane travel. Specialized equipment is necessary for this as well.
The majority of AN 132 and other aircraft can carry a spare engine, however owing to the Ukraine issue, this aircraft may not be available, thus it must approve other cargo aircraft to carry additional engines.
According to the Dutch air freight company VRR Aero, the PZE engine stands pallet is the best and only option for transferring jet engines to the main deck of wide-bodied aircraft like the Boeing 777.
Air India aircraft AI173's emergency landing in Russia en route to San Francisco(Opens in a new browser tab)
In addition, there are more airborne methods for moving aircraft engines. Air freight is frequently transported by the enormous Antonov 124 aircraft.
The problem, though, is that a sizable portion of these Antonov freight planes are either in Russia or Ukraine. One of these airplanes, Mriya, was damaged during the battle in Ukraine. There are just five, mostly in Europe, outside of Russia and the Ukraine.
Air India resumes its non-stop service between Mumbai and New York(Opens in a new browser tab)
Given that GE is an American corporation, a Russian aircraft cannot be purchased there.
Boeing is one of the companies that rent Antonov cargo aircraft to ship big engine parts across the globe.