Five Future Aircraft Will be a revolution ! Future Innovative Planes
1. ICON A5
The A5 is a high-wing flying boat-type amphibious monoplane with a carbon fiber airframe and retractable undercarriage. It seats two people in an enclosed 46-inch-wide (116.8 cm) cockpit and is powered by a single 100 hp (75 kW) Rotax 912 iS engine driving a three-bladed pusher propeller. Dornier-style sponsons provide hydrodynamic stability, housing the retracted main landing gear, and act as a step for crew and passenger. The wings can be folded aft for ground transport and storage. Equipment includes an angle of attack indicator, an unusual feature in general aviation aircraft. A whole-airframe Ballistic Recovery Systems parachute is optional, except for in U.S.-registered A5s where it is mandatory, due to ICON's exemption to the U.S. LSA weight limit. The A5 uses many different design elements to provide a manageable stall recovery.
2. Ehang 184
A Passenger drone is a type of Unmanned aerial vehicle (UAV) that carries passengers. The first passenger drone was introduced at the Computer Electronics Show (CES) 2016 by Chinese entrepreneurs and is called the Ehang 184.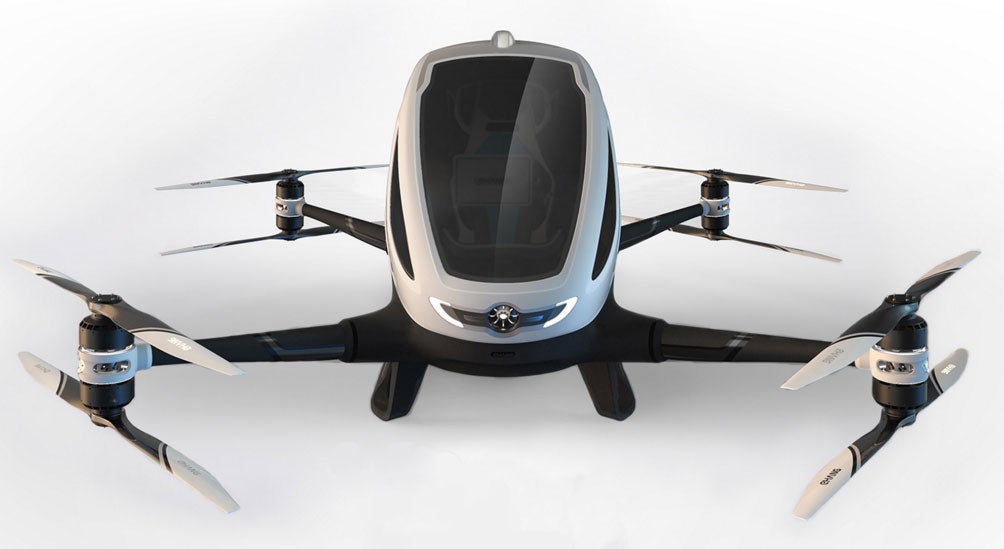 3. The AeroMobil s.r.o.
AeroMobil (variously also styled Aeromobil and AEROMOBIL by the manufacturer) is a Slovak prototype roadable aircraft, designed by Štefan Klein and first flown in 2013. The aircraft will be produced by AeroMobil s.r.o..
AeroMobil s.r.o. company co-founder and CEO Juraj Vaculík indicated in March 2015 that the vehicle is intended for "wealthy supercar buyers and flight enthusiasts". Vaculik expects the aircraft will be available for sale in 2017.
4. Cobalt Valkyrie
The Valkyrie is one of the fastest piston aircraft on the market, and is designed to be the safest. Inspired by classic fighter jets with clean lines and premium finishes, the Valkyrie impresses with understated elegance. The exterior comes in a range of custom finishes including dark colors, typically harder on composites. The flight controls feature full pushrod-bellcrank precision mechanisms, and the retractable landing gear is machined in solid high-performance alloys. The interior features premium hand stitched leather seats, customizable platings and trim materials. It comfortably seats five people, including the pilot, with ample storage for golf clubs, skis and suitcases. It also has the largest one-piece canopy in the world, providing an unrivaled visibility to pilots and passengers alike. Cobalt promotes the highest standards of safety in the industry. The Valkyrie has a "canard" configuration, with a forewing that acts as an aerodynamic fuse to prevent stalls. An airframe parachute is also provided as an option.Cobalt manufactures the Valkyrie exclusively in California to ensure exceptional quality standards, fast delivery to early buyers, and modern customer service.
5. Airbus E fan
Airbus Group is developing an electric aircraft with Aero Composites Saintonge. The aircraft uses on-board lithium batteries to power the two electric motors and can carry two passengers. A test flight was conducted in April 2014 at Mérignac Airport, France, landing in front of a large audience, the French Minister of Industry Arnaud Montebourg being one of them. At the 2014 Farnborough Airshow, Airbus announced that the E-Fan 2.0 will go into production by 2017 with a side-by-side seating layout. Airbus has stated that there are plans for development of a commercial regional aircraft in the near future.
Liked it ..? 

Share with your friends & family. 
Boeing 777-8F vs Airbus A350F: Comparing two Premium aircraft
In the world of aviation, competition is a constant force. With the aftermath of the COVID pandemic, many airlines have been making a strong comeback, showing robust profit margins. Furthermore, the demand for freight services has been on the rise, necessitating the need for high-end aircraft in this sector.
In this narrative journey, we're about to embark on, we'll delve into the realm of two exciting newcomers in the freighter aircraft segment: the Airbus A350 Freighter and the Boeing B777-8 Freighter.
These aircraft are born from the same lineage as their passenger counterparts but have been reimagined for the world of cargo transportation. Our exploration will take us through the fascinating similarities and differences between these two aircraft, examining their capacity, operational viability, and what they bring to the airlines that operate them.
Airbus A350F
The A350F can be seamlessly integrated into airline fleets, delivering step-change efficiency in terms of volume, range, and payload.
Airbus is proud to bring the A350F as the only choice for the future of the large widebody freighter market
The A350F, as proclaimed by Airbus, possessed an almost otherworldly ability: it showcased an unbeatable fuel efficiency that set a new benchmark for its competitors. With awe-inspiring prowess, it achieved a staggering 40% reduction in fuel consumption and carbon dioxide emissions when compared to the venerable 747F.
But the brilliance of the A350F didn't end there. It was a revelation in seamless integration for airline fleets. As if answering the prayers of airlines worldwide, this aircraft seamlessly joined its ranks, ready to revolutionize air travel. Its introduction marked a step-change in aviation efficiency, touching every aspect of the industry.
Boeing's 777x Aircraft and the Evolution of Air Freight
Boeing is keeping pace with advancements in aviation, showcasing its much-anticipated Boeing 777x aircraft, currently in the testing phase. Responding to Qatar Airways' call, Boeing is exploring the development of a 777X-based freighter to replace the existing 777Fs.
This cutting-edge aircraft boasts next-generation avionics and technology, featuring a powerful engine that significantly elevates its performance. The extended wing structure not only enhances aerodynamics, reducing drag during cruising for improved fuel efficiency but also contributes to lower fuel consumption.
Introducing the 777-8 Freighter, Boeing extends its freighter family as the world's most capable and fuel-efficient freighter, aligning with sustainability goals. The Boeing freighter family ensures optimal payload capacity and range capabilities, all while maintaining superior economics. This includes the high-volume 747-8 Freighter and the long-range 777 Freighter, solidifying Boeing's commitment to delivering innovative solutions for the future of air freight.
Boeing 777-8F vs Airbus A350F – Specifications
A350F
777-8F
Length
70.8m
70.8m
Height
17.1m
19.5m
Wingspan
68.75m
71.8m
Maximum take-off weight (MTOW)
319,000kg
TBC
Cargo capacity main deck
30 pallets main deck,
12 in lower hold
30 pallets main deck,
12 in the lower hold
Total cargo volume
TBC
766.1m3
Net revenue payload
109,000kg
112,264kg
Range
4,700nm
4,410nm
Engines
2x Rolls-Royce Trent XWB
2x General Electric GE9X
Boeing 777-8F and A350F Capacity
The A350F is derived from the A350-1000 and the 777-8F will have the key features of Boeing's 777X design, including its carbon-fiber wing – the longest single composite part ever developed for an aircraft.
The 777-8F will be slightly larger than the A350F, with a marginally longer fuselage, taller height, and a wider wingspan. At 70.8m, the A350F will be slightly shorter than the 73.7 m-long passenger A350-1000.
On cargo payload and range, Airbus says the A350F will carry 109,000kg over 4,700nm. Boeing's data notes the 777-8F will carry 112,300kg over 4,410nm.
And while the A350F's main-deck cargo hold will have capacity for 30 pallets (measuring 244 x 318cm), with another 12 of the same size in the lower hold, the 777X will carry 31 pallets (again 244 x 318cm) on the main deck, and 13 in its lower hold. Essentially, the 777-8F will carry slightly more cargo, but the A350F will be able to fly further.
Boeing 777-8F and A350F efficency

Airbus stands to gain significant advantages by promptly introducing the A350F into service, recognizing the absence of a compelling cargo aircraft in its portfolio. Leveraging the already-established certification of the A350 family further reinforces its position.
In contrast, Boeing adopts a more measured approach, as the continued reception of orders for the 777F allows for sustained production over the next five years. This strategy provides a smoother transition toward the eventual production of the 777-8F.
The European aircraft manufacturer highlights that the A350 F will feature a 17% increase in revenue cargo volume and a payload capacity of 3,000kg greater than the current generation Boeing's 777-9F.
In contrast, Boeing asserts that Boeing's 777-9F will outperform the current Boeing 777F by carrying 17% more revenue payload. Boeing aims to provide the "highest payload and long-range capability" to explore new markets while ensuring a balance of "low operating cost with high reliability."
Airbus emphasizes the A350 F unparalleled space for customers, claiming an 11% volume increase that accommodates an additional 5 pallets. The A350 F boasts a lighter Maximum Takeoff Weight of 30 tonnes and an impressive 99.5% operational reliability.
Further setting it apart, the Airbus A350 F features a cargo side door that surpasses competitors in size. Additionally, it promises a 20% reduction in fuel burn, contributing to enhanced efficiency and sustainability.
Airbus stands to gain significant advantages by promptly introducing the A350 F into service, recognizing the absence of a compelling cargo aircraft in its portfolio. Leveraging the already-established certification of the A350 family further reinforces its position.
In contrast, Boeing adopts a more measured approach, as the continued reception of orders for Boeing's 777-9F allows for sustained production over the next five years. This strategy provides a smoother transition toward the eventual production of Boeing's 777-9F.
B777-8F and A 350F orders as of Nov 2023

Currently, both freighter versions of these aircraft are pending. The Airbus A350, initially known for its passenger variant, is already operational in the market, catering efficiently to the passenger segment. Airbus is now extending its capabilities by developing the freighter version, scheduled for its maiden flight in 2026. Since its introduction in July 2021, Airbus has secured 39 firm orders for the A350F, with the unveiling of the inaugural aircraft's livery at the Paris Air Show.
On the Boeing front, the 777-8F aircraft is undergoing a transition from the passenger to the freighter version. The cargo variant, 777-8F, is anticipated to be introduced in 2028. In contrast, the passenger version, 777-8, does not have a confirmed timeline. Qatar Airways, a major customer, has placed orders for approximately 74 aircraft, with additional orders from various other airlines, totaling around 90 aircraft as of 2023. Boeing currently leads in terms of order volume compared to Airbus.