Emirates Flight Catering builds world's largest vertical farming facility in Dubai
US$40 million investment in joint venture with US-based Crop One Holdings, Inc.
Proven, market-leading growing systems used to produce fresh, nutritious and safe leafy greens on a daily basis, using 99% less water
Sustainable, energy-efficient platform maximizes agricultural self-sufficiency for the UAE
Dubai, U.A.E., 26 June 2018: Emirates Flight Catering (EKFC) and Crop One will co-invest US$40 million to build the world's largest vertical farming facility near Al Maktoum International Airport at Dubai World Central. The project is a joint venture with U.S.-based Crop One Holdings, the world's leading vertical farm operator.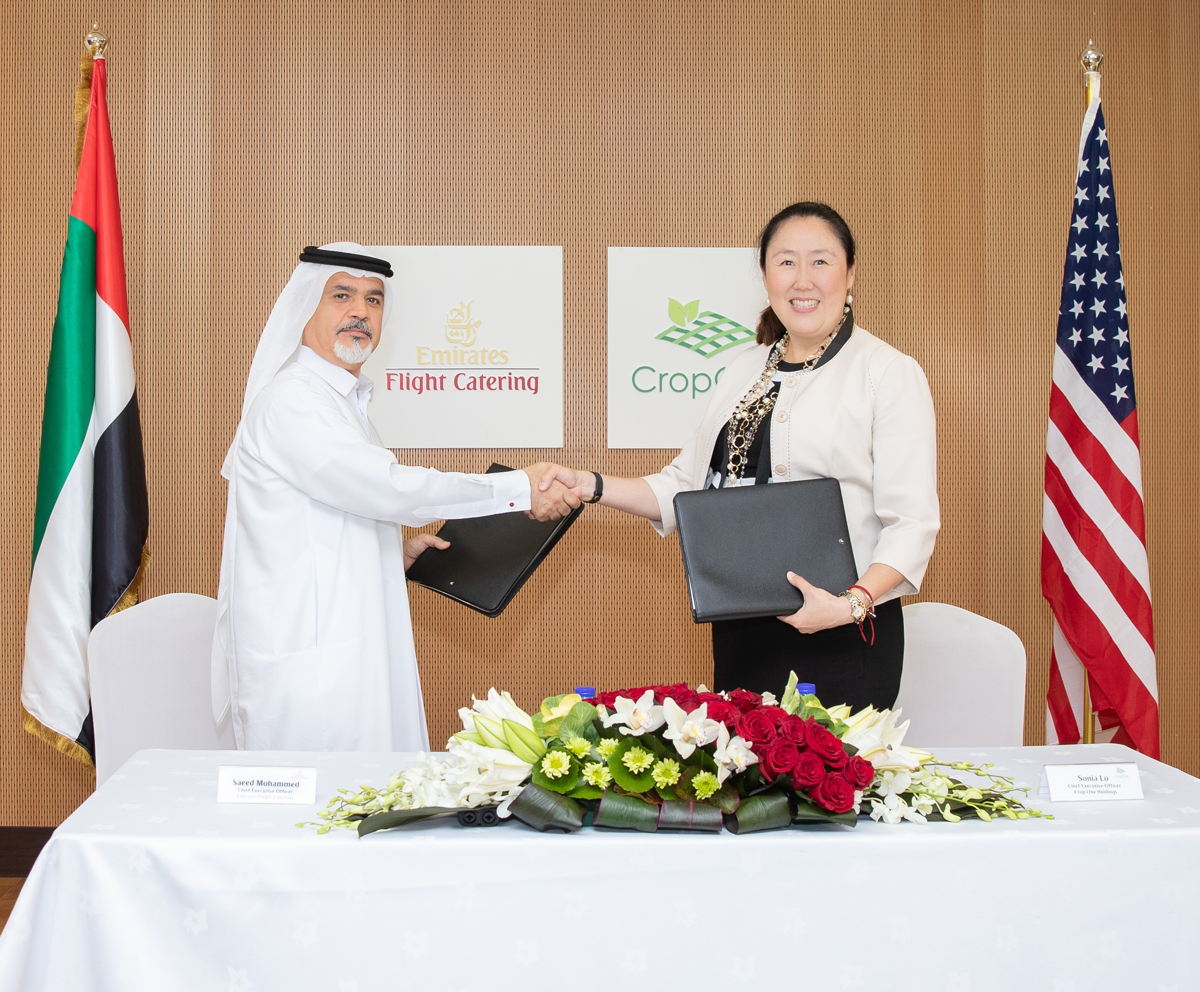 His Highness Sheikh Ahmed bin Saeed Al Maktoum, Chairman and Chief Executive of Emirates Airline and Group said: "Today's announcement is an important milestone for the Emirates Group, for Dubai, and for the UAE. This investment to build and operate the world's largest vertical farming facility aligns with the UAE's drive for more agricultural self-sufficiency, a vision which began with the late HH Sheikh Zayed bin Sultan Al Nahyan, the UAE's founding father. The introduction of ground-breaking technology at the facility also enhances Dubai's position as a global innovation hub."
"As one of the world's largest airline catering operations, Emirates Flight Catering constantly looks at innovation, and ways to improve our productivity, product and service quality.  Introducing the latest technology to our operations, we secure our own supply chain of high quality and locally-sourced fresh vegetables, while significantly reducing our environmental footprint. We are pleased to partner with Crop One, the industry's leading grower, packer and distributor, and a successful company that shares our corporate values.  Together we look forward to delivering a best-in-class product and excellent value to our customers and stakeholders," said Saeed Mohammed, Chief Executive Officer of Emirates Flight Catering.
"Our proven business model has demonstrated profitable commercial production longer than any other major vertical farmer," said Sonia Lo, Chief Executive Officer of Crop One Holdings.  "We are farmers using the most sophisticated plant science and proven business efficiencies to provide market leading consumer products every day. Our selection after a 10-month search by EKFC is a validation of our successful business model that uses patented technology and processes to optimize crop yields and facilitate hyper-growth."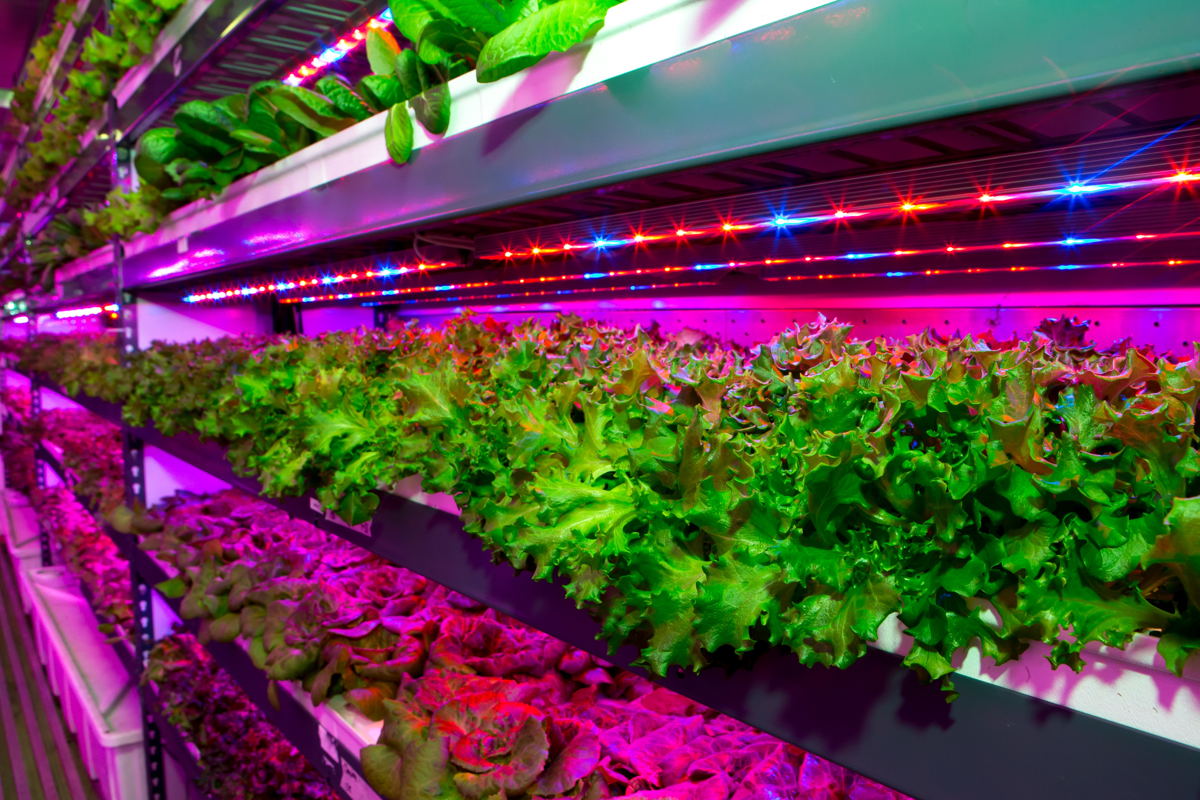 When complete, the vertical farm facility will cover 130,000 square feet, but have a production output equivalent to 900 acres of farmland. At full production, the facility will harvest three US tons (2,700 kg) of high-quality, herbicide-free and pesticide-free leafy greens daily, using 99% less water than outdoor fields. The proximity of the farm to the point of consumption also substantially reduces carbon emissions associated with transportation. It will also ensure the quick delivery of the fresh products, reaching customers within hours of harvest, maintaining high nutritional value.
The construction of the facility is scheduled to start in November 2018 and will take approximately one year to complete. The first products are expected to be delivered to Emirates Flight Catering's customers, including 105 airlines and 25 airport lounges, in December 2019.
GE eyes multi-billion dollar engine deal with India for fighter jet programs
While the design of the aircraft manufacturing is rapidly progressing under the AMCA and TEDBF project. Now, the engine manufacturer is promising to provide HAL with the technology. In order to participate in the Indian future fighter lead design manufacture, GE is now prepared to express its interest.
General Electric (GE), a major American aerospace engine manufacturer, has submitted an application to the Pentagon asking for permission to jointly produce and share engine technology with India. The Pentagon has brought up the matter with the appropriate authorities, and the proposal is moving quickly as a result of the urgency displayed by GE, which is eager to expand its business in India with a multi-billion dollar engine deal for Indian fighter jet programs.
A military turbofan engine built by General Electric Aviation is known as the GE F114. Current applications include the F-15E Strike Eagle, F-16 Fighting Falcon, and other military aircraft. It was initially created for the F-14 Tomcat fighter aircraft.
The modular design of the F114 engine makes maintenance and repair simple. It is able to travel at supersonic speeds and has a maximum thrust of about 29,000 pounds. Additionally, the engine is equipped with cutting-edge technologies like an afterburner for improved performance and a digital engine control system.
Overall, the GE F114 engine is a strong and dependable engine that has been instrumental in the development of numerous military aircraft.
For the Indian Navy's Advanced Medium Combat Aircraft (AMCA) and Twin Engine Deck Based Fighter (TEDBF) fifth-generation fighter programs, GE has requested authorization to jointly build a 110kn engine based on its F414 engine.
For the 4.5+ Gen Tejas MkII fighter program in India, GE intends to jointly produce a baseline F414 engine that generates a 98kN class of thrust. Moreover, GE wants to create an upgrade core that can provide 110-120kN Class of thrust for the AMCA and TEDBF Program.
For each fighter program over its life cycle, GE estimates a massive deal for 400 engines from India alone, with up to 1000 engines being produced locally in India. Due to the Tejas Mk1A program, GE has an advantage over its rivals in India. GE is eager to fend off offers from Safran and Rolls-Royce by providing engines that are not only economical but also include Transfer of Technology (ToT) for domestic production.