Emirates Engineering reconfigures second Boeing 777-200LR aircraft
Dubai, UAE, 05 July 2018– Emirates Engineering has successfully completed the reconfiguration of the second Boeing 777-200LR aircraft in its fleet. The conversion of the aircraft from three to two cabin classes was executed fully in-house at the Emirates Engineering hangars in Dubai. The reconfigured aircraft also features new, wider Business class seats in a 2-2-2 format, a new social area in business class, as well as a fully refreshed Economy class providing customers a superior inflight experience.
Watch a video of how the Emirates Engineering team executed the reconfiguration.
The first reconfigured Emirates Boeing 777-200LR aircraft took to the skies in early March 2018. The eight remaining Boeing 777-200LR aircraft in Emirates' fleet will be progressively reconfigured by mid-2019 and deployed to a number of other cities on the airline's global network including Santiago, Chile- Emirates' latest destination in South America. Emirates has invested over US$150 million to reconfigure the Boeing 777-200LR aircraft in its fleet.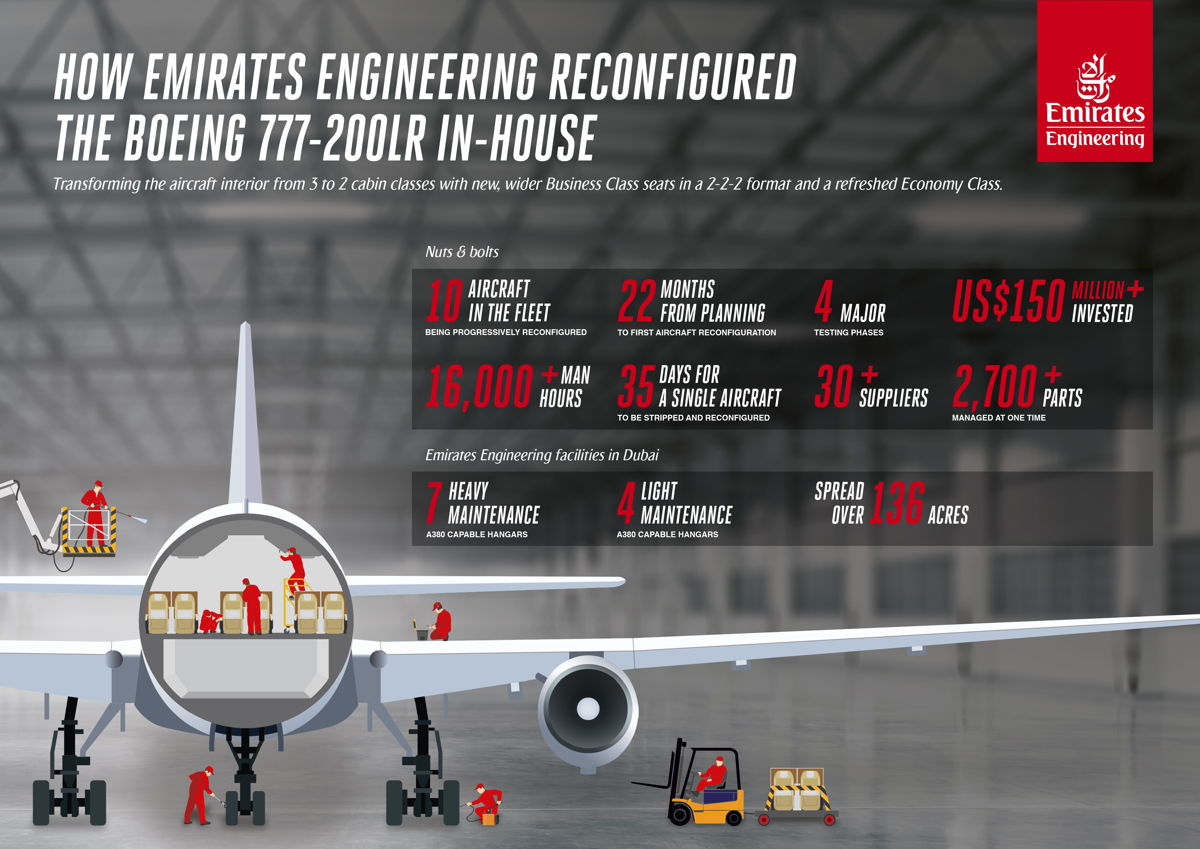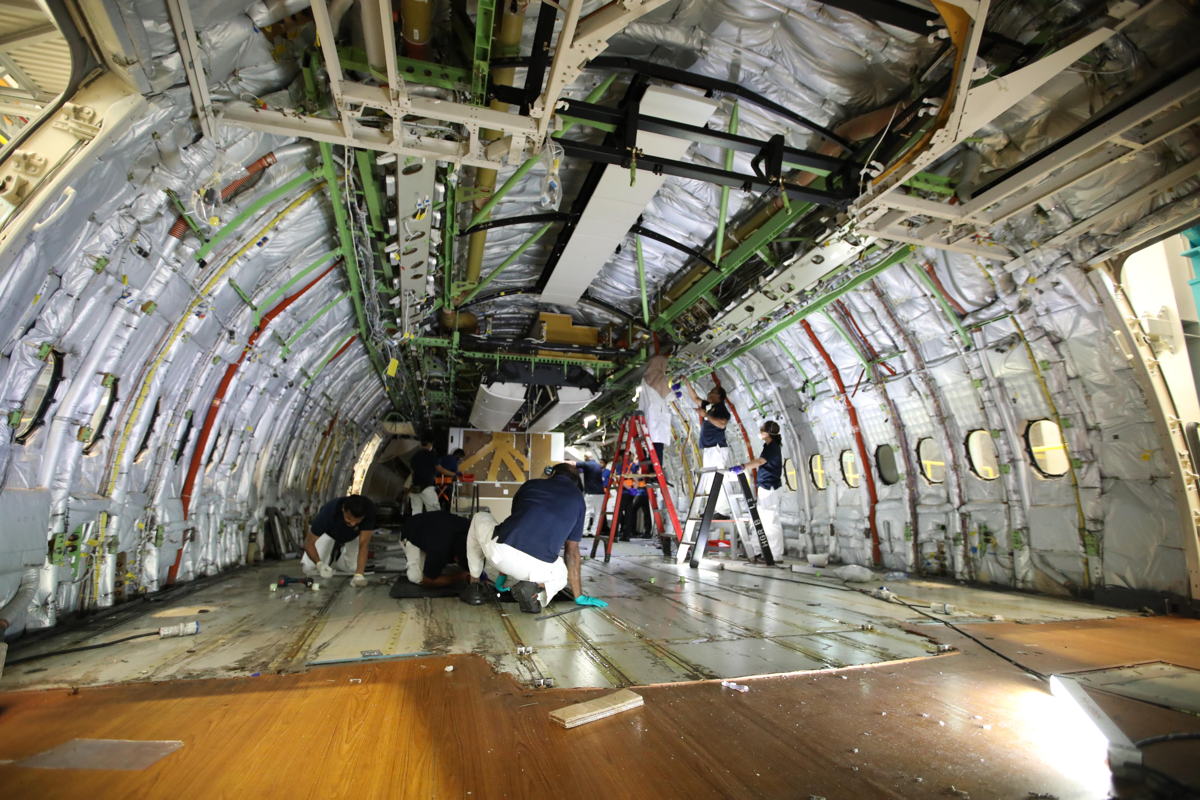 Working with internal stakeholders as well as external suppliers, it only took Emirates Engineering 22 months from the time the decision was made to reconfigure the airline's Boeing 777-200LR fleet to the first reconfigured aircraft rolling out of the hangars ready for its first commercial flight.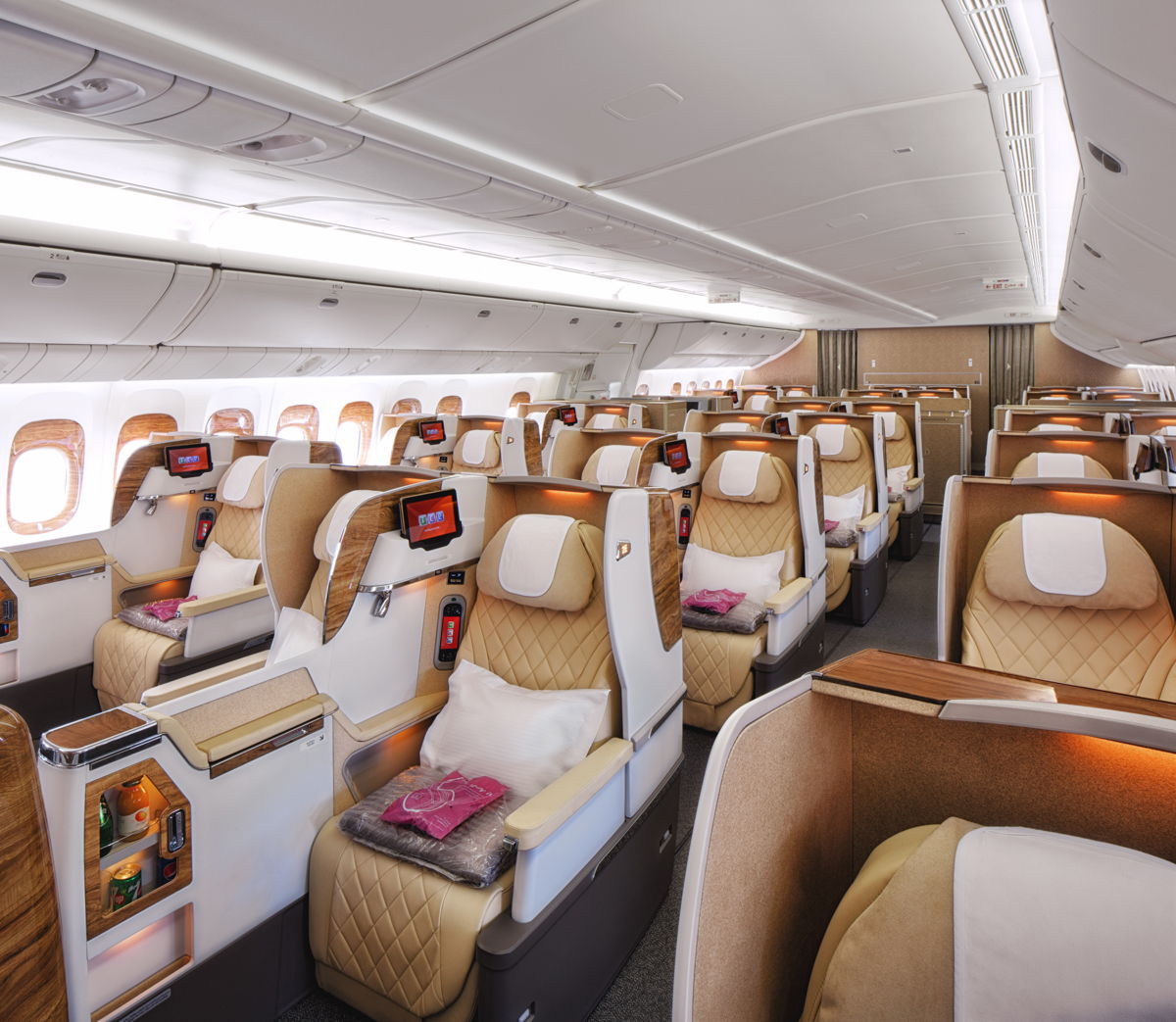 Emirates Engineering undertook a complex process to ensure that the job was completed successfully and on time. This included detailed work to outline specifications, review designs and layout, manage procurement and contracts with suppliers, secure regulatory approvals, maintain a stock of raw materials, and the management of workflows, timelines, and resources in the run-up to grounding the aircraft and converting the interiors.
Design and workflow
Finalising the design was core to the reconfiguration process and the layout of the cabin that was finally chosen was one of eight proposed blueprints. The engineering team also had to secure approvals from regulatory authorities including the GCAA and the FAA in order to modify the aircraft from its original design.
Once the design was finalized Emirates Engineering worked with suppliers to ensure that all the necessary parts and spares were available to complete the reconfiguration of the aircraft. In total, the team had to work with over 30 suppliers and had to manage more than 2,700 parts and spares at any one point of time. Key suppliers such as Boeing, Jamco, Panasonic, Rockwell Collins, Zodiac, and ATG were present on-site to provide assistance.
Emirates restores Dubai-Sydney-Christchurch daily service on Airbus A380
Emirates' flagship A380 made a landmark touchdown at Christchurch Airport today, marking the resumption of its daily service from Dubai to Christchurch via Sydney after more than three years.
The special service was greeted by a crowd of spectators at the Christchurch Airport boundary, who watched as the iconic aircraft taxied through a ceremonial water canon salute, before parking in view of trade, media, and VIP guests at the international terminal.
Emirates to introduce Premium Economy to five more cities with newly retrofitted A380s starting from December(Opens in a new browser tab)
Outbound EK412 left Dubai at 10:15 local time, stopping briefly in Sydney before arriving in Christchurch at 13:55 hours the next day, New Zealand time. The resumption of the Dubai to Christchurch route headlines a planned ramping up of seating capacity across Emirates' global network, after boosting operations 31% (total ASKMs) since the beginning of its financial year. This operational boost included the re-introduction of Emirates' nonstop A380 route from Auckland to Dubai in December of last year.
Emirates' A380 return to Christchurch is also welcome news for South Island producers, with SkyCargo again supporting the export of 15 to 18 tonnes of daily goods across the Tasman. The airfreight will provided much-needed airfreight from a broad range of exporters, including Central Otago cherries, prime New Zealand lamb, and premium seafood, as they continue on to destinations around the world.
Airlines With the Most Delays This Year, According to the Bureau of Transportation Statistics(Opens in a new browser tab)
Both North and South Island customers will now have direct access to daily Emirates A380 services, providing greater levels of flexibility and choice when making travel plans and providing seamless connectivity and reduced transit time when travelling to other destinations across the airline's global network, including destinations in Europe and the Middle East. Travellers looking to venture beyond the airline's gateways will also have more connection opportunities to 55 cities across Australia and New Zealand through Emirates' long-standing partnership with Qantas.
Restart of Christchurch via Sydney 
The A380 flight operates as EK 412 and EK 413. Emirates flight EK 412 departs Dubai at 1015hrs, arriving in Sydney at 0700hrs. The flight will then continue, taking off from Sydney at 0845hrs, arriving in Christchurch at 1355hrs. EK 413 will then depart Christchurch at 1820hrs, arriving in Sydney at 1940hrs. The final leg of EK 413 will depart to Dubai at 2145hrs, arriving at 0515hrs local time.
Customers in Christchurch will not only be able to enjoy the airline's flagship aircraft, but will also experience the debut of the highly sought-after Premium Economy cabin and latest products across every class of travel.