Emirates Engineering executes first complete landing gear change for Emirates A380 aircraft
Emirates Engineering executes first complete landing gear change for Emirates A380 aircraft
Dubai, UAE, 29 May 2018– Emirates Engineering has successfully accomplished the first complete replacement of landing gear on A6-EDF, the first Emirates Airbus A380 aircraft to have its entire landing gear system replaced at one time.
Comprising five sets of landing gear – two under the wings, two under the body, and one nose landing gear, the work was planned and executed in-house, at the Emirates Engineering hangars in Dubai.
Every Emirates Airbus A380 aircraft has a landing gear system with a total of 22 landing wheels. In addition to the wheels, the landing gear mechanism of the aircraft includes the gear extension and retraction systems, braking and steering controls, and other monitoring systems. The landing gear of the world's largest commercial aircraft can support a weight of close to 570 tonnes on take-off and over 390 tonnes on landing.
The process of changing all the landing gears was completed in 14 days with the Emirates Engineering team clocking thousands of man hours during this period. For the duration of the work, the entire aircraft was lifted on jacks to support the body of the aircraft.
Watch a video of the Emirates Engineering team completing the landing gear replacement on A6-EDF.
"The first complete replacement of landing gears on our Airbus A380 aircraft is an important milestone for us. This and other similar achievements by the Emirates Engineering team reflects the degree of planning, preparation and expertise that go behind the successful execution of complex projects such as this one," said Mohammad Jaffar Nasser, Emirates Senior Vice President, Engineering Maintenance. "By extending our services to third party airlines, we share our expertise and enhance engineering procedures globally," he added.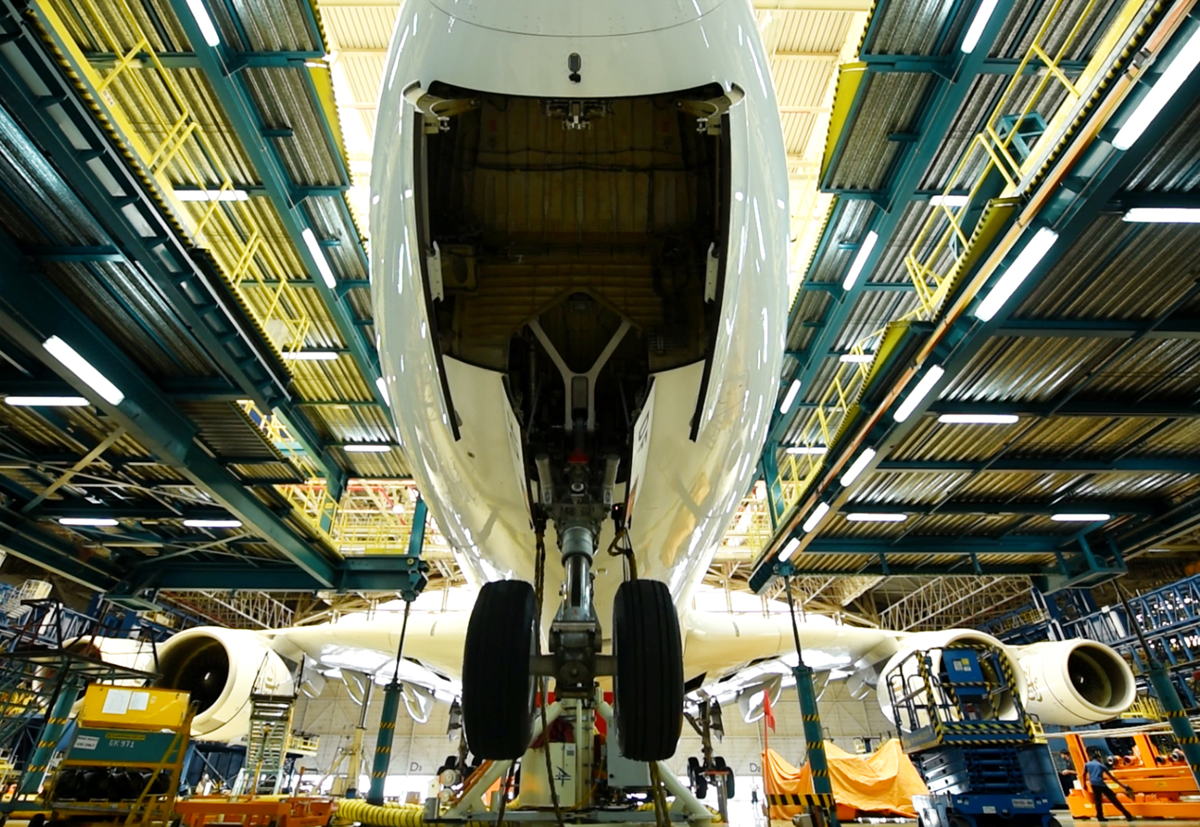 Two additional Airbus A380 aircraft from Emirates' fleet are scheduled to undergo a complete change of landing gear systems over 2018. In addition to investments in infrastructure and facilities including specialised tools, the Emirates Engineering team worked closely with a team of suppliers – Airbus, Field International, UTAS and Safran to plan and execute the landing gear replacement.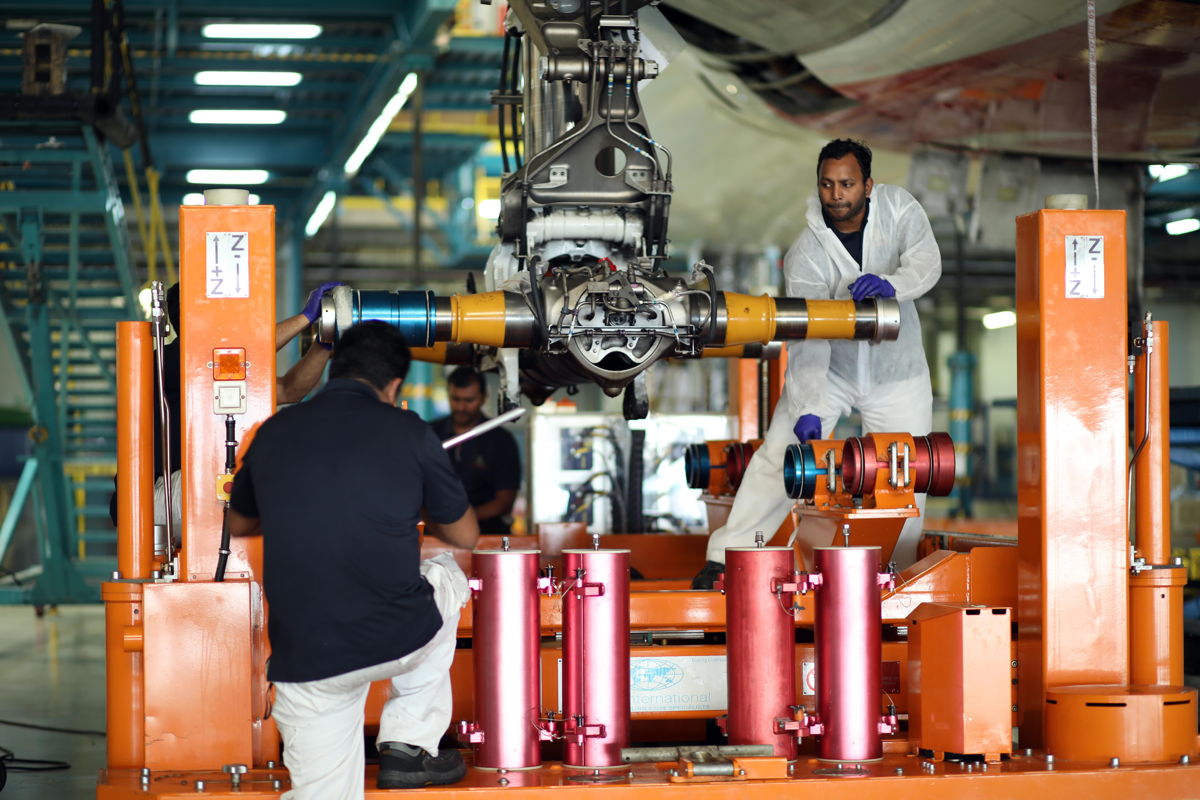 Emirates Engineering operates modern and extensive facilities in Dubai, including six heavy maintenance hangars capable of conducting C-Checks on the Airbus A 380 and the world's largest dedicated aircraft painting facility, to maintain Emirates' fleet of over 260 Airbus A380 and Boeing 777 aircraft. Emirates Engineering also offers Maintenance, Repair and Overhaul (MRO) services to external parties leveraging off its experience of being the world's largest operator of the Airbus A380 and the Boeing 777 aircraft.
"The Yasin Jet Trainer: Iran's Answer to Sanctions and Self-Reliance in Defense"
The completed prototype of Iran's homegrown trainer jet was shown, bringing the country's military forces one step closer to self-sufficiency. Iranian Defense Minister Brigadier General Mohammadreza Ashtiani attended the inauguration of the aircraft's production line as the Islamic Republic of Iran (IRI) Air Force welcomed the second "Yasin" advanced trainer jet.
Boeing Receives U.S. Air Force E-7 Airborne & Proposes T-7 Advanced Trainer for Australia(Opens in a new browser tab)
For the next phase of training its pilots for Su 35 aircraft, Iran unveiled the first Indigenius trainer aircraft. Despite Western sanctions, Iran is actively producing its own aircraft and developing its manufacturing capabilities.
 In an effort to overcome many of its challenges with educating pilots in both basic flight and combat. It was displayed next to a manufacturing plant, demonstrating that it was the last production version that will shortly go into mass production.
The second 2nd Yasin advanced trainer jet has finally been unveiled, after the first prototype appeared in 2019

A production line has been formed. If there's still plans for a CAS variant, we'll likely see the design for it soon https://t.co/jLiEwUhpCK pic.twitter.com/UTABSYMk1o

— Iran Defense|نیروهای مسلح جمهوری اسلامی ایران (@IranDefense) March 11, 2023
The Yasin is a twin-seater, single-engine aircraft that can be used for pilot training, advanced pilot training, and weapon delivery training. It has a maximum speed of around 1,000 km/h and a range of approximately 900 km.
The Yasin's development is a significant step for Iran's defence sector because it demonstrates the nation's capacity to manufacture cutting-edge military equipment at domestically. Iran has been under international sanctions for many years, which has made it difficult for the country to import advanced military equipment from other countries.
These Three Russian jets are competing with Airbus, Boeing, and Embraer models.(Opens in a new browser tab)
The Yasin is part of a larger effort by Iran to strengthen its military capabilities and reduce its reliance on foreign military equipment. It's also a symbol of Iran's technological and scientific progress and its ability to achieve self-sufficiency in various areas, including defense.
The Yasin is also said to be capable of releasing weapons. Yasin is also capable of performing combat missions. According to one report, the Iranian jet is also built to carry out additional military tasks like close air support (CAS). Experts noted that this variant is not yet ready for use as a weapon and would require further research. "If a CAS variation is still in the works, we will likely see the design soon."
Also, According to military analysts, Yasin's improvements enable it to train pilots for Iran's upcoming shipment of Sukhoi-35 aircraft from Russia. Before possibly flying the F-14 Tomcat, the F-4E Phantom II, the Russian MiG-29s, or the F-5E Tigers, the jet can help pilots master the fundamental strategies and tactics of air and air-to-surface combat.