Emirates celebrates holiday season with special Christmas treats
Dubai, UAE, 10 Dec 2017 – Emirates is spreading the festive joy with treats across all cabin classes this December. Customers travelling for the holidays will enjoy several Christmas specials both on the ground and on board from food to entertainment.
Festive menus are back
In addition to the regionally inspired cuisine served on board, Emirates is bringing back its Christmas menu with a more extensive offering of holiday favourites. Emirates' seasonal menus are a key component of its dining offering and the Christmas menu is one of the main highlights.
The festive meals are available throughout December for customers travelling from Dubai to Australia, Europe, the United States or the United Kingdom and those travelling from the UK to Dubai.
Customers travelling in Economy Class can enjoy rolled turkey buffé served with cranberry jus lié, mashed potatoes, Vienna chicken sausages and seasonal vegetables. For desserts, customers will be served festive sweets such as a lemon cranberry cake with cream cheese frosting or a cocoa cake with white chocolate chips and raspberry coulis.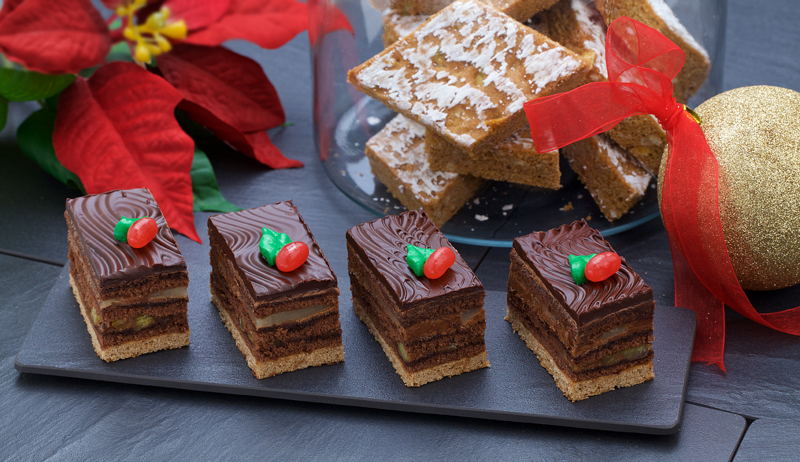 Those travelling in First and Business Class will start with king prawns marinated with lemon and herb and served with cocktail sauce and a fennel salad, and enjoy a main course of rolled turkey buffé served with chestnut and apricot stuffing, cranberry jus lié, pumpkin mash and creamy brussels sprouts with turkey bacon.  A variety of desserts is available on the different routes including Ginger bread roulade, Chocolate Mint dome and Yule log.
As a special treat, First Class customers, can look out for Santa-inspired macaroons and hot chocolate served with marshmallows and gingerbread. Young fliers in First Class will be surprised with snowman-inspired marshmallow biscuits.
Holiday gifts for all
Emirates is also making sure customers' Christmas stockings are filled with special goodies. Across all classes, newly designed amenity kits are being introduced for December.
A new range of Bulgari amenity kits are being rolled out in First and Business Class. There are 16 brand new designs for men and women which can be re-used to keep electronics or make-up. The laser-cut pattern is inspired by Bulgari's design archives with a touch of Middle Eastern influence inspired by Dubai, Emirates' hub. The exclusive designer kit bags include new signature Bulgari fragrances and lotions, along with other pampering essentials. The latest kits feature Bulgari's White Tea fragrance and are available on long-haul night flights and on flights over 10 hours.
Special treats for young flyers
Young flyers are given special attention when travelling on Emirates. Kids will enjoy a specially created festive menu with roast turkey, sweet potato mash, carrots and peas, as well as a moist chocolate brownie with cream cheese frosting and a white chocolate lollipop.
Christmas classics on ice
To get travellers into the spirit of the holidays, Emirates' award-winning inflight entertainment system, ice, will feature Christmas classics for the month of December. These include movies such as It's a Wonderful Life, White Christmas, Miracle on 34th Street, Home Alone and Scrooged, as well as TV specials including The Office and Family Guy Christmas shows.  Customers can enjoy over 2,500 channels of entertainment including Christmas number 1s music playlist for the first time this year and dedicated kids' TV channels. Special programmes for kids include The Gruffalo, Room on the Broom and The Snowman.
Emirates offers customers across all classes 20MB of free Wi-Fi data to keep connected with friends and family, and Emirates Skywards members enjoy special benefits depending on membership tier and class of travel.
Inflight Ramadan Experience: Emirates, Qatar Airways, and Etihad Airways Offer Traditional Meals and Religious Content for Passengers
The most well-known Middle Eastern airlines are providing special Ramadan meals to its customers. Emirates, Qatar, and Etihad have developed distinctive recipes in response to the holy month of Ramadan.
Emirates
Emirates is preparing thousands of Ramadan meal boxes for fasting passengers both onboard and Iftar boxes at boarding gates, an array of religious content and Ramadan series on ice, and traditional Ramadan refreshments and meals in the lounges.
The Ramadan meal boxes will include light dishes and starters such as hummus and spinach bil zeit, Greek salad and cauliflower bil tahini, falafel sandwiches, pasta salad and fried aubergine with mint, zaatar chicken salad and cauliflower bil tahini, chicken musakhan sandwiches with Arabic bread, as well as staples like traditional dates and refreshing laban. A smaller Iftar box will also be served at boarding gates at Iftar time including all the essentials to comfortably break the fast.
United Brings Back Kids' Meals Onboard(Opens in a new browser tab)
Emirates' Ramadan and Iftar boxes will be served to complement the regular hot meal service and menu's will be refreshed on a weekly basis to ensure a best-in-class dining experience during the Holy Month. The boxes will be served on flights to select destinations during times that coincide with iftar, on flights to and from the Gulf region, as well as flights catering to Umrah groups traveling to Jeddah and Medina during the month of Ramadan.
Qatar Airways
It offer a bespoke Iftar to passengers on board and at Al Safwa, Al Mourjan and Global Premium Lounges. Special Ramadan offerings will be available on flights to the GCC, Middle East, and some Indian Sub-continent, African and Asian destinations.
Similarly, Qatar Airways Al Safwa First Class Lounge and Al Mourjan Business Lounge will announce the prayer call; in readiness for passengers to utilize the prayer rooms.
Travelers can choose from a selection of traditional Ramadan favorites for a fulfilling dining experience in addition to the Qatar Airways customary dining experience served alongside Qatar Airways' signature Ramadan-themed lantern.
Etihad Airways
It also offers a culinary design team is collaborating once again with Emirati Chef Khaled Alsaadi to recreate popular Ramadan dishes fusing authentic Emirati recipes with contemporary cooking techniques and local ingredients.
Etihad's regular hot meal service will be complemented by the Iftar meals onboard, and guests will be treated to meals including Saffron curry crusted seabream, Lamb shank with black lime jus, Lentil soup, Chaami and beetroot salad, Machboos chicken ciabatta sandwich, Aseeda cheesecake, Saffron pot de creme with batheeta crumble and more. A selection of the bespoke recipes will be available online or by scanning QR codes placed at the bottom of the onboard menu, allowing guests to recreate Etihad's unique inflight meals at home.
Norse Atlantic Airways and LUX interactive continue their joint venture(Opens in a new browser tab)
The Etihad Ramadan experience starts from the lounges at Abu Dhabi International Airport, which will also feature Ramadan dishes and beverages as well as dedicated prayer rooms. Travellers breaking their fast prior to departure or just before landing will be provided with takeaway bags containing dates, a drink and a snack.
The airline's inflight entertainment system, E-box, will be updated with a selection of Ramadan content in addition to recordings of the Holy Quran and the Mecca Qibla pointer that are always available on board.To view Etihad's special Ramadan menu and select recipes, click here.