Beijing's New Daxing International Airport Is World's Largest Airport
Beijing's New Daxing International Airport Is World's Largest Airport
The new airport, dubbed Daxing, is reportedly the biggest airport in the world by surface area. It covers some 70 hectares (173 acres), but its starfish-shaped structure was purposely designed to shorten walking times for passengers. The ambitious master plan calls for the building of a total of seven runways and moving at least 100 million passengers and 4 million tons of cargo a year through the airport.
While reports vary on the construction's cost, the AFP news agency reported expenses reached some 120 billion yuan ($16.9 billion, €15.3 billion) for the airport and another 280 billion yuan to build new rail and road links.
Travelers taking an express train from Daxing would take some 20 minutes to reach the city. Daxing is located about 46 kilometers (29 miles) south from Beijing's downtown, which is almost twice as far as the old airport in the city's northeast.
Set to open in late 2019, with eight runways serving 100 million passengers annually, Beijing's Daxing International will be becoming the world's largest airport.
For a project of this scale, there's a planned "air transport-related economic zone," but that's not going to provide any relief for Chinese business aviation. Operators are expected to struggle daily for capacity at airports in China.
The existing Beijing Capital International Airport (PEK) is the world's second-busiest aviation hub and hitting full capacity, making it nearly impossible for airlines to add flights at desirable times. In 2018, more than 100 million travelers passed through its three terminals — making it only the second airport in the world to cross that passenger traffic milestone, after Hartsfield-Jackson Atlanta. China is projected to overtake the United States as the world's biggest air travel market by 2022.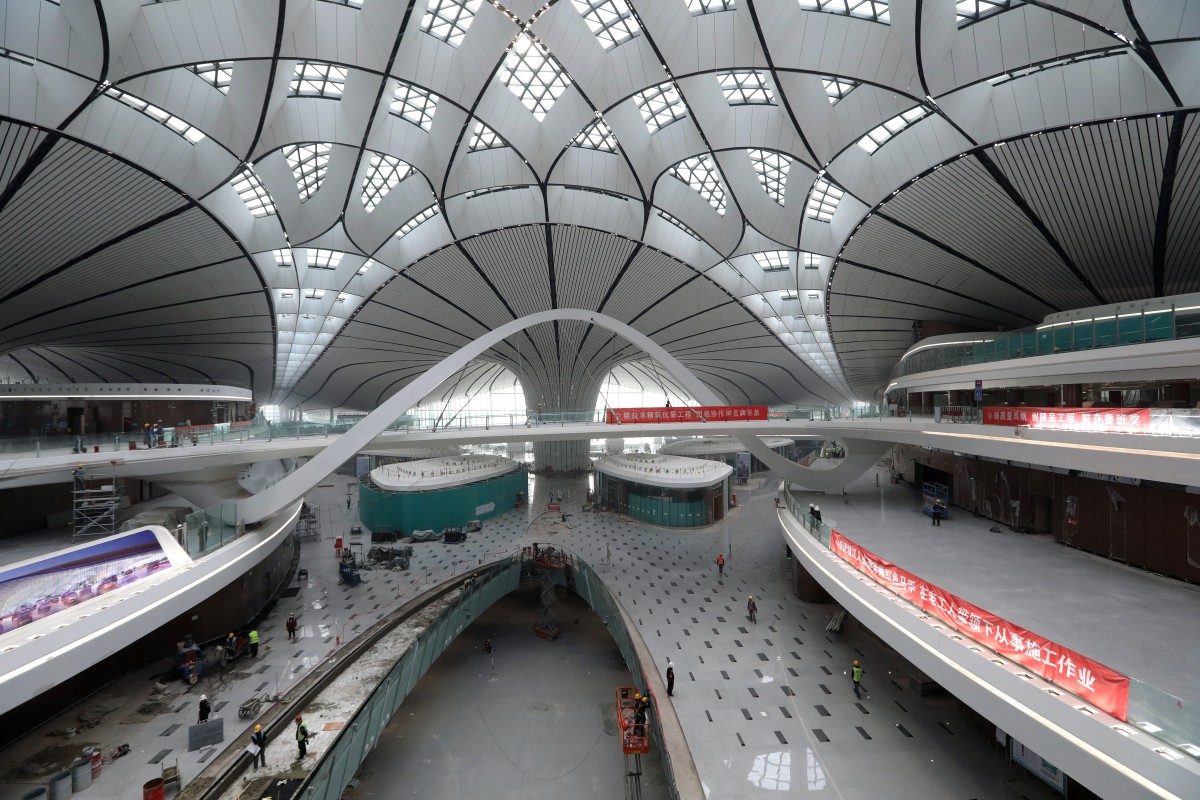 Brushing aside such worries, officials say they have built more than just an airport — but rather a truly integrated transportation hub that will eventually see the high-speed rail, inter-city services, and downtown-to-airport express trains all stopping right beneath the terminal. The airport express trains, traveling at a top speed of 160 kilometers an hour (100 mph), promise to whisk arriving passengers to the city in less than 20 minutes.
Lufthansa equips short- and medium-haul aircraft with new cabins
−    Four makes eight: Large overhead compartments hold up to twice as many suitcases
−    For the first time on short-haul routes: holder for tablets and smartphones at every seat
−    More legroom with new ergonomic seats 
Customers of Lufthansa will soon enjoy a redesigned cabin environment on short- and medium-haul flights. It provides a great deal of comfort and luxury. The business will gradually outfit 38 Airbus A320s already operating for Lufthansa with the new cutting-edge cabin beginning in spring 2025.
SWISS unveils new 'SWISS Senses' air travel experience with totally new cabin interiors(Opens in a new browser tab)
More space for carry-on luggage: The 40 percent larger compartments allow for the vertical stowage of carry-on items much more quickly and comfortably. As a result, huge overhead bins may accommodate up to twice as many carry-on suitcases or bags as the conventional "bins".
Boeing and Qatar Airways Finalize Order for 25 737 MAX Airplanes(Opens in a new browser tab)
Each seat has a designated USB connector that can be used by Lufthansa to charge electronic devices. For the first flight ever, Lufthansa is providing a unique holder for tablets and smartphones in each seat. This allows visitors to watch films and television shows on their own devices much more conveniently without having to hold the gadgets in their hands or set them down on the folding table.
Increased legroom: The new seats from the Italian company Geven also provide extra legroom with the same seat spacing, through the ergonomically shaped backrests.
China Eastern Airlines Inks $9.9 Billion Deal for 100 COMAC C919 Jets
China Eastern Airlines has committed to purchase 100 more COMAC C919 narrowbody planes. The airline is the C919's first customer and currently operates a small number of aircraft.
Deliveries under this new arrangement will commence in 2024, with COMAC delivering five aircraft during the year. China Eastern will take another ten per year from 2025 to 2027, followed by 15 per year from 2028 to 2030. COMAC will deliver the final batch of 20 aircraft in 2031. The airline valued the new contract at about $9.9 billion at list pricing, but underlined that it had purchased the planes at a substantial discount.
China Eastern Airlines set to operate C919's first commercial flight(Opens in a new browser tab)
The agreement comes five months after China Eastern conducted the inaugural flight of the Chinese passenger plane, which state-owned COMAC had built to compete with the single-aisle jet families of Airbus SE's A320neo and Boeing Co's 737 MAX.
The state-owned carrier with its headquarters in Shanghai is the C919's first customer; it has purchased five of the aircraft, three of which have already been delivered. Later this year, the other two are anticipated to be delivered.
Airbus Inks $17B Plane Order With China(Opens in a new browser tab)
According to China Eastern, the new aircraft would expand its fleet at a time when air travel is experiencing a robust rebound after three years of COVID limitations and as the airline prepares to retire a significant portion of its narrow-body aircraft due to ageing.
Between 2020 and 2039, COMAC estimates that about 40,600 new aircraft will be delivered on the global market, with a value of roughly 5.9 trillion dollars. The company's Chinese C919 and ARJ21 planes could deliver a total of 732 billion dollars worth of products.
British Airways Speedbird Pilot Academy: Your Ticket to the Cockpit
In a groundbreaking move, British Airways has officially unveiled the eagerly anticipated Speedbird Pilot Academy 2023, marking a significant milestone in the aviation industry. This exclusive program promises to propel aspiring pilots to new heights, offering an extraordinary opportunity for individuals from diverse backgrounds to embark on a career in the skies.
The Speedbird Pilot Academy, renowned for its legacy of training top-tier aviation professionals, is set to write a new chapter in the world of aviation. With a commitment to inclusivity, British Airways invites candidates from all walks of life to take part in this extraordinary journey.
Paving the Way for Future Captains
Enrolling in the Speedbird Pilot Academy is the first step towards achieving the esteemed rank of Captain within British Airways. As a fledgling pilot, you will commence your career on the airline's short-haul fleet, gaining invaluable experience as you embark on your aviation odyssey.
But that's just the beginning. As your expertise and experience burgeon, you'll gain access to an unrivaled array of fleet types and routes, spanning both long-haul and short-haul operations, setting you on a trajectory toward a thrilling future.
Applications Closed for 2023
The anticipation surrounding the Speedbird Pilot Academy 2023 has been palpable, and applications for this year have already closed. Nonetheless, this elite training program has not ceased to draw the attention of aviation enthusiasts worldwide.
Stringent Criteria for Aspiring Pilots
To be eligible for this extraordinary opportunity, candidates must meet stringent criteria:
Age: Applicants must be between 17 and 55 years old at the time of application and at least 18 years old to commence training.
Educational Qualifications: A minimum of 6 GCSEs graded A-C or 5-9, including Math, English, and a Science subject, or equivalent qualifications.
Language Proficiency: Proficiency in English is mandatory. Non-native English speakers must present an IELTS Level 5.5 certificate overall, with no sub-score falling below 5.5.
Passport and Residency: Applicants must hold a valid passport allowing unrestricted global travel and the right to live and study in the UK without the need for sponsorship.
Height Requirements: Aspirants' height must fall within the range of 1.57m (5'2″) to 1.90m (6'3″).
Medical Fitness: Applicants must obtain and maintain a UK CAA Class 1 medical certification with no restrictions, meeting British Airways' medical criteria.
Background Checks: Prior to commencing training, applicants must successfully complete referencing and pre-employment checks, including UK and international Criminal Record Checks.
A Clear Path to the Skies
The British Airways Speedbird Pilot Academy offers a clear path for aspiring aviators to transform their dreams of soaring above the clouds into a reality. With British Airways' ambitious growth plans, the future holds a world of exciting opportunities for those who dare to reach for the skies.
As this remarkable journey unfolds, British Airways reaffirms its commitment to diversity, inclusion, and the relentless pursuit of excellence in aviation.
Stay tuned for more updates on this exceptional aviation initiative that promises to shape the future of the industry.
You can Apply it here : Click