At least 24 killed after plane crashes in DR Congo's Goma city
At least 24 people have been killed, including some on the ground, when a small plane crashed into a densely populated neighbourhood in the city of Goma in eastern Democratic Republic of Congo this morning.
The aircraft, which was operated by local company Busy Bee, crashed shortly after take-off en route to the city of Beni, about 250km to the north, officials said.
The company said the 19-seater Dornier 228-200 had 16 passengers and two crew members on board.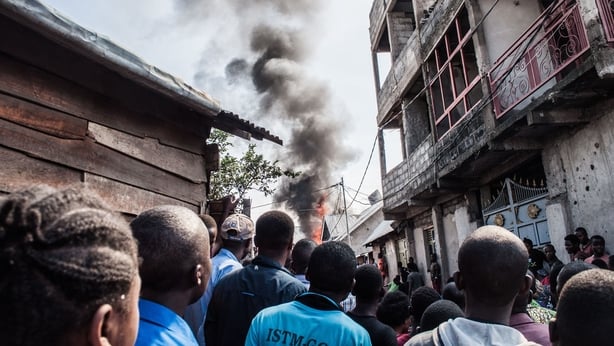 The precise number of casualties on the plane and on the ground was not yet known.
The UN mission deployed in DR Congo, MONUSCO, sent two fire engines to support local rescue services.
Aircraft accidents are common in the vast, conflict-wracked central African country, in particular involving Antanov planes.
The cause of the crash is still unclear, but some sources said the plane experienced engine failure right after take-off, the BBC's Emery Makumeno reports from the capital, Kinshasa.
Rescue workers and local residents rushed to the crash site to evacuate the injured and also retrieve the bodies.
It was not immediately known how many residents were in their homes when the plane crashed
Etihad Airways Soars to New Heights with Three New Destinations
Etihad Airways, the national carrier of the United Arab Emirates, has begun flights to three key destinations, fulfilling its promise of development and increased connectivity. Services to Dusseldorf, Germany (DUS) began on September 28, followed by Copenhagen, Denmark (CPH) the next day, and Osaka, Japan (KIX) on October 1.
Meanwhile, the airline announced increased frequency to popular destinations Kuala Lumpur (KUL) and Colombo (CMB).
Emirates to increase flights on Dubai-Cairo route(Opens in a new browser tab)
The flights are part of a package of new routes and higher frequencies aimed to accommodate consumer demand for more ways to visit Abu Dhabi while also providing even greater access to Etihad's expanding global network.
Expanded Frequencies: Increased regularity to Chennai (MAA), Colombo (CMB) Islamabad (ISB), Kochi (COK), Kuala Lumpur (KUL), Madrid (MAD), Milan (MXP), Munich (MUC), Rome (FCO), and Phuket (HKT) offer travelers more choice while improving travel options and connectivity.
Aeroflot resumes flights to Colombo, Bangkok, Goa(Opens in a new browser tab)
Cairo (CAI): An additional 5 flights per week to make triple daily operations to Cairo, effective from 1 Jan, strengthening the link between Abu Dhabi and the Egyptian capital.
Colombo (CMB): 7 direct flights per week with 3 flights effective from 1 Dec and 4 flights effective from 1 Jan,increasing to 10 per week from May 2024, further enhancing travel options to this destination.
Kuala Lumpur (KUL): Double daily from 15 Jan, 2024
Maldives (MLE): An additional 7 flights per week, with 3 flights effective from 1 Dec and 4 flights effective from 1 Jan
| | | | |
| --- | --- | --- | --- |
| Destinations | Change | Total Frequency | Start Date |
| Dusseldorf | New route | 3 per week | 28 September 2023 |
| Copenhagen | New route | 4 per week | 29 September 2023 |
| Osaka | New route | 5 per week | 1 October 2023 |
| Lisbon | Extended year-round | 3 per week | 29 October 2023 |
| St Petersburg | New route | 3 per week | 29 October 2023 |
| Kozhikode | New route | 7 per week | 1 January 2024 |
| Thiruvananthapuram | New route | 7 per week | 1 January 2024 |
| Boston | New route | 4 per week | 31 March 2024 |
| Chennai | +7 per week | 21 per week | 15 September 2023 |
| Frankfurt | +4 per week | 11 per week | 29 October 2023 |
| Rome | +4 per week | 11 per week | 4 November 2023 |
| Amsterdam | Retimed | 7 per week | 21 November 2023 |
| Kochi | +8 per week | 21 per week | 21 November 2023 |
| Madrid | +3 per week | 10 per week | 21 November 2023 |
| Milan | +3 per week | 10 per week | 21 November 2023 |
| Munich | +3 per week | 10 per week | 21 November 2023 |
| Phuket | +7 per week | 14 per week | 21 November 2023 |
| Moscow | Retimed | 7 per week | 1 December 2023 |
| Cairo | +5 per week | 21 per week | 1 January 2024 |
| Colombo | 7 direct per week10 direct per week | 7 per week10 per week | 1 January 2024May 2024 |
| Islamabad | +2 per week | 14 per week | 1 January 2024 |
| Maldives (Male) | +7 per week | 14 per week | 1 January 2024 |
Indian Pilots Could Soon Be Banned on Wearing Perfume
According to new regulations being reviewed by the nation's civil aviation regulator, perfume could soon be banned for pilots throughout India.
The prospective ban on perfume is being considered because many fragrances include alcohol, which could generate a false-positive breathalyzer test result. This is not because perfume could distract pilots or even give them headaches.
Air India Modifies In-Flight Alcohol Service Policy(Opens in a new browser tab)
The Directorate General of Civil Aviation intends to add a provision to the current safety regulations that prohibits crew members from consuming any alcoholic beverage, including mouthwash, tooth gel, and perfume.
Pilots and cabin staff are routinely subjected to pre-flight breathalyzer tests, which are among the most stringent alcohol regulations for aircrew in the world. An instant three-month license suspension is possible for even the smallest amount of alcohol, which is seen as a favorable result.
60 Pilots, 150 Cabin Crew Members Suspended By DGCA For Failing Alcohol Test(Opens in a new browser tab)
The proposed perfume ban is intended to address the possibility of falsely positive breathalyser results and guarantee the greatest level of aviation safety. The Directorate General of Civil Aviation seeks to avoid any compromise to the sobriety standards necessary for pilots and crew members by forbidding the use of items that contain alcohol. This action is in line with their dedication to following strict laws and the highest standards of safety in the aviation sector.
Japan Airlines Unveils New Airbus A350-1000 Cabin Interiors
Japan Airlines revealed details about its new Airbus A350-1000 aircraft and cabin furnishings, which will become the airline's new worldwide flagship after nearly 20 years. Customers may expect an even better degree of comfort aboard the aircraft, as well as a uniquely personalized overall journey.
The best airlines in the US for 2023(Opens in a new browser tab)
Due to a supply chain disruption affecting component delivery, the airline's launch of the A350-1000 aircraft, which was initially scheduled for late November 2023 on the Tokyo (Haneda) – New York (JFK) route, is expected to begin before the end of the year.
[Highlights of New Services]
Cabin Interior: The entire aircraft cabin has been created to take passengers in tranquility and immerse them in Japanese aesthetic elegance, creating a peaceful environment that captures the beauty of Japan. The newest interior represents a consistency of JAL's famous service that continues over its domestic fleet (A350-900 and 787-8 aircraft) and also aims to give a high-quality experience for customers.
Japan Airlines Announces new nonstop Service to Doha(Opens in a new browser tab)
Seatings: Completely redesigned seats have been installed in all classes to provide JAL's most relaxing and comfortable experience to date. First Class and Business Class offer spacious, yet fully-private environments, and Premium Economy Class provides enhanced privacy and comfort. Economy Class has been designed for enhanced relaxation and well-being, featuring spacious seating and ample legroom.
Inflight Meal Service: New services that cater to customers' various interests and values will be provided progressively. To lessen the environmental impact and address social issues, JAL will encourage the use of non-petroleum derived plastics for cutlery and dishes. By working with passengers, the airline hopes to promote a sustainable future.
1. Cabin Interior and Seat Specifications:
1.1 First Class
The new seating arrangement features just six (6) suites to create a unique and exclusive cabin environment. Seats are designed to provide even greater comfort and the addition of individual doors, for the first time by JAL, increases privacy while also creating a more open individual atmosphere with the elimination of overhead storage compartments.
2. Business Class
Despite the increase in seat capacity to 54 from the current international flagship configuration, ample spacing has been prioritized to ensure a comfortable and individual inflight experience. Notably, in Business Class, doors have been introduced for the first time to ensure privacy, and overhead storage compartments are exclusively positioned on the window side to create an open atmosphere.
3. Premium Economy Class
In pursuit of the utmost comfort in its class, the cabin features large partitions to significantly improve privacy. It is also the first Premium Economy Class in the world to introduce electrically operated reclining functionality.
4. Economy Class
Having won the "Best Economy Class Airline Seat" by SKYTRAX for five consecutive terms, JAL has further enhanced the spacious legroom and improved the seating for enhanced comfort.