Airline safety: 2017 was safest year in aviation history.
According to Top70 reports
The past year has been another exceptionally good year for civil aviation safety. With only two fatal accidents to passenger airliners, both involving small turbo-prop planes, 2017 was much better than could reasonably (and statistically) be expected, and was again better than last year's remarkable performance.
However, the risks to civil aviation do remain high, as the seriousness of some of the non-fatal accidents shows
Airlines recorded zero accident deaths in commercial passenger jets last year, according to a Dutch consulting firm and an aviation safety group that tracks crashes, making 2017 the safest year on record for commercial air travel.
2017 IN REVIEW
Our to70 Civil Aviation Safety Review examines accidents only to larger passenger aircraft commonly used by most travellers. (See our criteria in the Note below.) We include all causes, whether technical failure, human error or unlawful interference. In 2016, there were 71 civil aviation accidents of which six resulted in fatalities. This year, 2017, the number is even lower; 111 accidents, two of which included fatalities. There were no accidents in 2017 related to unlawful interference. A total of 13 lives lost in two regional airline accidents:
An Embraer Brasilia[1] lost control in flight in Angola after, reportedly, suffering an engine failure, and
A Czech-built Let 410[2] crashed on landing at Nelken in Russia.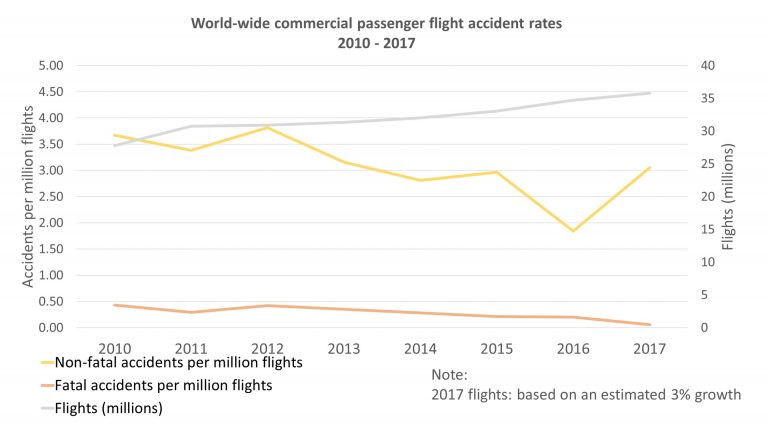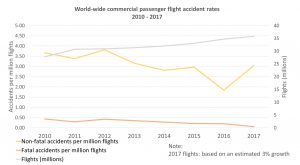 An estimated three percent growth in air traffic for 2017 over 2016 means that the fatal accident rate for large aeroplane in commercial air transport is again reduced; this time to 0.06 fatal accidents per million flights. That is a rate of one fatal accident for every 16 million flights.
With so few fatal accidents to examine, it is worth remembering that there were also several qute serious non-fatal accidents in 2017. A number of engine related accidents occurred, including the spectacular loss of the engine inlet fan and cowling on an Air France A380[3]. That the aeroplane continued to operate safely to a diversion airport and was then flown home for repair on three engines says a lot about the robustness of the aeroplane. In addition to the non-fatal accidents, there are a number of notable events that have been excluded from the statistics. Examples of these accidents include:
In comparison, there were 16 accidents and 303 deaths in 2016 among airliners.
The deadliest incident last year occurred in January when a Turkish cargo jet smashed into a village in Kyrgyzstan as it tried to land at a nearby airport in dense fog, killing 35 on the ground and all four onboard.
The Aviation Safety Network said 2017 was "the safest year ever, both by the number of fatal accidents as well as in terms of fatalities."
Over the last two decades aviation deaths around the world have been steadily falling. As recently as 2005, there were 1,015 deaths aboard commercial passenger flights worldwide, the Aviation Safety Network said.
The United States last recorded a fatal airline passenger jet crash in February 2009, when Colgan Air Flight 3407 crashed short of the runway in Clarence Center, New York, killing 49 onboard and one person on the ground.
In 2016, 412 people were killed in the United States in aviation accidents – nearly all in general aviation accidents and none on commercial passenger airlines.
The last fatal passenger jet airliner accident worldwide took place in November 2016 near Medellin, Colombia and the last commercial passenger aircraft crash to kill more than 100 people occurred in October 2015 in Egypt.
Akasa Air vs. Pilots: Delhi High Court Upholds DGCA's Authority to Act in Case of Contractual Breaches
The Directorate General of Civil Aviation (DGCA) is authorized to take action against pilots who violate civil aviation rules (CAR), the Delhi High Court ruled on Wednesday.
Akasa Air initiated legal action against pilots who had quit their jobs without giving the required notice by their contracts. In response to a request from the startup airline, which claimed it was in a crisis as a result of the sudden and abrupt resignation of 43 pilots who left the airline without providing the required notice period, the civil aviation regulator submitted written responses.
Akasa Air to Add 800 Staff and Fly Internationally(Opens in a new browser tab)
However, the Court ruled that it is now unable to give any explicit instructions to the DGCA and MCA regarding how to respond to a future representation that Akasa might make against defaulting pilots.
The court made it clear that there are no limitations on the DGCA's power to take action in situations of pilot noncompliance in an interim judgment that offers relief to Akasa Air. The airline firm maintained that it is merely requesting a directive to the DGCA to decide their (Akasa's) claims against pilots who may depart the airline in the future without serving the notice period, not that it is pressing for any action against the pilots who have already quit.
The Livery of Akasa Air's Boeing 737-800 Aircraft Has Been Revealed.(Opens in a new browser tab)
The DGCA had stated that it lacked the power or authority to intervene in any employment contract and therefore was unable to affect the employment contract between the pilots and Akasa Air.
The aviation authority said that if Akasa Air doesn't have enough pilots to continue operating flights, it would be in the interests of all parties if it complies with the requirement to keep a limited schedule.
Global Airlines to contract Hi Fly to accelerate A380 Entry into Service
Under the agreement, Global Airlines will benefit from Hi Fly's expertise to accelerate the Entry into Service (EIS) programme for the airline's new fleet.
Hi Fly, based in Lisbon, has significant A380 technical and operating experience.
First Global aircraft expected to fly to Europe in the months ahead, with a new registration of 9H-GLOBL
In a significant operational move, Global Airlines and Hi Fly have inked a contract to collaborate on the development and maintenance of the four A380 aircraft the new airline has agreed to purchase.
Hi Fly, the first company to operate the A380 on the secondary market, will collaborate with Global as it gets ready to launch operations to help the new carrier realize its goal of giving passengers the best possible experience when flying commercially.
Hi Fly takes delivery of its first Airbus A380(Opens in a new browser tab)
The EIS and Return to Service (RTS) procedures for Global's first aircraft, which are anticipated to start in the coming months, are the organisation's immediate priorities. However, with an affinity for the aircraft and confidence in its long-term potential and popularity, both businesses will look at further possibilities to deepen their partnership.
Hi Fly holds authorization to operate worldwide and currently operates 35,000 flights per year for a base of 140 airlines and governments on a global basis. 
Lufthansa equips short- and medium-haul aircraft with new cabins
−    Four makes eight: Large overhead compartments hold up to twice as many suitcases
−    For the first time on short-haul routes: holder for tablets and smartphones at every seat
−    More legroom with new ergonomic seats 
Customers of Lufthansa will soon enjoy a redesigned cabin environment on short- and medium-haul flights. It provides a great deal of comfort and luxury. The business will gradually outfit 38 Airbus A320s already operating for Lufthansa with the new cutting-edge cabin beginning in spring 2025.
SWISS unveils new 'SWISS Senses' air travel experience with totally new cabin interiors(Opens in a new browser tab)
More space for carry-on luggage: The 40 percent larger compartments allow for the vertical stowage of carry-on items much more quickly and comfortably. As a result, huge overhead bins may accommodate up to twice as many carry-on suitcases or bags as the conventional "bins".
Boeing and Qatar Airways Finalize Order for 25 737 MAX Airplanes(Opens in a new browser tab)
Each seat has a designated USB connector that can be used by Lufthansa to charge electronic devices. For the first flight ever, Lufthansa is providing a unique holder for tablets and smartphones in each seat. This allows visitors to watch films and television shows on their own devices much more conveniently without having to hold the gadgets in their hands or set them down on the folding table.
Increased legroom: The new seats from the Italian company Geven also provide extra legroom with the same seat spacing, through the ergonomically shaped backrests.