Airline safety: 2017 was safest year in aviation history.
According to Top70 reports
The past year has been another exceptionally good year for civil aviation safety. With only two fatal accidents to passenger airliners, both involving small turbo-prop planes, 2017 was much better than could reasonably (and statistically) be expected, and was again better than last year's remarkable performance.
However, the risks to civil aviation do remain high, as the seriousness of some of the non-fatal accidents shows
Airlines recorded zero accident deaths in commercial passenger jets last year, according to a Dutch consulting firm and an aviation safety group that tracks crashes, making 2017 the safest year on record for commercial air travel.
2017 IN REVIEW
Our to70 Civil Aviation Safety Review examines accidents only to larger passenger aircraft commonly used by most travellers. (See our criteria in the Note below.) We include all causes, whether technical failure, human error or unlawful interference. In 2016, there were 71 civil aviation accidents of which six resulted in fatalities. This year, 2017, the number is even lower; 111 accidents, two of which included fatalities. There were no accidents in 2017 related to unlawful interference. A total of 13 lives lost in two regional airline accidents:
An Embraer Brasilia[1] lost control in flight in Angola after, reportedly, suffering an engine failure, and
A Czech-built Let 410[2] crashed on landing at Nelken in Russia.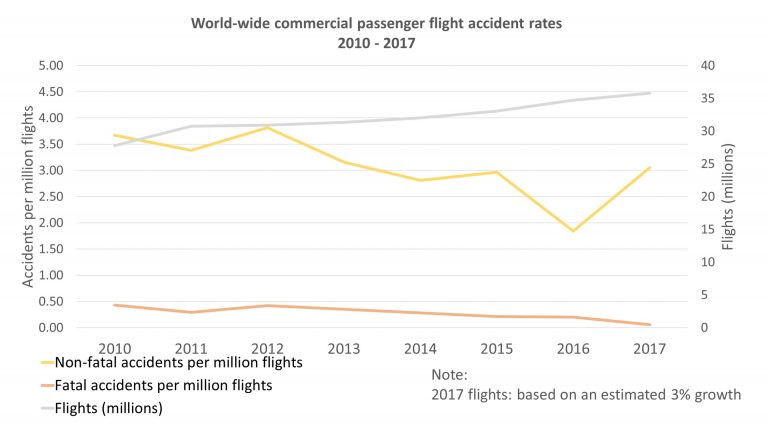 An estimated three percent growth in air traffic for 2017 over 2016 means that the fatal accident rate for large aeroplane in commercial air transport is again reduced; this time to 0.06 fatal accidents per million flights. That is a rate of one fatal accident for every 16 million flights.
With so few fatal accidents to examine, it is worth remembering that there were also several qute serious non-fatal accidents in 2017. A number of engine related accidents occurred, including the spectacular loss of the engine inlet fan and cowling on an Air France A380[3]. That the aeroplane continued to operate safely to a diversion airport and was then flown home for repair on three engines says a lot about the robustness of the aeroplane. In addition to the non-fatal accidents, there are a number of notable events that have been excluded from the statistics. Examples of these accidents include:
In comparison, there were 16 accidents and 303 deaths in 2016 among airliners.
The deadliest incident last year occurred in January when a Turkish cargo jet smashed into a village in Kyrgyzstan as it tried to land at a nearby airport in dense fog, killing 35 on the ground and all four onboard.
The Aviation Safety Network said 2017 was "the safest year ever, both by the number of fatal accidents as well as in terms of fatalities."
Over the last two decades aviation deaths around the world have been steadily falling. As recently as 2005, there were 1,015 deaths aboard commercial passenger flights worldwide, the Aviation Safety Network said.
The United States last recorded a fatal airline passenger jet crash in February 2009, when Colgan Air Flight 3407 crashed short of the runway in Clarence Center, New York, killing 49 onboard and one person on the ground.
In 2016, 412 people were killed in the United States in aviation accidents – nearly all in general aviation accidents and none on commercial passenger airlines.
The last fatal passenger jet airliner accident worldwide took place in November 2016 near Medellin, Colombia and the last commercial passenger aircraft crash to kill more than 100 people occurred in October 2015 in Egypt.
Inflight Ramadan Experience: Emirates, Qatar Airways, and Etihad Airways Offer Traditional Meals and Religious Content for Passengers
The most well-known Middle Eastern airlines are providing special Ramadan meals to its customers. Emirates, Qatar, and Etihad have developed distinctive recipes in response to the holy month of Ramadan.
Emirates
Emirates is preparing thousands of Ramadan meal boxes for fasting passengers both onboard and Iftar boxes at boarding gates, an array of religious content and Ramadan series on ice, and traditional Ramadan refreshments and meals in the lounges.
The Ramadan meal boxes will include light dishes and starters such as hummus and spinach bil zeit, Greek salad and cauliflower bil tahini, falafel sandwiches, pasta salad and fried aubergine with mint, zaatar chicken salad and cauliflower bil tahini, chicken musakhan sandwiches with Arabic bread, as well as staples like traditional dates and refreshing laban. A smaller Iftar box will also be served at boarding gates at Iftar time including all the essentials to comfortably break the fast.
United Brings Back Kids' Meals Onboard(Opens in a new browser tab)
Emirates' Ramadan and Iftar boxes will be served to complement the regular hot meal service and menu's will be refreshed on a weekly basis to ensure a best-in-class dining experience during the Holy Month. The boxes will be served on flights to select destinations during times that coincide with iftar, on flights to and from the Gulf region, as well as flights catering to Umrah groups traveling to Jeddah and Medina during the month of Ramadan.
Qatar Airways
It offer a bespoke Iftar to passengers on board and at Al Safwa, Al Mourjan and Global Premium Lounges. Special Ramadan offerings will be available on flights to the GCC, Middle East, and some Indian Sub-continent, African and Asian destinations.
Similarly, Qatar Airways Al Safwa First Class Lounge and Al Mourjan Business Lounge will announce the prayer call; in readiness for passengers to utilize the prayer rooms.
Travelers can choose from a selection of traditional Ramadan favorites for a fulfilling dining experience in addition to the Qatar Airways customary dining experience served alongside Qatar Airways' signature Ramadan-themed lantern.
Etihad Airways
It also offers a culinary design team is collaborating once again with Emirati Chef Khaled Alsaadi to recreate popular Ramadan dishes fusing authentic Emirati recipes with contemporary cooking techniques and local ingredients.
Etihad's regular hot meal service will be complemented by the Iftar meals onboard, and guests will be treated to meals including Saffron curry crusted seabream, Lamb shank with black lime jus, Lentil soup, Chaami and beetroot salad, Machboos chicken ciabatta sandwich, Aseeda cheesecake, Saffron pot de creme with batheeta crumble and more. A selection of the bespoke recipes will be available online or by scanning QR codes placed at the bottom of the onboard menu, allowing guests to recreate Etihad's unique inflight meals at home.
Norse Atlantic Airways and LUX interactive continue their joint venture(Opens in a new browser tab)
The Etihad Ramadan experience starts from the lounges at Abu Dhabi International Airport, which will also feature Ramadan dishes and beverages as well as dedicated prayer rooms. Travellers breaking their fast prior to departure or just before landing will be provided with takeaway bags containing dates, a drink and a snack.
The airline's inflight entertainment system, E-box, will be updated with a selection of Ramadan content in addition to recordings of the Holy Quran and the Mecca Qibla pointer that are always available on board.To view Etihad's special Ramadan menu and select recipes, click here.