Airbus Beluga delivers Airbus satellite to Kennedy Space Center
#Airbus Beluga delivers Airbus satellite to Kennedy Space Center
The First Airbus Eurostar Neo satellite was successfully launched just hours before its twin arrived at KSC
Second Eutelsat telecommunications satellite to join its twin in orbit within a month BelugaST is fuelled with 30% Sustainable Aviation Fuel (SAF) for Toulouse departure
A special aircraft landed at the Kennedy Space Center at Cape Canaveral in Florida this weekend: the Airbus BelugaST (A300-600ST). It delivered the Airbus-built HOTBIRD 13G satellite for Eutelsat. This happened a few hours after its twin, HOTBIRD 13F, was successfully launched by a SpaceX Falcon 9 rocket.
The spacecraft are the first members of the new "Eurostar Neo" family of Airbus telecommunications satellites, based on a next-generation platform and technologies developed with the support of the European Space Agency (ESA), and others, including the Centre National d'Etudes Spatiales (CNES) and the UK Space Agency (UKSA).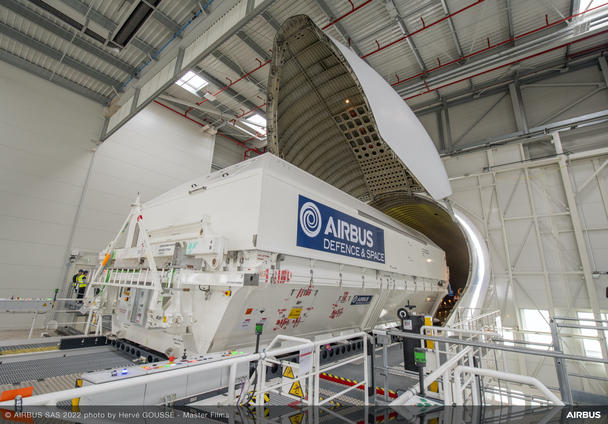 This milestone also marks the first time since 2009 that the Beluga has visited the USA – when it transported the International Space Station European module "Tranquility". For this latest mission, the Beluga used 30% Sustainable Aviation Fuel (SAF) for its departure flight from Toulouse – reflecting Airbus' decarbonization ambitions.
How Does In-Flight Wi-Fi Really Work?(Opens in a new browser tab)
"It is a true honour to consecutively showcase two satellites for our customer Eutelsat: two pieces of European technology at the iconic Kennedy Space Center," said Jean-Marc Nasr, Head of Space Systems at Airbus. "The ability of Airbus to field an autonomous European solution is underscored by the transportation of our satellites in the unique Beluga aircraft – a true example of pan-Airbus synergies!"
Airbus develops package of new A380 Cabin Enablers, including "New Forward Stairs" option, for A380 customers(Opens in a new browser tab)
Once they reach their orbital position, these two satellites, with more efficient power and thermal control systems than their predecessors, will be able to broadcast more than 1,000 television channels across Europe, Northern Africa and the Middle East. They will also enhance Eutelsat's ability to provide connectivity for more than 135 million people, as they replace three Eutelsat satellites currently in orbit.
New Airbus aircraft list prices for 2017..!(Opens in a new browser tab)
@AirbusSpace @Eutelsat_SA @ESAtelecoms @SpaceX @CNES @spacegovuk @NASAKennedy @Airbusintheus @Airbus #Beluga #EurostarNeo #hotbird #SAF
From Doha to the World: The Legacy of Akbar Al Baker at Qatar Airways: Honoured with APEX CEO Lifetime Achievement Award
In the organization's five-decade history, the APEX CEO Lifetime Achievement Award has only been given six times, including the most recent award given to H.E. Mr. Al Baker. This esteemed honour is given only to visionaries and leaders in the industry who drive advancement in the aviation business while also elevating their brands.
Akbar Al Baker is a prominent figure in the aviation industry and has served as the CEO of Qatar Airways for many years. Here's a brief overview of his story:
On September 22, 1961, Akbar Al Baker was born in Doha, Qatar. He completed his studies in Qatar before moving to India to attend Aligarh Muslim University to study economics and business. He joined Qatar's Civil Aviation Directorate after completing his education to start his aviation career.
Akbar Al Baker was chosen to lead Qatar Airways, the nation of Qatar's state-owned national airline, in 1997. Qatar Airways underwent a substantial turnaround and expansion under his direction. He was crucial in making the airline into one of the top carriers in the world, renowned for its opulent service, cutting-edge aircraft, and extensive global network.
Some key highlights of Akbar Al Baker's tenure at Qatar Airways include:
Fleet Expansion: Under Al Baker's leadership, Qatar Airways expanded its fleet with state-of-the-art aircraft, including the introduction of the Airbus A380 and Boeing 787 Dreamliner to its fleet.
Award-Winning Service: Qatar Airways has won numerous awards for its service quality, including Skytrax's "Airline of the Year" multiple times during his tenure.
Hub Development: Al Baker oversaw the development of Hamad International Airport in Doha, which has become a major hub in the Middle East for international travel.
Alliance Memberships: Qatar Airways became a member of the Oneworld alliance, strengthening its global network and partnerships with other leading airlines.
Crisis Management: During his tenure, Qatar Airways successfully navigated through challenging times, including the 2017 blockade imposed by neighboring countries, which led to the suspension of air travel to several destinations.
Akbar Al Baker is renowned for his hands-on leadership style and for holding the airline to a high standard. He is also renowned for making direct and occasionally controversial comments about business-related issues. In the very competitive airline sector, his leadership has significantly contributed to Qatar Airways' expansion and success.
Qatar Airways Group Chief Executive, His Excellency Mr. Akbar Al Baker Honoured with Prestigious APEX CEO Lifetime Achievement Award
Qatar Airways Group Chief Executive, His Excellency Mr. Akbar Al Baker was celebrated by the Airline Passenger Experience Association (APEX) as the recipient of the CEO Lifetime Achievement Award, which recognizes industry leaders for their dedication, efforts, and commitment to enhancing the passenger experience. The APEX/IFSA Awards Ceremony took place at APEX/IFSA Global EXPO in Long Beach, California on 20 September, where H.E. Mr. Akbar Al Baker also accepted three awards for the airline.
Qatar Airways was also awarded with three more APEX Awards, solidifying the airline's status as one of the world's leading airlines. The following titles presented to Qatar Airways were based exclusively on certified passenger votes: 2024 APEX World Class Award, APEX Award for Best Entertainment in the Middle East, and the APEX Award for Global Best Food & Beverage.
Qatar Airways Group is a unique organization that encompasses multiple subsidiaries and works in synergy to create the smoothest travel journey including airport ground services, onboard catering, private jet travel, and more. Qatar Airways continues to work in line with its promise to provide all passengers with the most seamless and luxurious travel experience in the world, now adding an additional four prestigious awards to the multi-award-winning airline's accreditation.
Watch video : Click
Austrian Ministry of Defense selects the C-390 Millennium as its new military transport aircraft
U.S. F-35 Fighter Jet Missing in South Carolina, and Asks Public for Help
A US fighter jet went missing in South Carolina during a training mishap. According to US military officials, the search for his missing aircraft was centered on two lakes north of North Charleston.
At around 2 p.m. (local time), the pilot evacuated and safely parachuted into a North Charleston neighborhood. He was transferred to a nearby hospital, where he was in stable condition.
Airbus unveils Airspace Cabin Vision 2035+ (Opens in a new browser tab)
Military officials appealed to the public for assistance with finding the aircraft on Twitter.
Authorities stated that they are currently looking into the cause of the pilot's ejection. According to Salinas, the pilot of a second F-35 made a safe landing at Joint Base Charleston. The pilots and their aircraft were part of the Marine Fighter Attack Training Squadron 501, which is stationed in Beaufort, which is close to the Atlantic coast of South Carolina.
Germany Becomes Latest Country to Join the F-35 Team(Opens in a new browser tab)
According to base authorities, they were conducting a search over two lakes to the north of Charleston in collaboration with federal aviation authorities. Each of the aircraft, made by Lockheed Martin, cost about USD 80 million.