Afalina. world's cheapest helicopter.. !!
HeliWhale, a company from the Siberian city of Kemerovo, revealed its unique helicopter at the HeliRussia 2015 exhibition, which took place in Moscow in late-May.
According to HeliWhale, the helicopter will cost $120,000, which includes heating and ventilation systems in the cockpit.
Speed, Range & take off weight 
"Afalina" is the two-seat coaxial high-speed helicopter with take-off weight  of 495 kg, has the best  in its class aircraft performance and corresponds to modern cosumer needs. Cruising speed is 210 km/h, maximum speed is 250 km/h. Range is 600 km and the scaled-up cabin provide additional comfort in operation.
Domestic production and the combination of technical solutions considerably optimize the cost of flight hour and allow to use the helicopter in a wide range of missions. The rotorcraft is a result of a creative teamwork of aviation devouts. Just in 4 years the service workshop developed from the scratch turned into a well-equipped hi-tech light helicopter production &repairs plant.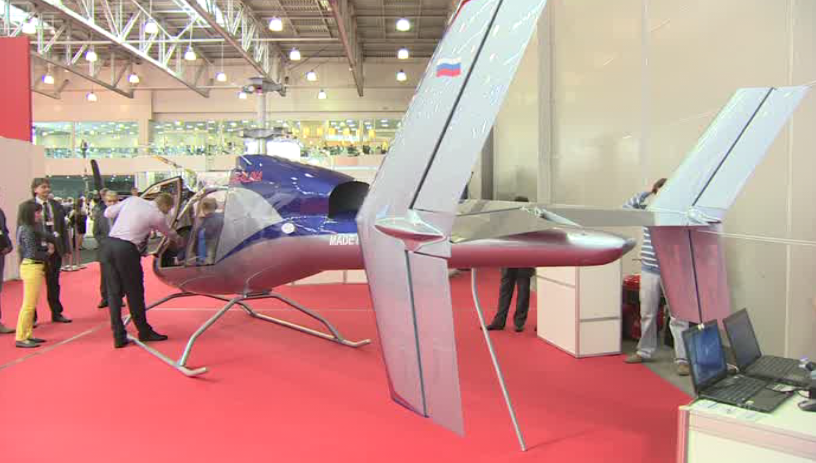 Afalina is designed as a multipurpose helicopter capable of performing a variety of tasks, including the training of pilots, maintenance of pipelines and power lines, aerial surveillance, police patrolling, transportation of personnel, farm work and recreational flights.
 "Heliwhale" is planning to organize helicopter manufacturing and bring the finished product to the domestic and foreign markets. This helicopter will be useful for the needs of the Ministry of Emergency Situations, Air Medical Service, oil and gas and energy companies/ It can also be used for training purposes as well as for corporate and private owners' needs.
Is there any other cheapest helicopter ? Yes 
The Robinson R22 is a two-bladed, single-engine light utility helicopter manufactured by the Robinson Helicopter Company. The two-seat R22 was designed in 1973 which is costing around $285,000(as of Jan 2015 price )
Afalina Production capacity 
The company says that its production plant in Kemerovo will be able to build from 10 to 15 machines every year. They'll be supplied to customers as kit-sets models for self-assembly in order to keep the price low, the developer said.
News source :Heliwhale press release , RT.com,
liked it ..! ?

Share with your friends and families
Global Airlines to contract Hi Fly to accelerate A380 Entry into Service
Under the agreement, Global Airlines will benefit from Hi Fly's expertise to accelerate the Entry into Service (EIS) programme for the airline's new fleet.
Hi Fly, based in Lisbon, has significant A380 technical and operating experience.
First Global aircraft expected to fly to Europe in the months ahead, with a new registration of 9H-GLOBL
In a significant operational move, Global Airlines and Hi Fly have inked a contract to collaborate on the development and maintenance of the four A380 aircraft the new airline has agreed to purchase.
Hi Fly, the first company to operate the A380 on the secondary market, will collaborate with Global as it gets ready to launch operations to help the new carrier realize its goal of giving passengers the best possible experience when flying commercially.
Hi Fly takes delivery of its first Airbus A380(Opens in a new browser tab)
The EIS and Return to Service (RTS) procedures for Global's first aircraft, which are anticipated to start in the coming months, are the organisation's immediate priorities. However, with an affinity for the aircraft and confidence in its long-term potential and popularity, both businesses will look at further possibilities to deepen their partnership.
Hi Fly holds authorization to operate worldwide and currently operates 35,000 flights per year for a base of 140 airlines and governments on a global basis. 
Lufthansa equips short- and medium-haul aircraft with new cabins
−    Four makes eight: Large overhead compartments hold up to twice as many suitcases
−    For the first time on short-haul routes: holder for tablets and smartphones at every seat
−    More legroom with new ergonomic seats 
Customers of Lufthansa will soon enjoy a redesigned cabin environment on short- and medium-haul flights. It provides a great deal of comfort and luxury. The business will gradually outfit 38 Airbus A320s already operating for Lufthansa with the new cutting-edge cabin beginning in spring 2025.
SWISS unveils new 'SWISS Senses' air travel experience with totally new cabin interiors(Opens in a new browser tab)
More space for carry-on luggage: The 40 percent larger compartments allow for the vertical stowage of carry-on items much more quickly and comfortably. As a result, huge overhead bins may accommodate up to twice as many carry-on suitcases or bags as the conventional "bins".
Boeing and Qatar Airways Finalize Order for 25 737 MAX Airplanes(Opens in a new browser tab)
Each seat has a designated USB connector that can be used by Lufthansa to charge electronic devices. For the first flight ever, Lufthansa is providing a unique holder for tablets and smartphones in each seat. This allows visitors to watch films and television shows on their own devices much more conveniently without having to hold the gadgets in their hands or set them down on the folding table.
Increased legroom: The new seats from the Italian company Geven also provide extra legroom with the same seat spacing, through the ergonomically shaped backrests.
China Eastern Airlines Inks $9.9 Billion Deal for 100 COMAC C919 Jets
China Eastern Airlines has committed to purchase 100 more COMAC C919 narrowbody planes. The airline is the C919's first customer and currently operates a small number of aircraft.
Deliveries under this new arrangement will commence in 2024, with COMAC delivering five aircraft during the year. China Eastern will take another ten per year from 2025 to 2027, followed by 15 per year from 2028 to 2030. COMAC will deliver the final batch of 20 aircraft in 2031. The airline valued the new contract at about $9.9 billion at list pricing, but underlined that it had purchased the planes at a substantial discount.
China Eastern Airlines set to operate C919's first commercial flight(Opens in a new browser tab)
The agreement comes five months after China Eastern conducted the inaugural flight of the Chinese passenger plane, which state-owned COMAC had built to compete with the single-aisle jet families of Airbus SE's A320neo and Boeing Co's 737 MAX.
The state-owned carrier with its headquarters in Shanghai is the C919's first customer; it has purchased five of the aircraft, three of which have already been delivered. Later this year, the other two are anticipated to be delivered.
Airbus Inks $17B Plane Order With China(Opens in a new browser tab)
According to China Eastern, the new aircraft would expand its fleet at a time when air travel is experiencing a robust rebound after three years of COVID limitations and as the airline prepares to retire a significant portion of its narrow-body aircraft due to ageing.
Between 2020 and 2039, COMAC estimates that about 40,600 new aircraft will be delivered on the global market, with a value of roughly 5.9 trillion dollars. The company's Chinese C919 and ARJ21 planes could deliver a total of 732 billion dollars worth of products.