The world's largest Aerial firefighting tanker will shortly land in colorado spring (USA).
COLORADO SPRINGS: Global SuperTanker Services, LLC announced the agreement Wednesday 12th august 2015 at the Colorado Springs Airport. Colorado Springs will serve as the new operating base for the Boeing 747-400 aircraft to be the fastest, longest-range and most effective aerial firefighting platform in the world.
The President of Global SuperTanker Service LLC, Jim Wheeler says the new SuperTanker is bigger and better than before. "What we have done is taken the old systems and we're renovating and modernizing some of it," he says. "Putting it in a 747-400 to provide a 19,600 gallon aerial firefighting tanker."
One of those improvements is the ability to carry more than one firefighting agent at once. "We can put gel on a structure to prevent fire from catching that structure then come back and paint a retardant line," Wheeler said. "Or we can do a water drop to tamp down a fire while we come back and put a retardant line on it."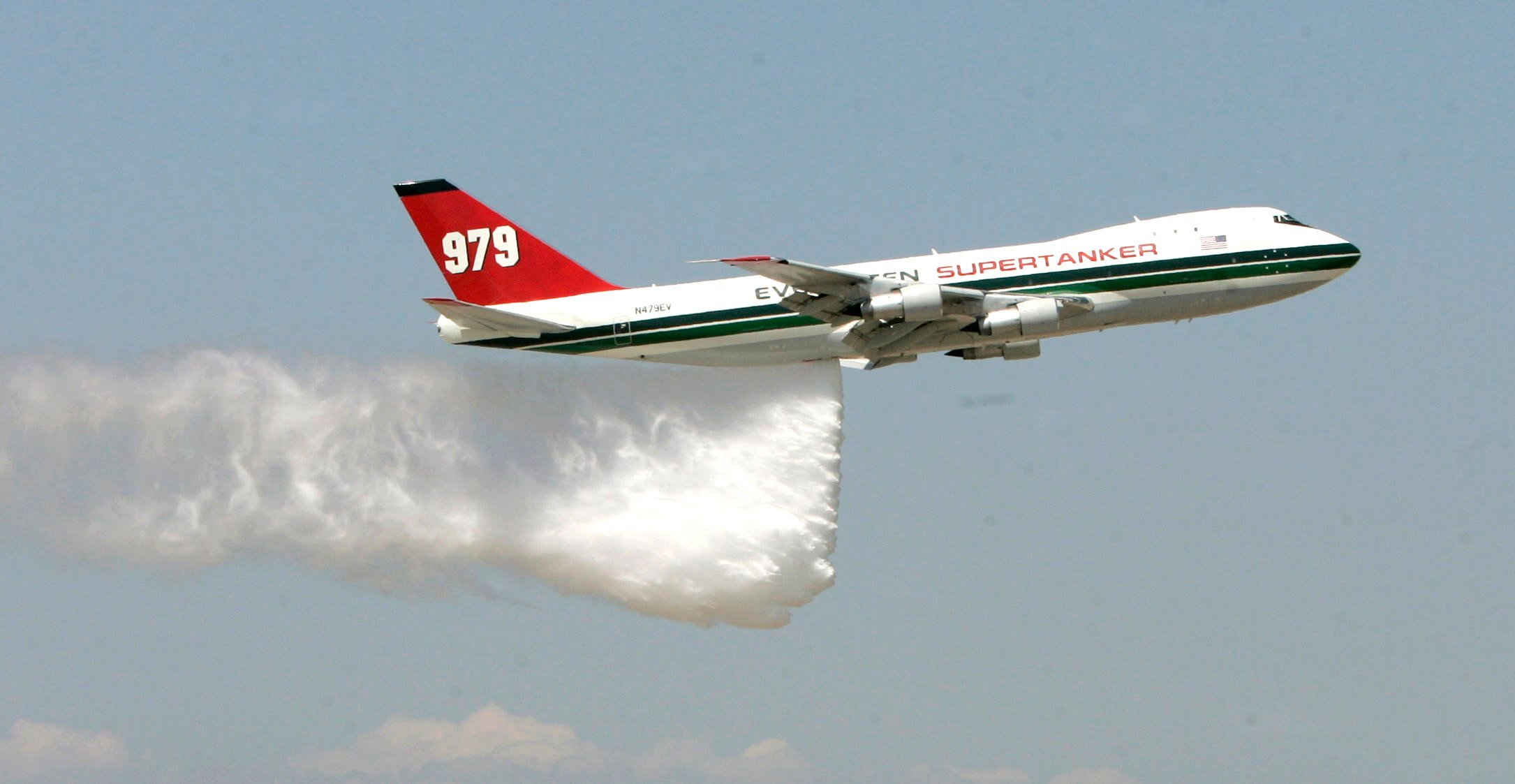 It has the capability to fight fires any where in the world, but it will live in our backyard. "These folks are going to be a big player in fighting that nemesis," said Colorado Springs Mayor John Suthers.
The plane is expected to be completed later this year, and operational next year.
The Global SuperTanker company says they chose the Colorado Springs airport because of its infrastructure and central location. It's business that the airport hopes will translate into other aspects of operations.
Source : the denver channel , koaa
History of super tanker
The Evergreen Supertanker was a Boeing 747-100 widebody
aircraft that was modified into an aerial firefighting aircraft by Evergreen International Aviation. The aircraft was originally manufactured by Boeing in 1971 for Delta Air Lines. With a capacity of 20,500 US gallons (77,600 liters), it was the largest aerial firefighting aircraft in the world. It served for 4 years (2009 – 2013) and presently Evergreen Supertanker Stored at Marana Pinal Airpark. USA.
The Evergreen Supertanker is equipped with a pressurized liquid drop system, which can disperse retardant under high pressure or drop retardant at the speed of falling rain. This system allows the aircraft to operate within its design criteria.Using the pressurized system, the aircraft can deliver retardant to the scene of a fire while flying at a height of 400 to 800 feet (120–240 m), at approximately 140 kn (260 km/h, 160 mph), configured as if it were on approach for landing. it can fly at speeds of around 600 mph (970 km/h; 520 kn) during cruise.
 Source : Wikipedia
liked it ..! ?

Share with your friends and families
Airbus achieves in-flight autonomous guidance and control of a drone from a tanker aircraft
Airbus Defence and Space and the company's wholly-owned subsidiary, Airbus UpNext, have achieved in-flight autonomous guidance and control of a drone using an A310 MRTT.
In a first step towards Autonomous Formation Flight and Autonomous Air-to-Air refueling (A4R), the technologies demonstrate a significant breakthrough for future aerial operations involving manned and unmanned assets. These cutting-edge, 'Made in Europe' solutions could reduce crew fatigue and the potential for human error, as well as minimize crew-training costs and provide more effective operations.
Russia seeks car and aircraft parts from India.(Opens in a new browser tab)
Over the waters of the Gulf of Cadiz, the control of the drone transitioned from a ground station to the A310 MRTT, autonomously guiding the DT-25 to the in-flight refueling position.
During almost six hours of flight test, the four successively launched receivers were sequentially controlled and commanded thanks to artificial intelligence and cooperative control algorithms, without human interaction. The different receivers were controlled and guided until a minimum distance of 150 feet (around 45 metres) from the A310 MRTT.
Auto'Mate Demonstrator technology focuses on three pillars:
Accurate Relative Navigation to precisely ascertain the relative position, speed and attitudes between the tanker and the receiver;
Intra-Flight Communication between platforms allows information exchange among the different assets, increasing the autonomy of the system of systems;
Cooperative Control Algorithms to provide guidance, coordination, consensus and collision-avoidance functionalities to the tanker and the receiver/s.
These pioneering technologies, developed by a European team from Spain, Germany and France, will continue to increase the capability gap among competitors, as well as being re-used in key technological projects, such as the Future Combat Air System (FCAS).
A second campaign is expected towards the end of 2023, exploring the use of navigation sensors based on artificial intelligence and enhanced algorithms for autonomous formation flight. In addition, there will also be two simulated drones flying in the vicinity of the A310 MRTT to demonstrate multi-receiver autonomous operations and collision-avoidance algorithms.