ACJ TwoTwenty Private Jet By Airbus Begins Building
ACJ TwoTwenty Private Jet By Airbus Begins Building: The ACJ TwoTwenty commercial jet from Airbus Corporate Jets has started to build, ushering in a new industry segment known as "The Xtra Large Bizjet." For the first time, this aircraft offers a configurable cabin catalog that caters to the needs of heavy and long-range corporate jets. It will be equipped by its launch client, Comlux, and will enter operation in 2023.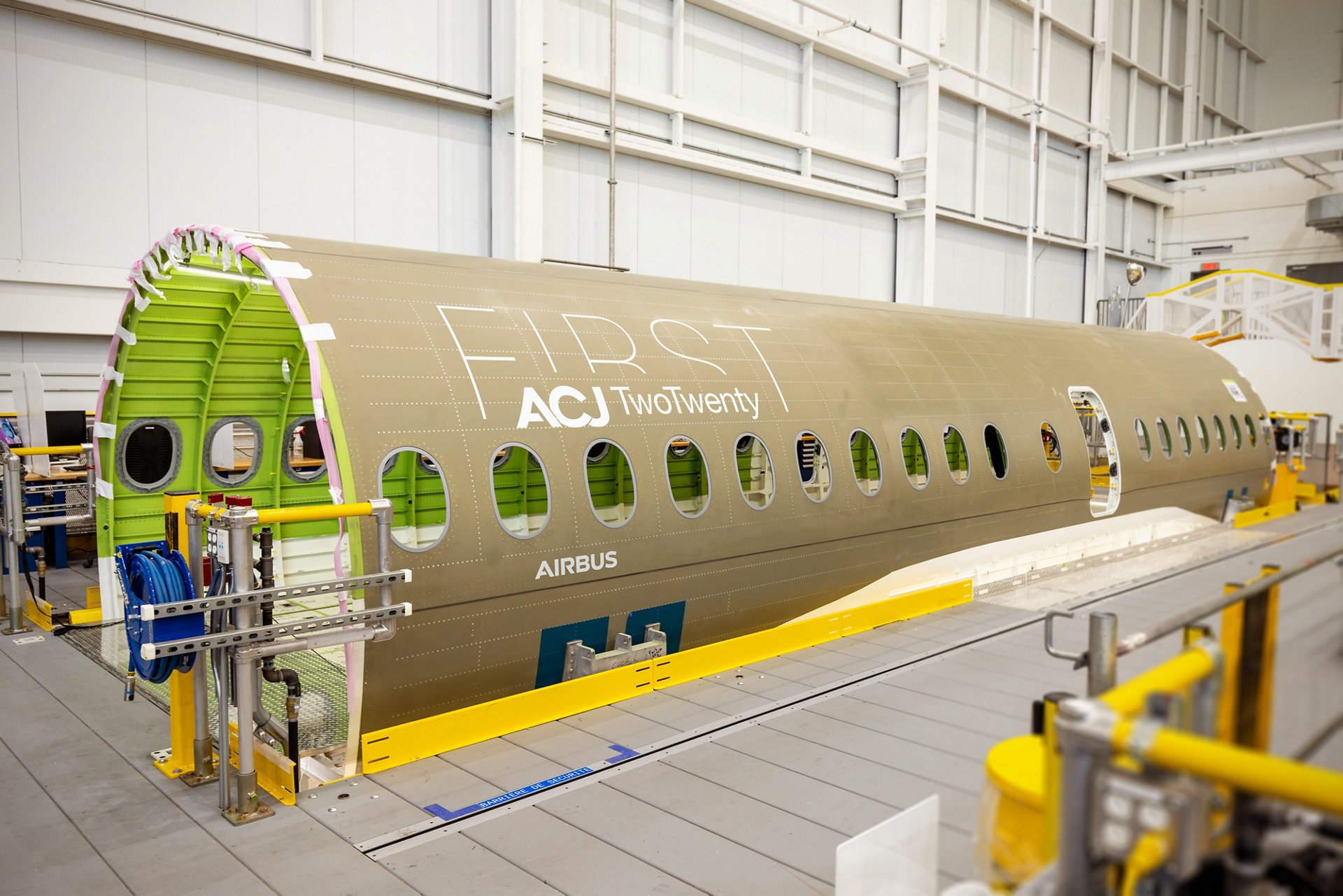 On Monday, Airbus revealed that work on the first ACJ TwoTwenty has started and the mid-fuselage section has arrived at the A220 Final Assembly Line (FAL) at its Mirabel plant in Canada. This mid-fuselage section arrival marks the start of the first Airbus corporate jet ever assembled in Canada.
The ACJ TwoTwenty is a mix of a versatile cabin catalog designed for state-of-the-art business aviation-jet operations, which includes a new, reliable, and cost-effective A220-100.
The ACJ TwoTwenty was started by the end of 2020 and has already won six aircraft orders. This winter Comlux would be the first to take delivery of the ACJ TwoTwenty and will be the exclusive outfitter for the first 15 aircraft.
Switzerland-based, VIP customer aviation service provider, Comlux is the launch customer of ACJ TwoTwenty and has already ordered 2 aircraft for themselves, including the ACJ TwoTwenty future demonstrator. The first aircraft will enter into service as soon as early 2023.
The aircraft's exclusive interior has been designed by ACJ's Head of Design, Sylvain Mariat. The ACJ TwoTwenty will feature unmatched personal space with 785 ft2 (73 square meters)of floor space. This is distributed over six wide VIP living areas, about 130 square feet (12 square meters) each, and is the only business jet featuring six wide VIP living areas for up to 19 passengers to work, share, dine and relax.
The cabin will offer two times better connectivity than its competitors, a Wi-Fi system across all the cabin, and the latest innovations such as electro-chromatic windows and LED lighting.
Read More: Falcon 6X Completes Maiden Flight
The TwoTwenty have a range of 5,650 nm (10,463 km) and can remain in the air for almost 12 hours, directly connecting city pairs like London and Los Angeles, Moscow and Jakarta, Tokyo and Dubai as well as Beijing and Melbourne. This has a small drawback compared to the ACJ319neo, which can fly for up to 15 hours with 8 passengers.
Read More: Top 10 Best Selling Business Jets in 2020
Lufthansa is interested in deepening its partnership with Air India to expand its cargo operations
Lufthansa is willing to expand its cargo collaboration with Air India in order to increase cargo volumes.
"We believe that a strong Air India is good for both India and global aviation." "We are always looking for ways to strengthen our ties with Air India," Lufthansa stated According to the report.
United and Emirates Expand Market Presence Through New Agreement(Opens in a new browser tab)
In the midst of a robust revival in its cargo sector, the German airline is eager to work more closely with Air India. The ambitious growth plan for Air India includes the installation of wide-body aircraft, which will expand its cargo capacity by 300%.
"Lufthansa Cargo has seen a strong recovery in India, with cargo volumes recovering to surpass pre-pandemic levels in the first half of 2023," the company said. Positive forecasts for the remainder of the year include continuous expansion, according to the airline. "India is one of the world's air freight markets with the quickest rate of growth. As India's economy continues to expand and its exports rise, there will likely be a rise in the demand for air cargo, it added.
LATAM Airlines takes delivery of its first A321neo, adds 13 more to order book
LATAM Airlines has taken possession of the first A321neo it had leased from AerCap and placed an order for 13 more of the aircraft to boost regional expansion and expand its route network. This A321neo aircraft is the first in a committed backlog of 76 to be delivered. LATAM will receive 111 A320 Family aircraft in total.
Why LATAM retired its entire A350s fleet?(Opens in a new browser tab)
The recently arrived A321neo for LATAM has Airbus' Airspace XL bins in the cabin and can accommodate 224 passengers. The larger bins enable 60% more carry-on baggage and 40% more storage space, allowing passengers and cabin crew to board flights more leisurely. 49% Sustainable Aviation Fuel (SAF) was used to propel the just-delivered A321neo to its destination.
The largest single-aisle A320 Family model sold by Airbus is the A321neo. The lowest seat-mile cost of any single-aisle aircraft on the market is provided by the A321neo, allowing operators to serve the entire market. Customers from all across the world have ordered more than 5,200 A321neos so far.
Why LATAM retired its entire A350s fleet?(Opens in a new browser tab)
The LATAM Airlines Group and its affiliates are the major airline group in Latin America, operating internationally throughout Europe, Oceania, the United States, and the Caribbean in addition to five local markets in the region: Brazil, Chile, Colombia, Ecuador, and Peru. LATAM is currently Latin America's largest Airbus operator, flying 240 Airbus aircraft. LATAM received a brand-new Airbus A320neo in July of this year, marking the first delivery made with 30% SAF.
Airbus has sold over 1,150 aircraft in Latin America and the Caribbean. More than 750 are in operation throughout the region, with more than 520 in the order backlog, representing a market share of 58% of in-service passenger aircraft. Since 1994, Airbus has secured 75% of net orders in the region.
Wings of Growth: India's Need for 130-150 Additional Wide-Body Aircraft
According to Vikram Rai, CEO of GE Aerospace South Asia, India's civil aviation market, one of the fastest-growing in the world, has the potential to add 130-150 more wide-body aircraft to its fleet. In India, there are now about 700 commercial aircraft in service, although only about 50 of them are wide-body aircraft.
India, the third-largest aviation market in the world with about 1,500 aircraft on order from domestic airlines, is viewed as having "great potential" by GE Aerospace, a key manufacturer of aircraft engines.
Airbus unveils order from Wizz Air for 75 A321neo aircraft(Opens in a new browser tab)
India is a focus market and a priority market for GE Aerospace" and added that in his opinion, domestic airlines would think about adding more wide-body aircraft to their fleet and using them on busy domestic routes.
The government is attempting to create international aviation hubs in India in order for domestic airlines to transport passengers directly to a variety of foreign locations as a result of the growing air passenger traffic.
IndiGo announces a special winter sale(Opens in a new browser tab)
Currently, the majority of passengers flying out of India to distant locations do so on connecting flights run by foreign airlines."We need to reach a stage where we can transport our passengers from end to finish. We are talking about the next stage of growth here, Rai added.