6 seater Jet with Vertical take off..!!
SEPTEMBER, 1ST 2015 Various urban air transport aircraft have been proposed in recent years, and none of them works very well due to the complexities of working in an urban environment. The XTI Aircraft, an American company, based in Colorado wants to change it all. They have recently launched an ambitious Kickstarter campaign to fund the production of a new urban transport jet that can take off like a helicopter.
The total money required by the company is just 50 million dollars and the maximum amount of money raised by any project at Kickstarter is 20 million dollars. So it will have to be quite a campaign to raise that kind of funding. The plane can carry around six passengers and fly as fast as regular business jets nowadays. The obvious target market is the business community. It would be even harder to get the kind of funds they need because this community is always skeptical of these of these ideas and investing in them through crowdfunding.
XTI VTOL aircraft2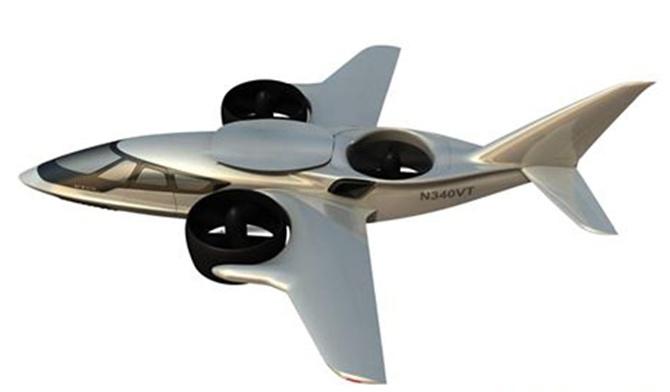 How Does it works ? 
Using three ducted fans, the TriFan 600 lifts off vertically and in seconds the two wing fans rotate forward for a seamless transition to high-speed flight. Within just 90 seconds, the airplane reaches cruise speed – where the lift is provided by the wings just like every other fixed-wing airplane. The fuselage-mounted fan, no longer needed, closes up. The airplane flies directly to its destination and reverses the process. Landing vertically right where it needs to be – wherever there's a clear helipad-sized paved surface.
The Facts 
MAX CRUISE SPEED ~340 kts (400mph)
MAX CRUISE ALTITUDE – Over 30,000 feet above predominant weather
RANGE- 800 – 1,200 miles*
VERTICAL LIFT –  3 ducted fans
ENGINE UP – 2,600 shaft horsepower range
FLIGHT CONTROL- Fly-by-wire
TIME TO MAX ALTITUDE – 11 minutes
TIME TO MAX CRUISE SPEED – 90 seconds
We have seen this type of aerospace designs in many movies like the Avatar so, it doesn't surprise many from the outside, but it should. It is very difficult to come up with an actual working model. The thrust is provided by three ducted fans, one in the tail, and other two on the wings. The wing fans can rotate 90 degrees to enable high-speed flight once the aircraft is good to go. It has been Named Tri-fan 600 for this arrangement.
According to XTI, the concept arose soon after the formation in 2009. David Brody, ex-Ceo of AVX Aircraft Co. was at the forefront of the whole process. Soon enough he was able to gather more influential people in the industry to work for his cause. The company has high hopes of achieving its target despite the odds against their project. They are of the opinion that aviation leaders will all come forward to make this aircraft a reality as they are branding it as a "kitty hawk" moment for the business transportation.
XTI VTOL aircraft
Tri-Fan if it becomes reality is going to be the first long-range, high-speed Vertical Take-off, and Landing commercial aircraft. It can fly as fast as business jets, but it can also land with ease on any helipad sized surfaces. It has a seamless transition from vertical to normal flight, and this might be the most significant achievement of the company. This tech has faced several problems over the years including the famous F-35 fighter project. The company also claims a maximum speed of 400 mph and a maximum range of 1000-1200 miles.
The aircraft would be further developed over the course of next two years with particular focus given to existing proven technologies. Several financing milestones lie in the process of its fulfillment and XTI is hopeful they will resolve them soon enough.
 Liked It?

Share With your Friends and Family
Saudia Enters a New Era Through Major Re-Brand Strategy
Jeddah, Saudia, the national flag carrier of Saudi Arabia, revealed its new brand identity and livery during a milestone event in Jeddah, in the presence of Royal Highnesses, Excellencies, and leaders from both the public and private sectors, as well as prominent media correspondents and aviation experts. This new identity is in line with a wider strategic digital transformation plan aimed at strengthening the airline's support for the Kingdom's Vision 2030 to bring the world to Saudi Arabia.
The new brand color identity, comprised of green, blue, and sand, represents Saudia's aim to expand its fleet and destinations, connecting the world to Saudi Arabia, and emphasizing the Kingdom's authenticity and deep-rooted values.
In parallel to the rebrand, Saudia has also undertaken a huge digital transformation, entirely enhancing the customer digital experience. Saudia leads among international airlines in operating generative Artificial Intelligence (AI) as a virtual assistant, named "SAUDIA", being one of the first of its kind in the region. Saudia will enable guests to complete the entire transaction through this efficient process by the end of the year.
The ambitious, long-planned digital transformation, fully improves customer experience but also allow more streamlined operations and processes while ensuring the highest levels of protection of guests' personal data, through strong partnerships with global leading companies.
His Excellency Engr. Ibrahim Al-Omar, Director General of Saudia Group, said: "We are experiencing a new era and a very exciting time for Saudia. Our airline has evolved from a Douglas DC-3 aircraft in 1945, to a 140-aircraft modern fleet serving over 100 destinations, becoming one of the largest airline in the region.
The name and logo of Saudia are integral parts of the Kingdom's aviation history and development, and our people share a special emotional connection with the brand. We have incorporated this rich heritage into our new identity, adding elements that reflect our visionary approach, poised to captivate the world."
Saudia is not only rolling out a fully integrated digital program and revamping its look, it is also effectively and quickly helping advance Saudi Arabia's Vision 2030, collaborating with all industry stakeholders to achieve the targets of the National Aviation Strategy. The strategy aims to turn Saudi Arabia into a leader in the global industry, by enhancing the customer experience, improving safety and working towards a more sustainable future, in line with Saudia's expansion goals to bring around 330 million visitors to the Kingdom by 2030.
By 2026, Dubai hopes to have a fully functioning flying taxi service.
By constructing a fully operating flying taxi network by 2026, Dubai aspires to be the city that leads the future of flying taxis.
According to the Khaleej Times, an English-language newspaper based in the United Arab Emirates, the CEO of Skyports, which builds landing infrastructure for these aerial taxis, said Wednesday that he believed the city would be the first in the world to integrate a "fully-developed network" of flying taxis into its public transportation network.
EASA proposes rules for VTOL operations, including air taxis(Opens in a new browser tab)
According to a news release on its website, Skyports originally announced plans to develop the vertiports – launching pads for these airborne taxis — in February. There are plans to build four landing sites near Dubai International Airport, Palm Jumeirah, Dubai Downtown, and Dubai Marina.
Vistara becomes first Indian airline to provide sanitary pads onboard domestic flights(Opens in a new browser tab)
Four vertiport sites located near Dubai International Airport, Palm Jumeirah, Dubai Downtown, and Dubai Marina, which are currently being considered by Skyports Infrastructure and RTA, were presented to a senior delegation which included His Highness Sheikh Mohammed bin Rashid Al Maktoum, accompanied by Crown Prince Sheikh Hamdan bin Mohammed bin Rashid Al Maktoum. These initial locations will connect four of Dubai's most popular – and populous – areas, providing high-speed, zero-emissions connectivity.
The Lilium : World's first all-electric flying taxi.(Opens in a new browser tab)
The air mobility exposition demonstrates the RTA and Skyports Infrastructure's planned roadmap for developing a vertiport network in Dubai for launch by 2026, including a concept for how future vertiport infrastructure may look and how it will integrate with existing transportation, including the RTA's Dubai Metro network and Dubai International Airport.
Ahmed Bahrozyan, Chief Executive Officer of The Public Transport Agency at RTA, said, "The RTA's plan for aerial taxis is in line with the Dubai Self-Driving Transport Strategy, which aims to make 25 percent of all trips in Dubai driverless by 2030. The project aims to roll out a new mobility service driven by pioneering technology to ease the mobility of individuals across urban areas in a safe, smooth, and sustainable manner integrated with the public transport network in Dubai. The service is set to be operational by 2026.
HAL Plans Batch Upgrades for Sukhoi-30MKI Fleet
Hindustan Aeronautics Limited (HAL), India's state-owned aerospace and military firm, is planning a significant modernization programme to improve the capabilities of the Indian Air Force's (IAF) Sukhoi-30MKI aircraft fleet. This massive project, which is set to begin in fiscal year 2026-27.
The cockpit of the Sukhoi-30MKI has been completely redesigned as the main point of this upgrade effort. In a state-of-the-art makeover, new-generation touch widescreen checks will replace the present cockpit displays. This improvement is expected to improve pilot situational awareness, data visualization, and control over the aircraft's systems, leading to a more responsive and accessible interface.
Delta to serve Mumbai nonstop from the U.S. in 2019(Opens in a new browser tab)
The addition of a new Active Electronically Scanned Array (AESA) radar system produced locally for the programme is critical to the upgrade plan. In electronic warfare settings, this radar technology is critical for improving targeting precision and performance. It improves the Sukhoi-30MKI's ability to operate effectively in difficult operational conditions by improving detection and tracking capabilities.
Along with the radar update, the mission control computer—a crucial part of the aircraft's avionics suite—will also see significant advancements. Given the updated Sukhoi-30MKI's powerful radar system and new display infrastructure, these improvements are crucial to guaranteeing seamless integration and top performance.
Additionally, the modernization programme anticipates an improved arsenal of weaponry that may include advanced electronic defenses and ammunition. A powerful asset in both air-to-air and air-to-ground operations, this improvement will considerably increase the aircraft's combat effectiveness.
Air India Plans To Lease 3 Boeing 777-300Er From Singapore Airlines(Opens in a new browser tab)
The modernization project planned by Hindustan Aeronautics Limited (HAL) represents a significant stride in India's quest for enhanced air combat capabilities and technological self-reliance. With the comprehensive redesign of the Sukhoi-30MKI aircraft fleet, encompassing cutting-edge cockpit displays, an indigenous AESA radar system, and an upgraded mission control computer, the Indian Air Force is on track to secure a formidable edge in contemporary aerial warfare.
This strategic initiative not only strengthens the Sukhoi-30MKI's capabilities but also underscores India's commitment to innovation and defense technology development.
In the pursuit of its ambitious upgrade plan, HAL, Hindustan Aeronautics Limited, places a pivotal emphasis on successfully securing the much-needed approvals and financial sanctions from both the Ministry of Defence (MoD) and the Indian Air Force (IAF).
This visionary project, if granted the necessary green light, is set to unfold over the course of multiple years, signifying a long-term commitment and dedication to a transformative goal. The overarching objective is nothing short of remarkable: to meticulously convert the entire existing fleet of Sukhoi-30MKI aircraft into the cutting-edge Super-30 variant, with the ambitious deadline set for the year 2034. The meticulous execution of this grand undertaking will proceed at a steady and methodical pace, with an annual target of transforming 20 to 25 aircraft.