---
More options for Air New Zealand's youngest customers
The Air New Zealand designed Skycouch, a row of three Economy seats that convert into a flat, flexible surface for rest, relaxation and play, was first introduced in 2011 and has revolutionised long haul travel in the Economy cabin.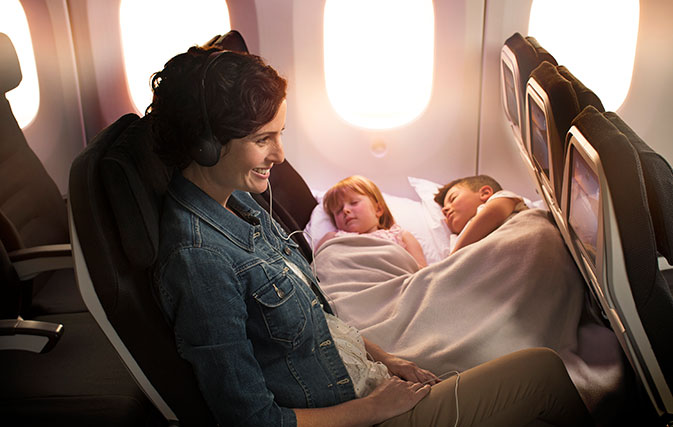 The airline has now further developed the product, introducing a dedicated infant harness and belt, allowing infants to remain lying down throughout the cruise phase of flight. Previously they were required to be seated on a guardian's lap when the seatbelt sign was on. A new infant pod also provides additional comfort and protection for the airline's youngest Skycouch customers.
The Skycouch Cuddle Belt, which was previously only certified to allow two adults or an adult and child travelling together to lie down side by side on the Skycouch has also been updated to allow two children to use it providing greater flexibility to families.
Air New Zealand General Manager Customer Experience Anita Hawthorne expects the changes to be popular with family groups.
Pending certification and regulatory approvals, the airline plans to make the modified Skycouch product available progressively onboard its Boeing 777 and 787-9 Dreamliner fleets in the coming months.
These improvements will also be made available to offshore airlines which Air New Zealand has licensed the Skycouch to. The airline will be displaying the updated Skycouch at the Aircraft Interiors Expo in Hamburg from 10-12 April 2018.
---
Trending Now
You may also like