---
Dubai, UAE, 10 Dec 2017 – Emirates is spreading the festive joy with treats across all cabin classes this December. Customers travelling for the holidays will enjoy several Christmas specials both on the ground and on board from food to entertainment.
Festive menus are back
In addition to the regionally inspired cuisine served on board, Emirates is bringing back its Christmas menu with a more extensive offering of holiday favourites. Emirates' seasonal menus are a key component of its dining offering and the Christmas menu is one of the main highlights.
The festive meals are available throughout December for customers travelling from Dubai to Australia, Europe, the United States or the United Kingdom and those travelling from the UK to Dubai.
Customers travelling in Economy Class can enjoy rolled turkey buffé served with cranberry jus lié, mashed potatoes, Vienna chicken sausages and seasonal vegetables. For desserts, customers will be served festive sweets such as a lemon cranberry cake with cream cheese frosting or a cocoa cake with white chocolate chips and raspberry coulis.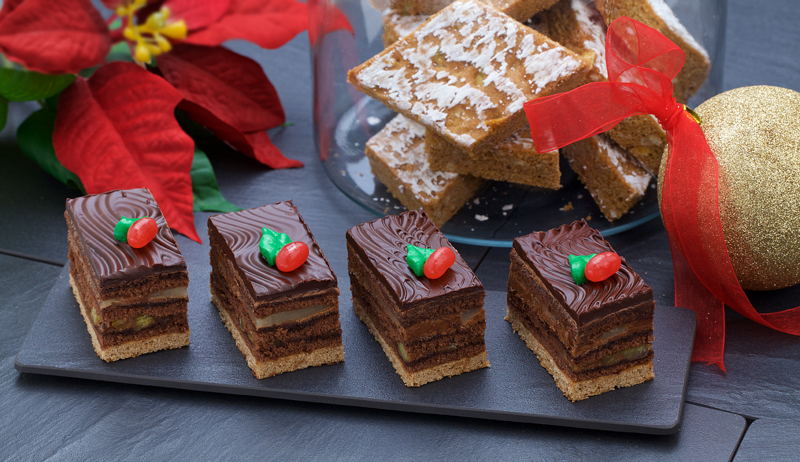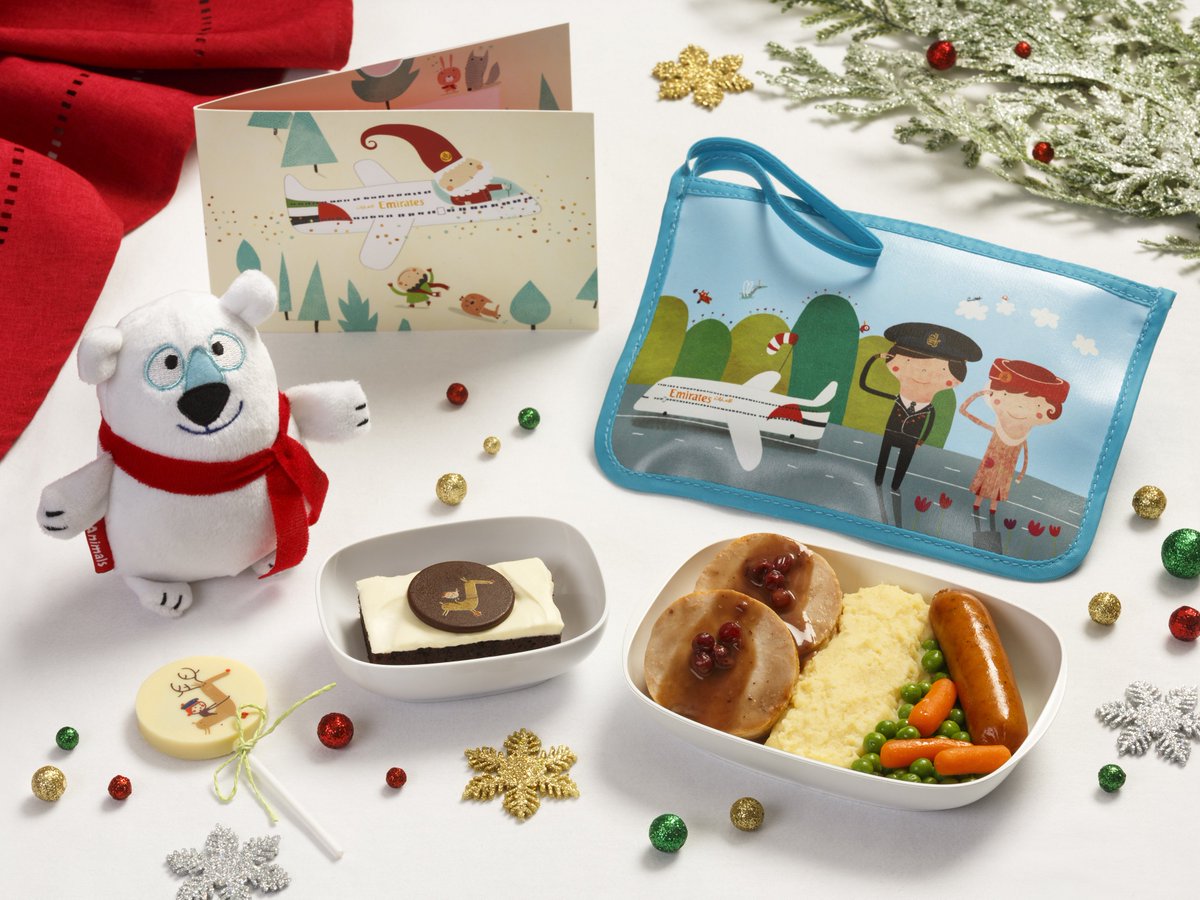 Those travelling in First and Business Class will start with king prawns marinated with lemon and herb and served with cocktail sauce and a fennel salad, and enjoy a main course of rolled turkey buffé served with chestnut and apricot stuffing, cranberry jus lié, pumpkin mash and creamy brussels sprouts with turkey bacon.  A variety of desserts is available on the different routes including Ginger bread roulade, Chocolate Mint dome and Yule log.
As a special treat, First Class customers, can look out for Santa-inspired macaroons and hot chocolate served with marshmallows and gingerbread. Young fliers in First Class will be surprised with snowman-inspired marshmallow biscuits.
Holiday gifts for all
Emirates is also making sure customers' Christmas stockings are filled with special goodies. Across all classes, newly designed amenity kits are being introduced for December.
A new range of Bulgari amenity kits are being rolled out in First and Business Class. There are 16 brand new designs for men and women which can be re-used to keep electronics or make-up. The laser-cut pattern is inspired by Bulgari's design archives with a touch of Middle Eastern influence inspired by Dubai, Emirates' hub. The exclusive designer kit bags include new signature Bulgari fragrances and lotions, along with other pampering essentials. The latest kits feature Bulgari's White Tea fragrance and are available on long-haul night flights and on flights over 10 hours.
Special treats for young flyers
Young flyers are given special attention when travelling on Emirates. Kids will enjoy a specially created festive menu with roast turkey, sweet potato mash, carrots and peas, as well as a moist chocolate brownie with cream cheese frosting and a white chocolate lollipop.
Christmas classics on ice
To get travellers into the spirit of the holidays, Emirates' award-winning inflight entertainment system, ice, will feature Christmas classics for the month of December. These include movies such as It's a Wonderful Life, White Christmas, Miracle on 34th Street, Home Alone and Scrooged, as well as TV specials including The Office and Family Guy Christmas shows.  Customers can enjoy over 2,500 channels of entertainment including Christmas number 1s music playlist for the first time this year and dedicated kids' TV channels. Special programmes for kids include The Gruffalo, Room on the Broom and The Snowman.
Emirates offers customers across all classes 20MB of free Wi-Fi data to keep connected with friends and family, and Emirates Skywards members enjoy special benefits depending on membership tier and class of travel.
---
You may also like