---
1. Small city 
The Everett factory is like a small city, requiring its own fire department, security force, fully equipped medical clinic, electrical substations and water treatment plan
2. Biggest building 
Guinness World Records list the Boeing Everett factory as the largest building in the world by volume at 472 million cubic feed (13.3 million cubic meters).
3. Employee strengths 
There are about 35,000+ people working at the Everett facility, and they work in three shifts around the clock.
4. Forming cloud inside ..!!? yes 
However, when the factory was first built, clouds actually formed near the ceiling. The weather cleared when an air-circulation system was installed.
5. No A/c inside factory 
Due to the weather in Seattle which seldom peak over 90′, the production floor does not have any a/c. The temperature is regulated by two things, the weather outside and the light bulbs. If the factory is too warm, they would open the factory door and run fans to blow air into to the factory.
6. Overhead Cranes 
There are twenty six overhead cranes that run a network of 39-miles of ceiling tracks throughout the factory. These ceiling cranes are used to lift and move airplane components and sections during the production process.
7. Pedestrian tunnels
There are 2.33 miles or 3.7 kilometers of pedestrian tunnels running below the factory. The tunnels are also utilized for operating the utilities and comes in handy during winter when getting around in the cold and snow can be a challenge.
8. Bicycle 
There are 1,500 bicycles and tricycles in the factory that is used by employees to get around.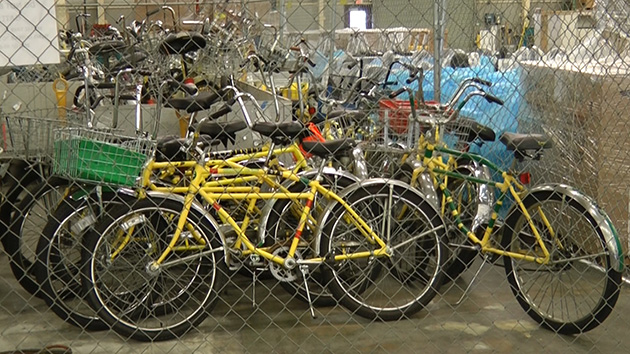 9. Bigger Doors 
According to the Guinness World Records, the mural on the six factory doors is the largest digital graphics in the world.
10. Rail Tracks 
Boeing not only have a rail running to the factory but the rail spur running uphill to the factory from Great Northern Railway's track is the steepest active standard-gauge railroad in the United States.
Copyright Notice: The Content is protected by copyright laws, trademark and design rights. Any unauthorised of the Content will be considered a violation of Jetline Marvel intellectual property rights. Unless otherwise stated in this document, Jetline Marvel and its suppliers reserve all tacit and direct rights to patents, trademarks, copyrights or confidential information relating to the Content.Unless otherwise stated in this document, no Content may be copied, distributed, published or used in any way, in whole or in part, without prior written agreement from Jetline Marvel.
liked it ..! ?

Share with your friends and families
---
You may also like